Analysis
2023 Free Agent Profile: Nathan Eovaldi
Nathan Eovaldi is set to hit free agency after an up-and-down season. The 32-year-old has been with Boston since winning the World Series in 2018.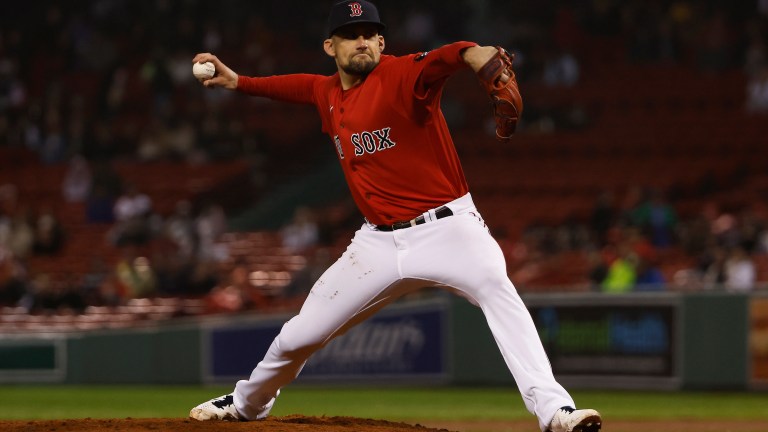 Position: SP
Throws: RHP
Age: February 13th, 1990 (32 years old)
2022 Traditional Stats: 20 G, 20 GS, 109.1 IP, 3.87 ERA, 103 K, 1.23 WHIP, 1.0 fWAR
2022 Advanced Stats: 22.4% K%, 4.3% BB%, 4.30 FIP, 4.31 xERA, 3.46 xFIP, 1.73 HR/9
Coming off a 2021 season that saw Nathan Eovaldi named to his first All-Star team, finish fourth in Cy Young voting and receive MVP votes, the 32-year-old fell victim to injuries and a tendency to give up the long ball in 2022. 
After signing a four-year, $68 million contract, after playing a key role in the Red Sox's 2018 World Series victory, Eovaldi will hit the open market as one of the more intriguing starting pitching options. At his best, the Houston native can be a top-of-the-rotation arm, capable of being a certified No. 2 starter on a winning team. But at his worst, he can be the guy that gave up five home runs in one inning against the Houston Astros in May. 
Path to Free Agency
Eovaldi was drafted in the 11th round of the 2008 draft by the Los Angeles Dodgers out of Alvin High School in Texas. In his junior year, the then 17-year-old underwent Tommy John Surgery, dropping his draft stock.
After a $250,000 signing bonus and a sold minor league career, he debuted with L.A. in 2011.
He would only last 20 games in Dodger blue, however, as in 2012, Eovaldi was sent to the Miami Marlins alongside Scott McGough for Randy Choate and Hanley Ramirez.
In Miami, the 22-year-old started to establish himself in the big leagues. Over 63 starts with the Marlins he posted a 4.10 ERA and threw 199.2 innings in 2014.
After that season though, he was traded once again. The New York Yankees acquired Eovaldi, Domingo German and Garrett Jones in exchange for David Phelps, Martin Prado and cash.
With New York, he was once again a solid rotation arm posting a 23-11 record with a 4.45 ERA in 279 innings pitched. But in 2016, he tore his flexor tendon and partially tore his UCL, meaning he was headed for a second Tommy John Surgery.
Eovaldi didn't pitch in the 2017 season, even after being picked up by the Tampa Bay Rays, but would debut with the team in 2018. 
After making 10 starts with a 4.26 ERA with Tampa Bay, the Red Sox traded Jalen Beeks to acquire Eovaldi's services.
His home ever since, 'Nasty Nate' thrived in Boston. In his playoff debut with the World Series champs in '18, he worked as both a starter and reliever picking up two wins and gave up just four runs in 22.1 innings — including six coming in extras of Game Three. 
His postseason performance earned him that four-year extension to stay with the Red Sox. In 2019 he underwent surgery on his throwing elbow, ultimately limiting him to 67.2 innings that season.
In 2020, Eovaldi got the ball in the first of what would become three-straight Opening Day starts for the Bo-Sox and had a solid year going 4–2 with a 3.72 ERA while striking out 52 in 48.1 innings.
Then 2021 was the right-hander's best of his career. He ended up as the American League's FIP leader (2.79) and had a career-best 5.7 fWAR. Eovaldi would also step up on the biggest stage once again. He got the ball in the AL Wild Card game, holding the Yankees to just one run over 5.1 with eight strikeouts. 
While he didn't fare as well in the ALDS and ALCS as he did in 2018, Eovaldi was relied on as Boston's top pitcher.
In 2022, both lower-back and right-shoulder inflammation forced the now 32-year-old onto the injured list for two different stints. His HR/9 numbers also ballooned to a second-worst career mark (1.73).
Can he get back to the pitcher we saw in 2021?
The concerning trend with Eovaldi in 2022 was the velocity of his fastball. After averaging 97 MPH since 2013, his heater fell to 95.9 this past year. A lot of that can likely be attributed to the injuries he dealt with throughout the season, but now on the wrong side of 30 with two Tommy John's on his resume, how much confidence will teams have in giving him a long-term deal?
If you look at his Baseball Savant page, it's clear that Eovaldi got hit hard in '22. As a pitcher that doesn't walk many batters, the decreased velocity may have made it easier for opposing hitters to attack pitches in the zone.
Going forward — if the velo doesn't return to previous levels — there is a good chance the fastball becomes less relied upon in Eovaldi's arsenal.
Opponents hit less than .200 and slugged less than .400 against hit splitter and curveball this year while swinging and missing at both pitches more than 30% of the time.
As Eovaldi moves into his mid-30s, he is going to have to rely less and less on the fastball if he wants to stick around, so we could see him lean into some more of his finesse pitches.
Contract Projection
With all that said, Eovaldi could come out of the gate next season throwing 97 with ease.
He looked to be returning to form through his last five starts of 2022, posting a 2.25 ERA over 28 innings with 23 strikeouts and six walks.
He comes into his free agency as a veteran with a successful track record in the postseason and has history in a multi-inning relief role if he signs somewhere with a deep rotation.
He likely won't get four or five years since he will be 33 on Opening Day, so a three-year deal might be the best spot for both team and player.
A year ago, near 31-year-old Marcus Stroman got a three-year deal for $71 million. The Cubs handed out that deal to a pitcher with less injury history and that was two years younger than Eovaldi will be next year, so somewhere around $60 over three could be something a potential deal looks like.
Prediction
It came as a bit of a surprise that the Red Sox didn't deal him at the trade deadline, so potentially they kept him knowing that they want to re-sign him, but Eovaldi could truly fit in with a number of teams across MLB.
With a 47% ground ball rate, the St. Louis Cardinals may come calling to put Eovaldi in front of their elite defense.
Teams like the Toronto Blue Jays and New York Mets who may be losing mid-rotation righty arms from their rotations (Ross Stripling and Chris Bassitt) could be good fits for the former World Series champ.
But when it's all said and done, Boston seems like the best spot for him to end up. He's familiar with the organization and if he does leave, Boston would be looking at a rotation that projects — right now — as Chris Sale, Nick Pivetta, Brayan Bello, Garrett Whitlock and Kutter Crawford.