Analysis
Morning Metrics June 29, 2021: Ohtani, Angel Hernandez and more
The Shohei Show continues.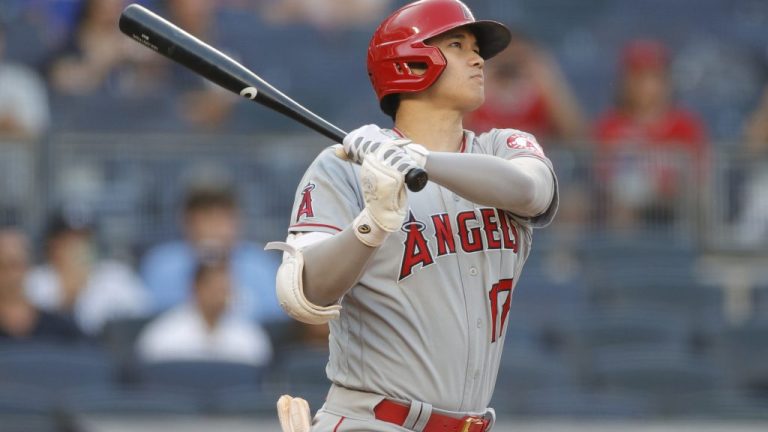 Numbers of the Night
Taking the Cover Off the Ball: Shohei Ohtani – 117.2 MPH
Shohei Ohtani should be locked up for what he is doing to baseballs right now. Since June 15th, Ohtani is second in baseball with a 268 wRC+ and leads baseball with a .705 ISO by a wide margin. 69.2% of Ohtani's fly balls have gone over the fence in that span and he has only hit the ball soft on 7.1% of batted balls. To say Ohtani is locked in right now is an understatement. He's my current vote for MVP and his 4.6 WAR is .1 WAR behind Vlad Jr. for the WAR lead (if you combine his pitching and hitting WAR).
Flashing the Leather: Tyler O'Neill – .640 xBA
Tide Turner: Nick Castellanos – 64% win probability added
Going into the bottom of the 7th inning, the Reds trailed the Phillies by two runs. With one out in the inning, Neftali Feliz entered the game making his first appearance since 2017! Feliz subsequently walked two batters and loaded the bases for Nick Castellanos. The Phillies had a 74% chance of winning the game before Castellanos came to bat. Castellanos then launched a Feliz fastball deep into center field for a grand slam that would put the Reds back on top 6-4.
The Reds win probability went from 24% to 88% on one swing of the bat. Castellanos ranks 6th among hitters in win probability added. When the game is on the line, Castellanos comes through.
Nightly Rundown
Angel Hernandez is not the worst ump in baseball
Let me start by saying two things:
Robot umps need to happen sooner rather than later.
Angel Hernandez is a bad umpire, but he's not the worst.
Angel Hernandez is an umpire that lives in infamy. There are few umpires that are more well known and hated than Angel Hernandez, but last night Hernandez actually called a decent game. He has his fair share of terrible calls, which you can view below, but sometimes Hernandez gets more flack than he deserves.
According to Umpire Scorecards accuracy data, Angel Hernandez ranks 70th in calling balls and strikes accurately out of the 83 umps with at least 1000 calls. His accuracy is 92.3%, which is 1% below the MLB umpire average of 93.3%, but even the best umpires are only getting 95.3% of calls correctly while the worst are getting 91.5% correct.
The average run favor for all MLB games is .45 runs. That means, on average, one team is getting an extra .45 runs of support just from the umpire alone. Over a full season it is suspected that calls and run favor will even out, but that isn't always the case. The obvious takeaway, at least in my opinion, is that robot umps need to be developed and deployed as soon as possible; it would bring more fairness to baseball. This is an issue that MLB needs to address in the upcoming CBA.
Lefty Paradise
Yankee Stadium has long been a lefty paradise with the short porch in right field (314 down the line and 385 to the right center gap). Yankee Stadium has a home run park factor of 109 for left handed hitters, which ranks second behind Great American Ball Park in Cincinnati. Park Factor shows the difference in run scoring between ball parks, so a park factor of 109 means that left handed hitters at Yankee stadium hit more home runs at home than they do away from Yankee Stadium.
Carlos Santana of the Kansas City Royals is off to a great start to the season. He has 13 home runs and, for the 12th season in a row, has an on base percentage above .350. Per Baseball Savant, if Carlos Santana played all his games at Yankee Stadium, he would currently have 22 home runs instead of 13. This does not account for games played away from home, but it is unimaginable the damage that a pull-heavy Santana could do in Yankee Stadium. The Yankees need speed and versatility in the field and lineup, acquiring both Santana and Whit Merrifield in a trade would address both.
Pitcher of the Night – Kenley Jansen
Pitching line: 1 IP, 1 K, 0 ER, Save
Kenley Jansen entered in the 9th inning with a 3-2 lead against the Cubs to lockdown his 19th save of the year. He gave up a leadoff single to Mike Tauchman, but struck out Buster Posey and got Alex Dickerson to ground into a double play to end the game.
Jansen has been stellar this season posting a 1.42 ERA. He also ranks 8th in reliever win probability added. After three straight seasons above 3 ERA, it seems that Jansen has regained his dominance. It's fair to wonder if the shortened season gave veteran relievers such as Jansen, Craig Kimbrel, and Mark Melancon the necessary rest to come back firing in 2021.
Hitter of the Night – Hunter Renfroe
Hitting line: 2-4, HR, 3 RBI, 2 hard hit balls
Hunter Renfroe hit a homer in the bottom of the 4th to cut the Sox deficit to one run against the Royals and then hit the go-ahead home run in the bottom of the 6th inning as the Red Sox took a 6-5 lead and held on to win. Renfroe has been a major bright spot for the Red Sox this year.
He signed a 1-year, 10 million dollar deal and has delivered with a 115 wRC+ and 11 bombs. He has also played stellar defense in right field making all necessary plays and showing off his big arm. He leads the league in outfield assists with 11. If Renfroe finishes the season strong, he could garner some serious free agent buzz and could demand a 2-3 year deal.