Analysis
Morel Boost: Cubs Rookie Adding Spark to the Lineup
Not regarded as a top prospect prior to his debut, Christopher Morel is bringing excitement to the Cubs with his speed and energy.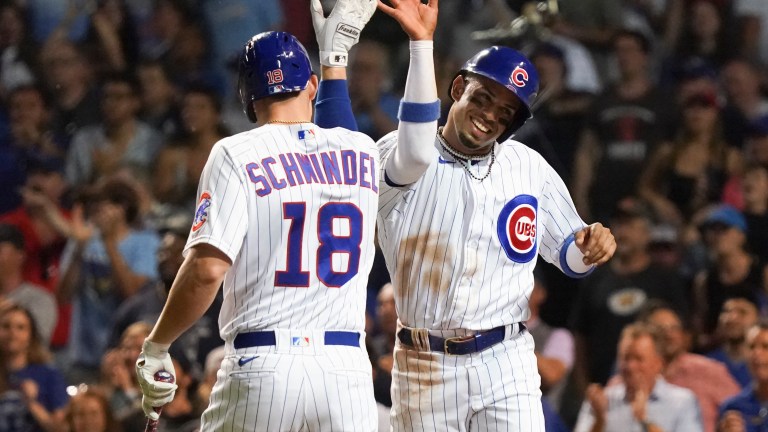 On May 17th the Cubs and Pirates faced off at Wrigley Field when a rookie got a chance to introduce himself to the Chicago faithful. Bottom of the eighth, up 6-0, Cubs Manager David Ross called upon rookie, and now fan favorite, Christopher Morel to pinch hit.
The 5'11", 145-pound Morel might be smaller in stature, but that does not hamper his power. Full count and two outs, Morel delivered a moment he will never forget.
As you can see in his celebration, Morel has some spunk and a bit of swagger. This Chicago Cubs team, 22-29, needed some new energy in the lineup and Morel has provided just that.
The 22 year-old signed for $800,00 with the Cubs in 2015, steadily climbing his way through the system. According to MLB Pipeline, Morel slots into the Cubs prospect ranks at No. 21, behind far more noticeable names. Yet the way he has played leads me to believe his impact for the future is more significant than many prospects outside of the top 20.
Early Success
Morel has reached base in all 16 games he has played, setting a new franchise record. Slashing .267/.375/.467 with two home runs, 12 runs scored, and six stolen bases is a hell of a start. David Ross obviously trust the rookie's abilities and has moved him into the leadoff spot. His sprint speed is in the 93rd percentile and has shown itself on the bases.
While the speed catches the viewers attention, his eye for the zone is the driving factor to Morel leading off. Pitchers will typically bait rookies into swinging at pitchers out of the zone, but Morel has shown his eye for the zone is advanced for his age.
Walking at a 13.9% clip is impressive for any player, no matter the experience. His 22.8% chase rate is roughly 6% better than league average. On Thursday night, with two outs, he laid off a pitch that dropped about half an inch outside the zone that few hitters would be able to lay off.
Not only is he getting on base, he's flashing some pop as well. Two home runs in 16 games will not jump out to many, but a 13.3% Barrel rate and 46.7 hard hit percentage will. Morel has put up a 112.9 max exit velocity (90th percentile) rivaling that of power hitters across the league. While he profiles as more of a line drive hitter than home run threat, hitting the ball hard is good.
Factor into the Future
Swagger, speed, and production at the plate has already made fans excited about Morel's future. David Ross and the front office have a piece that can fit in just about anywhere. So far Morel has played center, second, short, and third. His versatility will help the Cubs mold their lineup for now, but most importantly for the future.
Top prospect Brennan Davis looks like the center fielder of the future. If that's the case, Morel will be bumped to the infield. Nico Hoerner, Patrick Wisdom, and Nick Madrigal have a chance to be in the long-term plans, but Morel's play has shown the Cubs do not have to rely on that trio to pan out in order to be successful.
The swiss army knife will allow the front office to build a team focused more on adding the best available players and less on positional need. Let's say Morel's production does not keep up, he becomes a speedy utility guy that can fill multiple holes.
The Cubs are not a playoff team. I think we knew that coming into the year. Most of their lineup will not play a role for the next competitive team the Cubs have, but Morel has given the city a youngster with energy the team desperately needed. Chicago has lost most of their fan favorite players over the past year, but they have a new one now.