Analysis
Christopher Morel Has the Makings of a Fan Favorite in Chicago
Since being recalled, Christopher Morel has been on fire, but it is his infectious personality that will make him beloved in Chicago.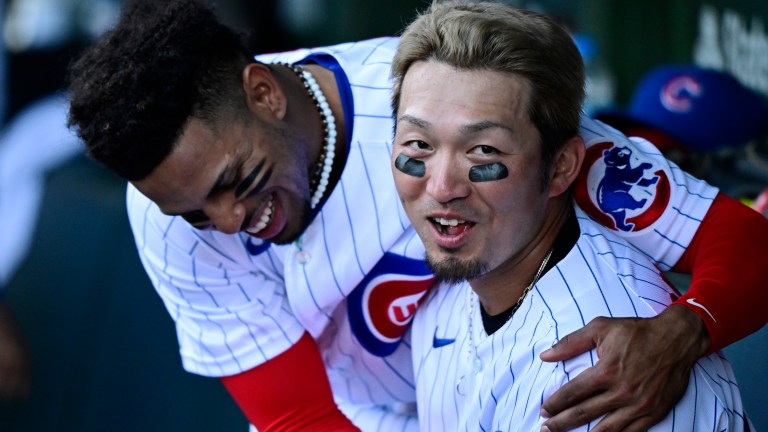 Who's your teams favorite player? Go ahead, think of who it is. Now, what makes them your favorite player? Answers vary from the home run hitter, speed demon, to do everything utility guy. Maybe the player is a great clubhouse presence or a high effort guy who is always going 110%.
Christopher Morel is all of that and more.
Morel caught the eyes of Cubs fans in 2022, when the rookie launched 16 home runs and stole 10 bags during a season where there was not much to cheer about. We saw glimpses of the electric, fun player with struggles that held him from being a shoo in to the Opening Day roster.
Although he ranked somewhere between 10-20 in the team's prospect rankings, Morel was somewhat of an unknown to the baseball world. If you did not know about Morel last season, you certainly do now.
After not making the roster out of spring training, Morel went to Triple-A Iowa and put on a show. In only 29 games, Morel hit 11 home runs and batted .330, good for a 182 wRC+. Since getting called up on May 8th, he's taken his game to a different level.
The 23-year-old is currently on a five-game home run streak, a Chicago Cubs franchise record, tying Sammy Sosa from the 1998 season. Anytime you are in the same sentence as Sammy Sosa's on field accomplishments, you must be doing something right.
Welcome to Chicago Cubs history, C(HR)istopher Morel.
Cubs fans have been looking for a new fan favorite ever since the World Series core was traded away in 2021. Sure, Marcus Stroman and Dansby Swanson fit the bill for some, but Morel is quickly establishing himself as the man in the windy city.
What makes Morel such a likeable player is beyond just the home runs. His big, infectious smile combined with his enthusiasm and love for the game could make even the most die-hard Cardinals fans pull for him. He brings an energy to the clubhouse and fanbase that is organic and electric.
Morel walks a thin line between cocky and genuine passion, and he walks it well. Simply put, this kid just loves playing baseball. He's willing to do whatever it takes to help his team win. Play the outfield? no problem. Play the infield? No questions asked. Steal bases, pinch run, hit a home run. He can do it all.
Christopher Morel's hot scorching hot streak will slow down. The strikeout's will likely hover around 30% and the power will cool off. Even when that happens, fans will still gravitate towards him. For such a young player, Morel has already established a bond with the fanbase.
As fans, we struggle to completely understand the importance of clubhouse chemistry. We hear the stories of clubhouse cancers, but less about the players who uplift others and bring an energy to the clubhouse. As Cubs rookie first baseman Matt Mervis said in an article at 670 the score, "He is the best kind of teammate. He is always happy and smiling. The thing you know about Chris is he will always play hard no matter what position he is at."
The Cubs are still finding the pieces to the next playoff team, but I guarantee Morel will be part of that group. You cannot develop or teach a player personality, and Morel has it. I think it's safe to say we will be seeing a lot of Morel #5 jerseys around the friendly confines of Wrigley field.