List
MLB Teams As Ballpark Food
The list nobody knew they needed.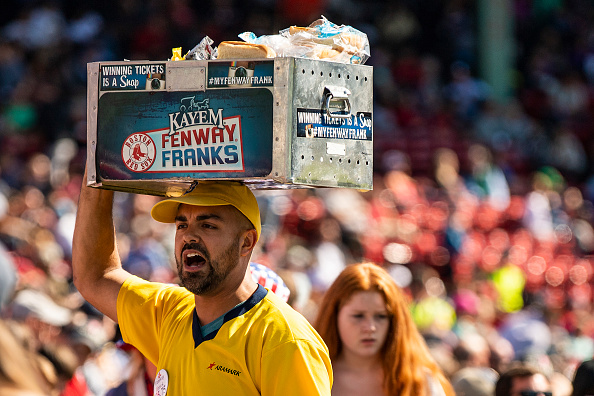 NL East
New York Mets (41-35) – Really strong mixed drink
Mixed drinks at stadiums can get pricey, just like the big deal the Mets dished out to Francisco Lindor. The alcohol is carrying the drink here though, for better or for worse. At the moment, the Mets are 4th in MLB in team ERA (and were recently 1st) while sitting in the bottom five in team OPS. The pitching and Jacob deGrom are carrying the weight, while the little bit of soda water to the gin is just doing enough to make it a mixed drink. Maybe they can add some more of the non-alcoholic portion of the drink if Lindor (.661 OPS) and Dominic Smith (.673 OPS) pick it up and others get healthy.
Washington Nationals (40-38) – Chicken Sandwich
Lots of options for the Nationals at this point. Will they be sellers at the deadline, or go for another strong second half to push for the postseason a la 2019? Do you put pickles, lettuce and tomato on chicken sandwiches? Would you like fried or grilled? Many choices. If done right, it's excellent and every new Kyle Schwarber bomb to go with Trea Turner, Juan Soto and Max Scherzer is another great bite. If they don't get more from some of the other non-stars though, maybe the chicken ends up being rubbery and just an average meal.
Atlanta Braves (38-41) – Vanilla Ice Cream
Ice cream is wonderful and vanilla specifically opens the world of opportunities for an ice cream sundae. You can add hot fudge, whipped cream, caramel, peanuts or whatever you like. There's so much potential, just like the Atlanta Braves, who have a myriad of awesome players. Still, they are 8th in OPS and 17th in ERA in MLB. The base is there to build something special, but as of now, all we've seen is a middling start.
Philadelphia Phillies (37-41) – Philly Cheesesteak (but not from Philadelphia)
Phillies fans might be cringing thinking about a cheesesteak from another ballpark, especially for a team with a 15-26 road record. The thing is, Philly cheesesteaks are still solid, but if it's not the real thing, it's not quite as good. The Phillies have some strong pieces to the puzzle like Bryce Harper and Zack Wheeler (2.20 ERA), but there hasn't been enough overall – basically a cheesesteak with nothing else on it but the meat and cheese – as the team is middle of the pack in team OPS and ERA.
Miami Marlins (34-45) – Eating way too much
Take any ballpark food and eat all of it. The digestion process won't be too fun. The Marlins pitching staff is fantastic, and it's super fun to watch Pablo Lopez, Sandy Alcantara and Trevor Rogers deal. Unfortunately, because of that, I've found myself watching too many Marlins games, which like eating too much food, can feel like a stomach ache when you wind up with the 29th best offense by OPS.
NL Central
Milwaukee Brewers (48-33) – Soft Pretzel
The starting pitching the Brewers possess is absolutely filthy. Good luck against Corbin Burnes, Brandon Woodruff and Freddy Peralta in a postseason series. A soft pretzel is a wonderful item that is warm, soft and salty – it's good stuff, just like the Brewers staff. Unfortunately though, Milwaukee ranks just 23rd in MLB in OPS. It's like they're eating the pretzel without any mustard or cheese dip, so it's a bit more dry while still being a solid pick.
Chicago Cubs (42-39) – Asada Dog
If this was just the Cubs bullpen, it'd be the filet mignon sandwich served by the New York Mets. The starting rotation leaves something to be desired though and the Cubs are middle of the pack in team OPS. They've had a ton of injuries to deal with and ownership seemed ready to sell the team this past offseason with many pending free agents. Javier Baez just got benched earlier this week. There's just a lot going on for this team. That's kind of like the Asada Dog served at Chase Field for Diamondbacks games. It's an 18-inch behemoth with fries, carne asada, guacamole, among a list of toppings. Might be good, but maybe just a little too much going on there to eat the whole thing.
Cincinnati Reds (39-40) – Chili-cheese dog with a soggy bun
Peanut butter & jelly. Salt & Pepper. Chili & Cheese. Nick Castellanos & Jesse Winker. These are all phenomenal combinations. The ladder two MVP candidates are assisting in the Reds owning a top tier offense by OPS. Unfortunately, the bun has gotten soggy underneath, representative of the team's 24th best ERA (doesn't help they lost Trevor Bauer and Luis Castillo has struggled) and an MLB-worst 5.48 ERA from the bullpen.
St. Louis Cardinals (40-41) – Burgerizza
The Atlanta Braves added a menu item called the Burgerizza, which is a grilled 20-ounce beef patty, five slices of cheese, bacon, and two 8-inch pepperoni pizzas as the bun. It's overkill with a $26 price tag. It may look like something flashy and fun, but I can't imagine you feel great after eating one and might just need a shower after attempting to do so. The Cardinals sit near .500 and had a strong start to the season. However, they rank just 26th in team OPS, 16th in ERA and are four wins worse by pythagoreon. They might be worse than the record right now despite having Paul Goldschmidt, Nolan Arenado, Jack Flaherty (though injured now) and company, which is similar to having burgers and pizza as great items that might just not be the best combination.
Pittsburgh Pirates (29-50) – Water
The Pirates are not very good at baseball this year – basically, they're bland like water. Their biggest rival is first base. Yet, like water, they are necessary on some team's schedules. You have to drink water to live, and some teams might even have to make a trade for one of Pittsburgh's good players like Bryan Reynolds or Adam Frazier if they want their best chance at surviving the season and making the playoffs.
NL West
San Francisco Giants (50-29) – Garlic Fries
Garlic fries are spot on, and you get a lot of good bites out of them. That's like the Giants who win with depth and multiple bites of hitting to go with the garlic punch of a starting staff led by Kevin Gausman. I do wonder about the longevity of this team as far as being a true contender, which is sort of similar to maybe some fries at the bottom of the palate that have been overly soaked in the garlic butter and are a soggy mess.
Los Angeles Dodgers (49-31) – Dodger Dogs
This might be the most offensive comparison, because many Dodgers fans are unhappy with the fact that Farmer John no longer provides the Dodger Dog. Some claim it's no longer as good – just as the Dodgers have still been good, but not as stellar as a season ago. That said, I'm going to let my Dodgers friends in on a little secret: the only difference between Dodger Dogs and other stadium hot dogs is nostalgia. The Dodgers don't boast the same regular season success right now, but as the hands-down National League favorite per Bovada, they should be back to their old ways soon, especially once certain players return from injury like Corey Seager.
San Diego Padres (49-33) – Combo Pizza
Forget Slam Diego, the Padres have been the Pad-ERA-s this year, ranking near the top of MLB in team ERA behind Yu Darvish and Joe Musgrove, while coming in outside the top 10 in OPS. Still, there's a lot on this team overall to like through every level of the game. Whether it's stars like Fernando Tatis Jr. and Manny Machado, do-it-all batters like Jake Cronenworth, solid outfielders in Tommy Pham and Trent Grisham or the front-line pitchers Darvish/Musgrove to pair with a bullpen that's got a sub-3 ERA, any player/topping is on this pizza. If Eric Hosmer, Jurickson Profar and Ha-Seong Kim can pick it up a bit, this team will further reach its potential just as mozzarella goldens under an oven.
Colorado Rockies (34-47) – Old box of Crackerjacks
I don't think I've ever seen someone ask for crackerjacks at a baseball game, but I guess it's a thing. They're fine, but now try them old and stale. The Rockies aren't old, but they are stale. They're near the bottom in the league in ERA and bullpen ERA. Despite playing half the time in Coors, they are middle of the pack in team OPS. Maybe a Trevor Story trade will give them a nice surprise at the bottom of the crackerjack box with a jolt into their minor league system.
Arizona Diamondbacks (22-60) – Waiting in line for the bathroom at the ballpark
The D-Backs are 25th in OPS and 29th in ERA in the MLB. I know this isn't actually a comparison to food, but they're 22-60. It's at a point where it's just a waiting game til the trade deadline to see exactly what food/drink exits the team.
AL East
Tampa Bay Rays (47-34) – Loaded nachos, but they forgot the jalapenos
The Rays have the top run differential in the AL East and the second best record behind a stellar bullpen and solid contributions all-around. They have every culinary item you could need on their plate to get the job done, and are delicious like loaded nachos with a new and improved recipe (Wander Franco to bolster the hitting and maybe Vidal Brujan at some point). Think of the bullpen as the chips, or the base. The only issue is, the ballpark employee forgot to add the jalapenos; in another sense, they're missing something. Tyler Glasnow's injury leaves the team without their top three starters (Glasnow, Blake Snell, Charlie Morton) from last year's postseason run. Can they go back and ask for the jalapenos (make a trade at the deadline for a frontline starter)? Yes, but maybe they're too comfortable in their seat and don't want to go through the hassle.
Boston Red Sox (50-31) – Clutch beer from a vendor walking to your aisle
Featuring three everyday hitters over an .900 OPS (J.D. Martinez, Xander Bogaerts and Rafael Devers), Boston has a top-five offense in MLB. They also feature a solid bullpen. There has been plenty to like, and plenty of beers to be had for Boston. The starting pitching leaves something to be desired though, as Nathan Eovaldi is the only starter under a 4.00 ERA. Good news though! The beer vendor is walking right to the aisle, so you might have just finished your last beer and are thirsting for more, but you don't even have to move to get this next one. That's like what Chris Sale could provide in coming back, headlining a Boston team that's currently sixth on Bovada in odds to win the pennant and seems to be just that front-line starter away from becoming one of the favorites.
New York Yankees (41-39) – Dry Chicken Fingers
Did you know the Yankees are 4th in odds to win the American League (ahead of Boston) on Bovada (only behind the Astros, White Sox and Rays)? A lot of hype there that hasn't quite lived up to the billing. The comp here is simple: sometimes you order chicken fingers and are expecting that juicy, crunchy, delicious bite. Other times you can tell the chicken has been under the hot lamp for two days and it's a bit dry. That's like the Yankees right now, who despite all the star power, are outside the top 10 in MLB in OPS and don't have an elite staff behind Gerrit Cole. The bullpen is near the top of the AL in ERA, making them a nice dipping sauce to cover some of the issues like a lack of left-handed hitters. Maybe the last couple chicken fingers will be more fresh than the first few with players like Gary Sanchez having a resurgence, but so far this ballpark purchase has been closer to average than one could have expected.
Toronto Blue Jays (41-37) – Candy
The Blue Jays will give you a sugar high in a hurry with their lineup that ranks 2nd in the league in OPS. Marcus Semien, Bo Bichette, MVP-candidate Vladimir Guerrero Jr., Teoscar Hernandez and George Springer stick out amid a loaded hitting roster. The only issue with candy is you need a little more of a balanced diet. Toronto has solid enough pitching with Robbie Ray and Hyun Jin Ryu leading the way to a 14th-ranked MLB ERA, but it needs to get a little better (maybe via trade) to usurp the top three in the division and avoid having a sick stomach from shoveling handfuls of Sour Patch Kids down your throat.
Baltimore Orioles (27-54) – Sunflower Seeds
It doesn't matter who's pitching for the Orioles now that John Means has been hurt; they're getting chewed up and spit out by opposing lineups. They rank last in the majors in team ERA. They're not just bland sunflower seeds though, they've got ranch, BBQ, cracked pepper or whatever seasoning you like on there with some of the zest that Cedric Mullins, Trey Mancini and company have provided to make the lineup interesting.
AL Central
Chicago White Sox (47-32) – Corn Dog
Corn Dogs are delicious, and the White Sox are legit. The hot dog in the middle stealing the show has been the starting pitching, with Carlos Rodon (2.06 ERA), Lance Lynn (2.06 ERA), Lucas Giolito (3.84 ERA) and Dallas Keuchel (3.96 ERA) giving them a postseason-ready staff. The hitting, which is the breading of the corn dog, hasn't been as strong as one would have thought preseason, but is still solid. If they can ever get healthy (especially in the outfield) and Tony LaRussa doesn't ruin more players like Yermin Mercedes, then they'll have that perfect mix of ketchup and mustard to dip the Corn Dog in and could make a real run at a World Series.
Cleveland Indians (42-35) – Hamburger
Cleveland is just 21st in the majors in OPS but have been carried by their pitching – mostly a bullpen that's 3rd in the AL behind a stellar back-end, since they've had to deal with injuries to the starting rotation. They kind of skimped out in the offseason and have a payroll just above $50 million, which is similar to saving an extra $1.25 by getting the hamburger over the cheeseburger. I guess it's saving something, but you couldn't have just splurged out the extra cash to go fill one more hole or create an even better meal? They've got the pitching for the postseason, but by ownership cheaping out, you could miss out on an otherwise good situation.
Kansas City Royals (33-46) – Peanuts
You have to do a little bit of work for this snack, just like the Royals still have some work to do with their young pitching staff. It's shown some promise, but also sits at 26th in MLB in ERA. They've seen young prospects like Daniel Lynch and Jackson Kowar come up and struggle. If they can do a bit more cracking of the outer shell, maybe they'll reap the rewards of the interior peanut. Otherwise, a lack of hitting depth to supplant top players like Salvador Perez, Whit Merrifield and Andrew Benintendi's bounceback campaign will lead to some shell-filled bites that make you not want to come back for more.
Detroit Tigers (36-45) – Soda
Take your pick of what soda you want the Tigers to be, but soda isn't all that interesting to me in the pantheon of ballpark foods/drinks. I'm not going out of my way to watch a Tigers game right now. That said, they've been mildly surprising in a good way, with Casey Mize and Tarik Skubal showing nice promise. There's not a high ceiling on soda, just like this season is probably capped out at a 70-win year thanks to an awful bullpen for the Tigers. There's a good amount of options like Sprite, Coca-Cola, Dr. Pepper, etc. when you have Mize, Skubal, Spencer Turnbull (whenever he returns) and Matthew Boyd for an interesting staff.
Minnesota Twins (33-45) – Nachos
While the Rays are the loaded nachos, the Twins are those crummy nachos you get that's just some stale chips in a plastic box with a spot for dipping into the cheese. You saw on the menu 'Supreme Nachos', but this is what you got. It's pretty disappointing. The team is 6th in MLB in OPS, which may provide some hope that not ALL the chips are stale, but if they keep breaking (Byron Buxton) and the pitching doesn't turn it around (27th in the MLB in ERA), then there's not going to be a refund applied to you getting duped on your order.
AL West
Houston Astros (48-33) – Craft Beer, but a small bug just flew into it
A cold, crisp craft beer at a summer baseball game hits. It can have depth of flavors (akin to the Astros depth of starting pitching that caused Cristian Javier having a great season to move to the bullpen). It can have a refreshment and punch to it (similar to the team leading MLB in OPS). The only caveat for the Astros being a great team right now is the bullpen, which is middle-of-the-pack in the AL. It's like when a gnat or fly falls into your open cupped beer. Is that the achilles heel to the team in that you'll stop drinking it, or will you make a move or two to bolster the 'pen and stick your gross fingers into the beer to pull it out? Certainly, moving more starting depth with a shortened postseason rotation to the 'pen could help, or maybe it doesn't matter enough and you'll just drink the bug for a protein boost and they'll win despite the relief pitching.
Oakland A's (48-34) – Shaved Ice
I'm not talking about the cheap, flaky ice. I'm talking about the pillow-y soft, melt in your mouth goodness of a great shaved ice. That's the Oakland Athletics, who continue to put together strong results off a budget akin to paying for ice and sugar-water. Matt Olson is an under-talked MVP candidate and Chris Bassitt has been a solid front-line starter. The thing with shaved ice though, is that while it's a delicious treat on a hot day during the summer, it lacks a bit of luster on a colder day in the fall, which has been a bit of an issue for a team that's struggled in the postseason in recent memory.
Seattle Mariners (42-39) – Toasted Grasshoppers
We've seen this before with the Mariners starting well but fading a bit as the season continues. They sell toasted grasshoppers at their stadium, which is a perfect comp. People want to come to T-Mobile Park to give them a try, just as Jared Kelenic had a cup of coffee in the MLB, but they don't have a ton of sustenance. You're not getting a bowl full of grasshoppers. That's okay, because the future is bright for Seattle, but being above .500 doesn't seem likely to last for a team that ranks 27th in OPS and 20th in team ERA.
Los Angeles Angels (39-41) – Popcorn
Is popcorn the most filling snack or best ballpark food out there? No. I'm not sure I've ever met someone who just hates popcorn though. The Angels just can't seem to put a roster together around Mike Trout that does fill you up and wins a ton of games, this time thanks to their pitching that sits 28th in MLB in ERA. They do have a nice salty, buttery taste to them though with Shohei Ohtani, who is becoming (or maybe already is) one of the most beloved players to watch in the sport. Just like anytime there's popcorn in front of me I'll snack on it, I'll always watch an Ohtani at-bat or 98-MPH fastball.
Texas Rangers (31-49) – Cotton Candy
Cotton Candy has its perks for some, but it also leaves your hands feeling sticky (maybe a replacement for Spider Tack!) and with any moisture will dissolve in an instant. Things are not going well for the Rangers, though they are actually kind of fun like Cotton Candy with surprise seasons from guys like Kyle Gibson (2.00 ERA) and Adolis Garcia (.842 OPS). The record though has not reflected some of those good stories, and by the time the trade deadline passes, this thing could be similar to if you've ever dropped a thing of cotton candy in a puddle of water and watched it disappear in an instant.