Analysis
MLB Best Bets: Predictions, Odds Guardians vs. White Sox, Orioles vs. Cardinals, Mets vs. Nationals for May 11, 2022.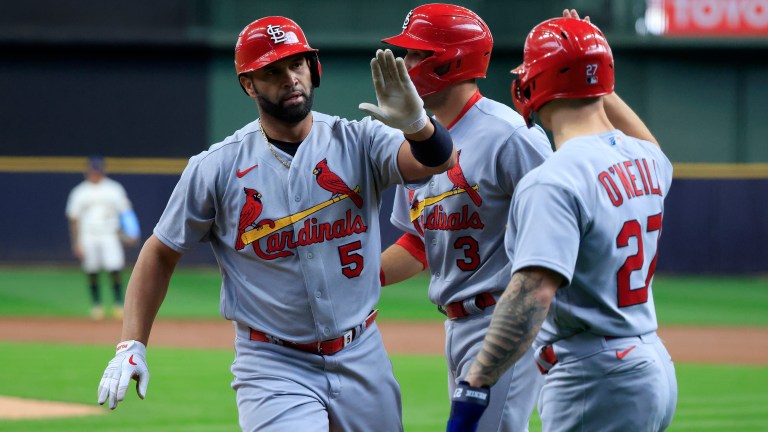 Yesterday was pretty mediocre. We went 2-2, but it felt much worse. We took the under 6.5 in A's vs. Tigers which hit, but barely. It was a sweat for the latter half of the game, but they ultimately pulled through.
The Dodgers covered the run line with ease, winning 11-1. That was a bonus pick given on Twitter, where I regularly give out bonus picks.
I took the Rays to win, which is the worst bet I've ever made. Not only did Reid Detmers throw a no-hitter, but the Angels won 12-0. Anthony Rendon hit a left-handed home run off outfielder Brett Phillips. I can't make this stuff up.
We took the Marlins vs. Diamondbacks under, which wasn't even close to hitting.
Two significant losses and two decent wins put us slightly negative on the day, so let's win it back with three more MLB Best Bets.
Peter's 2022 MLB Regular Season Record: 58-39 (60%) +16.46 units
Subscribe to my New Gambling/Fantasy Baseball Podcast: Not Gambling Advice.
Cleveland Guardians @ Chicago White Sox: 2:10 PM EST
Aaron Civale: (RHP, Guardians) [1-2, 9.45 ERA, 1.70 WHIP, 20 IP, 22 K, 6 BB]
Vince Velasquez: (RHP, White Sox) [2-2, 3.97 ERA, 1.37 WHIP, 22.2 IP, 21 K, 9 BB]
The White Sox host the Guardians for the matinee game of their wild three-game series. Josh Naylor carried the Guardians to a victory on Monday and even deposited another ball into the seats yesterday. However, the White Sox were able to close the door in a 4-1 victory, evening the series at 1-1.
After five terrible outings, Aaron Civale toes the rubber for the Guardians today. He hasn't pitched beyond the sixth inning, yet he's allowed at least four earned runs in each game. He's faced some stiff competition in three of those starts, but he allowed a combined ten earned runs against the A's and Royals.
Those starts came on the road, where Civale has been at his absolute worst. He's thrown 10.1 innings on the road, allowing 14 ER while opponents are hitting .383. Civale has been able to get lefties out at a reasonable rate this year, but right-handers are hitting .388 with a 1.109 OPS against Civale this year. There are plenty of right-handed White Sox bats that should feast on him today.
Luis Robert and Tim Anderson have especially hurt Civale. In their career, they are a combined 12-28 with four home runs and two doubles against Civale. Leury Garcia and Yoan Moncada are also a combined 9-25 with two doubles.
These pitchers have similar numbers against the opposing team's starting lineups. Civale has a .365 wOBA, a .293 average against, and a 4.90 FIP in 104 plate appearances. Velasquez has a .337 wOBA, a .259 average against, and a 5.37 FIP in a smaller sample of 27 PA.
The key difference here is how these pitchers are trending. Civale has not looked good during the season, and he allowed eight runs over 7.2 innings and the White Sox last year. Velasquez is putting together a solid year, looking for his third consecutive win in his previous three starts.
Velasquez has also been much better pitching at home this season. In 14.1 innings at home, he's allowed just four earned runs against the Angels, Rays, and Mariners. In two starts on the road, he's allowed six earned runs in 8.1 innings against the Twins and Red Sox.
Velasquez has also been much better against left-handed bats (.463 OPS) than righties (1.023 OPS). The three best bats in the Cleveland lineup, Jose Ramirez, Steven Kawn, and Josh Naylor, are left-handed.
The fact that the first series between these two teams went Cleveland's way makes me even more confident the White Sox will come out fired up and ready to take the deciding game of this series.
The White Sox are much better than during their sluggish start last month. After their three-run victory last night, Chicago has won seven of its previous eight games, and it should have been eight in a row.
They are getting the job done this afternoon. I'd be willing to take them on the money line, but the value with the first five intrigues me more. If you aren't comfortable taking the first five innings, the money line is a solid choice.
The Pick: Chicago White Sox First 5 Innings -0.5 (+120)
_________________
Baltimore Orioles @ St. Louis Cardinals: 7:45 PM EST
Spenser Watkins: (RHP, Orioles) [0-0, 3.22 ERA, 1.39 WHIP, 22.1 IP, 10 K, 10 BB]
Miles Mikolas: (RHP, Cardinals) [2-1, 1.53 ERA, 0.99 WHIP, 35.1 IP, 28 K, 7 BB]
The Cardinals are looking to rebound after dropping the first game at home against the Baltimore Orioles. This is more of a fade on Watkins than anything, as I believe he's due for significant regression.
Neither pitcher has faced the opposition's starting lineups before. However, the Cardinals are the better team, and they are not dropping back-to-back games against this mediocre Orioles squad.
The O's are the second-worst team in runs scored per game at 3.53. They have won five of their last six games, but how long will that truly last is the question. I don't think it will with Watkins pitching on the road.
Watkins features a 92 MPH fastball that he throws about 35% of the time. It's not a good pitch, and although hitters have a .233 batting average against it, the xBA sits at .369, which is a better indicator of how hard the balls are being hit, whether they are caught or not. His 3.22 ERA is impressive, but the 6.06 ERA reminds us he's mostly the same pitcher that had an 8.07 ERA last season.
He's going to allow a lot of balls in play, which bodes well for the Cardinals. This season, the Orioles have made 22 errors, putting them in the bottom five in baseball.
Miles Mikolas will get the ball for the Cardinals, who's been fantastic to start the year. He's not as good as his 1.53 ERA indicates, but his 2.73 xERA leads me to believe this early success is real. I doubt he sustains that all year, but he's pitching like an ace right now.
There are just too many factors in this game working for the home team. I am rolling with the Cardinals -1.5; they are getting back on track tonight. I grabbed this line at -110 and would take it up to -120.
The Pick: St. Louis Cardinals -1.5 (-110)
_________________
New York Mets @ Washington Nationals: 7:05 PM EST
Tylor Megill: (RHP, Mets) [4-1, 2.43 ERA, 0.90 WHIP, 33.1 IP, 36 K, 8 BB]
Aaron Sanchez: (RHP, Nationals) [1-2, 8.56 ERA, 1.54 WHIP, 13.2 IP, 9 K, 3 BB]
After a 4-2 win by the Mets last night, they take on the Nationals in another night-game in Washington. This is the story all about how Tylor Megill turned the Nationals upside down.
Tylor Megill has been incredible to start the year. He's striking out nearly 28% of batters faced while only walking 6%. His fastball velocity is up over a mile an hour from last year, and he's rocking a 2.43 ERA. Even more impressive is his 2.71 xERA, as he's limited hard contact all season.
Megill has been terrific on the road this season. He's made six starts this year, with three on the road. In those three starts, he's allowed just two earned runs over 17 innings of work. One of those starts was against the Nationals on Opening Day, where he shoved five innings of shutout ball.
The Mets rank in the top five in both wRC+ and WAR among position players, thanks to a strong season from Francisco Lindor and significant offseason additions like Starling Marte, Mark Canha, and Eduardo Escobar. Megill looked solid as a rookie, but he seems to have blossomed into a starting rotation piece with a 21.5 K-BB% to start 2022.
That loaded Mets lineup will face Aaron Sanchez today, who's off to an abysmal start. He's sporting the worst hard-hit rate in the league right now at 59.6%. Francisco Lindor should lead this offense today, as he's 4-9 with a double against Sanchez in his career. Sanchez's 3.97 xERA implies he's been the bearer of some lousy luck, but I've watched a few of his starts this year, and the eye test doesn't back that up. Of course, take my eye test with a grain of salt, but this pitcher, in my opinion, is just not going to get it done tonight.
This season, the Mets have been especially lethal against right-handed pitching, rocking a .749 OPS versus a .622 OPS against left-handers. Their offense on the road has also been a tick better, sitting at a .722 OPS versus a .711 OPS.
As for Sanchez, his career started on the right foot. Unfortunately, 2017 was the last year he looked effective due to injuries. I am rooting for Aaron Sanchez to bounce back, as nobody likes to see a promising young pitcher's career derailed by injuries. I don't think he has the arsenal to keep up with this Mets lineup. They will jump on him early and cover the first five-run line with ease.
The Pick: New York Mets First 5 Innings -0.5 (-120)
__________________________
I've written up a quick guide with critical terms and helpful advice if you choose to tail my daily picks. This daily column is updated every day between 9:00 AM – 12:00 PM EST.