Feature
Just Baseball Highlight Reel: Angels Rookie Reid Detmers Throws No-Hitter
All of the highlights you have to see from Tuesday's MLB action.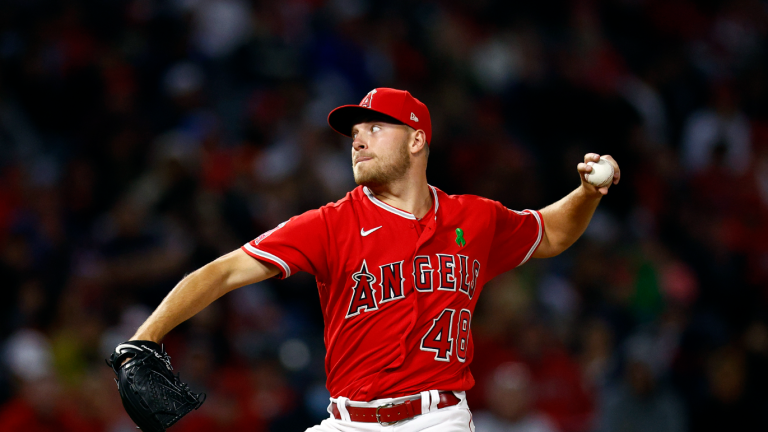 We kick off today's highlight reel with a little bit of history out of Anaheim, as we saw the first complete game no-hitter by a pitcher this season. Here is your highlight reel from May 10th, 2022.
Angels 12, Rays 0
Reid Detmers, a 22-year-old rookie, made history on Tuesday night tossing the second no-no of the season. Detmers walked one, and only struck out three relying on defense and maybe some luck.
This Angels team feels different than recent years. Special. Just about everything is going their way to start the season, and no signs are pointing to that ending soon.
Instead of describing the loads of offense leading to 12 runs, I'll just drop the highlights, including an Anthony Rendon lefty home run.
Yankees 6, Blue Jays 5
Aaron Judge, 112.5 mph, 414 feet, game over. The Blue Jays were up 5-3 in the ninth when Jordan Romano and his league-leading 12 saves entered the game to seal the road victory. Not so fast.
A couple of walks put two on when Aaron Judge came to the plate. Hang it high, hit it long.
The Yankees fell behind 1-0 early after a George Springer home run, and eventually found themselves in a 3-0 hole.
Giancarlo Stanton took advantage of the hitter friendly ballpark tying the game 3-3 in the sixth. Yes, this is only a home run in Yankee Stadium.
The Blue Jays made it 5-3, and you know the rest. The 21-8 New York Yankees solidify their place at the top of the division.
Tigers 6, Athletics 0 (Game 1)
The Tigers offense finally showed up, collecting 12 hits in game one of the doubleheader. Tarik Skubal had yet another impressive outing, going seven innings allowing only three hits.
Jonathan Schoop pushed the lead from 2-0 to 3-0 with his second home run of the season.
The Athletics offense could not get a rally going before a three-run double by Jeimer Candelario extended the Detroit lead the eventual final of 6-0. Candelario is now batting .351 over his past 10 games adding life into this dead Tigers offense.
Athletics 4, Tigers 1 (Game 2)
Believe it or not, the second Tigers versus Athletics game of the day was not the most exciting. Oakland scored on two sacrifice fly's and two singles. The Tigers scored on a bases loaded walk.
Tony Kemp topped off his two-hit night with a fantastic catch robbing Candelario of a base hit.
Dodgers 11, Pirates 1
After dropping game one of the series on Monday, the Dodgers bounced back in a big way. Justin Tuner turned in his best performance of the season collecting four hits including three RBI doubles.
The Dodgers offense collected 15 hits altogether, and the pitching held up. Tony Gonsolin went five innings and surrendered only one hit, but walked four. The pitching staff as a whole walked seven and struck out six, but hey, only one scored.
While Mookie Betts went 0-for-5 at the plate, he made up for it in the field.
Edwin Rios was given a start today and made the most of the opportunity going 3-for-5 with this home run.
Brewers 5, Reds 4
Freddy Peralta toed the mound for the first place Brew Crew and went 5.2 innings of one-run ball, striking out eight, a season high. The one run was a double to Tyler Stephenson, who continues to improve and show off that beautiful swing.
Luis Urias has wasted no time since returning from injury, adding his second home run this week tying the game at 1.
The Brewers offense did not stop there. A Jace Peterson double, followed by a couple run-scoring singles put the Brewers up 5-1 heading into the eighth. The Reds benefited from a bases loaded walk and Tyler Naquin double but it was too little too late. Josh Hader closed out the ninth earning his 12th save. Oh yeah, he hasn't given up a run in 2021.
Mets 4, Nationals 2
Scoreless until the bottom of the fourth, the Nationals jumped out to the first lead as Maikel Franco doubled in Josh Bell but the Mets defense limited the damage getting the second runner at the plate.
Riley Adams saw 86 in the middle of the zone and turned it into a souvenir. However, Washington would not put up another run.
New York started their scoring in the sixth when Jeff McNeil nearly took off Josh Bell's head, tying the game at two. McNeil's bounce back season is a underrated storyline in the Mets 2022 success.
Two sacrifice fly's made it 4-2 when Edwin Diaz closed the door, earning his seventh save and lowering his ERA to 1.38.
Red Sox 9, Braves 4
A matchup between two talented teams who are underperforming, Boston came out on top. After a terrific start to the season, Kyle Wright struggled against the Red Sox lineup walking four and allowing six runs.
Rafael Devers broke the game open when he changed a 2-0 lead to 6-0 with one swing of the bat.
A sacrifice fly, followed by a Travis d'Arnaud home run cut the lead to 6-3.
The Braves walked in a run before a Trevor Story single made it 9-4. Xander Bogaerts added three hits raising his average to .354 on the season.
Astros 5, Twins 0
A tip of the cap to Justin Verlander. The 39-year-old, 18-year veteran put on a show. Verlander found the fountain of youth and took a no-hitter into the eighth inning where Gio Urshela broke it up with a single.
Jeremy Pena continued his rookie of the year campaign driving in the first two for Houston. Alex Bregman's RBI double ended up being the only extra-base hit of the night.
Bregman also made an impact in the field making this play look easy.
Orioles 5, Cardinals 3
Baltimore made the trip to St. Louis for the first time since 2003, which seems crazy. Kyle Bradish went seven innings, allowing two runs but striking out 11.
Cedric Mullins and Tyler Nevin each went deep giving Baltimore the 3-0 road lead. Nevin was recently called up and will finally get a chance to prove he deserves everyday at-bats.
An O's double and single made it 5-0, before the Cardinals bats made their best come back attempt. Harrison Bader delivered an inside-the-park home run while Brendan Donvan decided he would take the easier route to his round tripper.
Rangers 5, Royals 4
Texas had a commanding lead, going up 5-0 thanks to two Corey Seager long shots. Martin Perez surrendered four runs, only one of which was earned, keeping his ERA at 2.10 on this season.
Kansas City was not going down without a fight. Three singles and a ground out RBI lead to four runs, and the Royals fall to 9-18 on the season. Not many positives to start the season for the Royals.
White Sox 4, Guardians 1
After the theatrics of Monday nights game between these two, Tuesday's game was much more conventional. Lucas Giolito went seven strong innings allowing six hits and one run. The bullpen shut it down and the offense did their job.
After a rough play in right field earlier this week, Gavin Sheets made up for it with this 419-foot blast.
Chicago moves to 15-14 chasing the first place Twins. They are finally playing to the level of their talent.
Padres 5, Cubs 4
Wade Miley's first start of the year did not go as planned. Three innings of five-hit ball, three runs, and five walks. A Wil Myers single and bases loaded walk lead to an early 2-0 Padres lead before Alfonso Rivas tied it up.
Manny Machado extended the lead with a two-out single.
Taylor Rogers, who had not allowed a run this season, was shaky in the ninth. After allowing two hits and a run, Rogers lucked into his 12th save of the season as the go-ahead Grand Slam came up just short.
Mariners 5, Phillies 4
The Mariners had 11 hits, only one being of the extra-base variety, and Ty France delivered an RBI single. Robbie Ray had a nice outing striking out 10 and allowing only two hits.
The Phillies lived on the long ball, hitting three home runs. The bad news, each was a solo shot.
Both of these teams need to get going if they want to meet preseason expectations. The Mariners get the first of the series, and the Phillies disappointing start continues as they fall to 13-17.
Diamondbacks 9 , Marlins 3
The Diamondbacks just keep winning. Winning seven of their last eight, Arizona handled business against the Marlins. Madison Bumgarner gave up two runs in 6.1 innings, bringing his ERA to 1.78 to start the season.
The Diamondbacks scored of four singles and two doubles, including the first career RBI for rookie Alek Thomas. The one long ball came off the bat of Jordan Luplow.
The lone Marlins highlight came on a long ball from Jorge Soler. The Marlins move to 1-9 over their past 10 games.
Giants 9, Rockies 2
The Giants strung together singles, ground outs, and even two bases loaded walks to push acorss their runs. Brandon Belt delivered an RBI double late in the game, but overall it is a rather uneventful nine runs.
While the Rockies did not have much in terms of highlights, Yonathan Daza racked up three hits including a double and triple.
We have a full slate of 15 games on Wednesday with three set for first pitch at 12:35 ET. Make sure you check out tomorrow's highlight reel for a breakdown of all the best action around Major League Baseball.