Analysis
Is Manuel Margot Finally Breaking Out?
Off to the best start of his career, is Manuel Margot's early-season production a flash in the pan or the beginning of a remarkable post-hype breakout?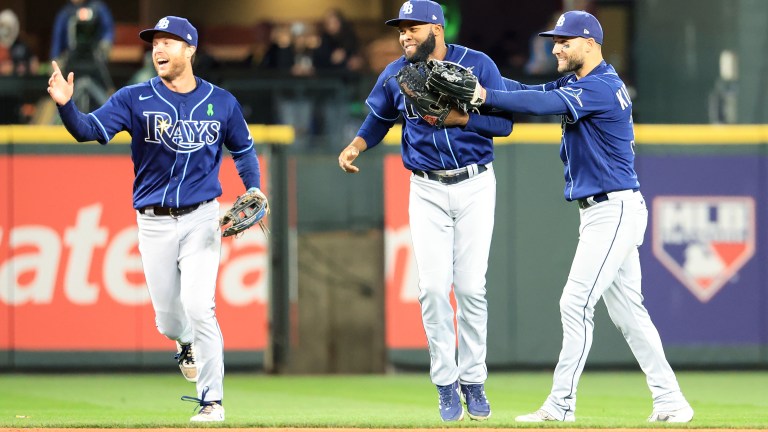 Vladimir Guerrero Jr., Juan Soto and Bryce Harper share at least one thing in common this season: they all have a lower wRC+ than Manuel Margot.
Now in his sixth big league season, and at 27 years old, Margot is finally putting it together at the plate. The veteran outfielder is batting .337 on the young season and his 176 wRC+ ranks 10th among all hitters with at least 90 plate appearances. Obviously the sample size is still relatively small, but the former top prospect is showing his high ceiling is still there.
Prospect Pedigree
While it's certainly surprising that Manuel Margot has gotten off to the offensive start he has in 2022, five years ago it wasn't unexpected. Between 2015-2017, Margot was ranked within MLB Pipeline's top 100 prospects each season, rising as high as 23rd in '17. The expectation was that he'd be an elite defender with enough contact and speed to contribute offensively as well.
Margot was thought of so highly back then that he was the headline piece sent from Boston to San Diego in exchange for Craig Kimbrel in November 2015. At the time, Margot was a top five prospect in the Red Sox system. He debuted for the Padres at just 21 years old in September of the following season and has been up ever since.
Early Struggles
However, the bat didn't quite develop as hoped. In four seasons with the Padres (1,526 plate appearances), Margot hit just .248 with a .695 OPS. His 87 OPS+ over that time means he was 13% worse than a league-average hitter. Moreover, an inability to consistently get on base (.301 OBP) prevented Margot from fully utilizing his speed on the base-paths (50 stolen bases in 428 games). His glove provided enough value to keep him around, but Margot was largely a one-dimensional player.
Defensive Stalwart
One thing scouts and prospect analysts got right about Margot was his elite glove. From day one, Margot has established himself as one of the best defensive outfielders in baseball.
Since 2017, he ranks seventh among 42 qualified outfielders with 35 Defensive Runs Saved (DRS). Additionally, Margot has finished in the top 10% of defenders in outs above average four times in the last five seasons. All this while spending time at each of the three outfield positions. That's how you stay in the everyday lineup despite being a below average hitter.
Tampa Takes a Chance
Few, if any, teams are more successful with reclamation projects, and unconventional moves, than the Tampa Bay Rays. Erik Neander and the rest of his staff have proven time and again that they know where to look for diamonds in the rough. It's how Tampa has managed to win back-to-back AL East titles despite spending a fraction of the money their divisional rivals in Boston and New York have.
In February of 2020, the Rays sent reliever Emilio Pagan to San Diego for Margot and catching prospect Logan Driscoll. The early returns of the deal weren't overwhelmingly positive, but there were signs of improvement. In 623 plate appearances with the Rays between 2020 and 2021, Margot raised his batting average (.258) and on-base percentage (.317), while lowering his strikeout rate. Most importantly, Margot slugged five home runs and had an .896 OPS in 58 at-bats during the 2020 postseason.
Meanwhile, he transitioned from center field to right field and didn't lose a step. Among the 26 players that logged at least 500 innings in right field last season, Margot ranked seventh with 6 DRS. Overall, the elite glove man was sixth out of 46 qualified outfielders with 13 DRS spread across all three outfield positions in 2021. Altogether, Margot produced the highest fWAR of his career (2.4). That was likely enough to view the trade as a win for the Rays.
Offensive Breakout
Then there's this season. Through 95 plate appearances in 2022, Margot has a .337/.400/.500 (.900 OPS) slash line. As previously mentioned, his 176 wRC+ ranks 10th among all hitters with at least 90 plate appearances. He's on pace for career highs in home runs, runs batted in and stolen bases. As a result, Margot is currently top-30 among all hitters in fWAR (1.1), despite having less plate appearances than all but one player in the top-50.
The underlying numbers suggest Margot's newfound offensive output has staying power. Notably, the 27-year-old has a career-best 12.6% strikeout rate, almost three points lower than his previous low of 15.1 percent. Additionally, Margot ranks in top 20% of hitters in average exit velocity, xwOBA, xBA and xSLG. His hard hit rate of 43.2% is also the highest of his career. There will be some regression, but all indications are that Margot is a different hitter in 2022.
Time will tell whether Margot's strong start is merely a fluke or rather the beginning of a long-awaited breakout. We'll also find out if Neander and co. have done it again (I certainly wouldn't bet against it).