Feature
Edwin Diaz and the Greatest Reliever Seasons Ever
The Mets' closer is having an historic season. Where does it stack up in Major League history?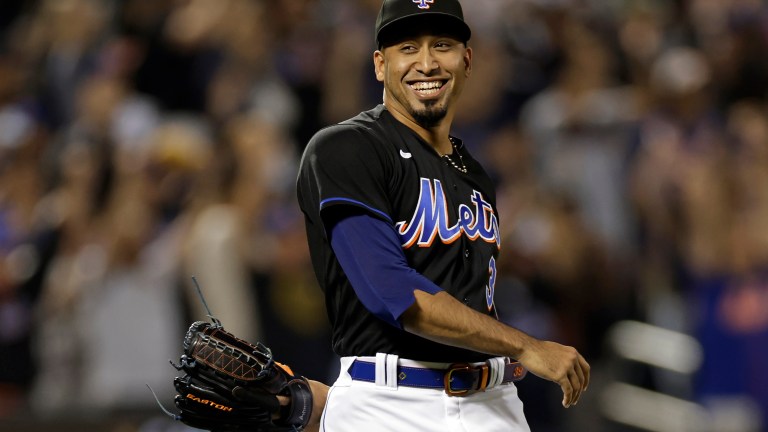 Being a relief pitcher is an unusual and unfair existence. They are judged on a relatively small sample size, often under the situations with the greatest significance. They toe the line between dominance and inferiority—a few pitches from the other side. This is especially true for closers.
Rarely has a reliever felt both ends of the spectrum like the Edwin Diaz experience with New York. In 2019, Diaz' failure to regularly close games cost the Mets a postseason berth. This year's Mets is heading to the playoffs for the first time in six years with Diaz to credit. Sure he's improved, but it's been a turnaround that's entering historic territory.
Thus far, he's appeared in 57 games and logged 58 innings. Diaz's strikeout total is currently at 110, an astounding rate of some 17 strikeouts per nine innings. Of course that leads the sport and it's on pace to be among the highest ever. Before play started on September 20, his ERA+ was at 273 and his FIP at 1.08.
It's beautiful music to Mets fans' ears, if you'll pardon the reference to his entrance song—which now has wide-ranging popularity.
The Diaz Effect has been felt outside and inside baseball, so much that he should earn Cy Young Award votes at year's end. He's already claimed three straight NL Reliever of the Month awards.
The greatest season ever out of the Mets bullpen? Certainly. The greatest season by any reliever anywhere? That's harder to answer, not just because of other tremendous performances throughout the years but because of a reliever's changing responsibilities—closers too.
Here is a list of some single-season bullpen aces with the necessary context of how this role has evolved.
Bruce Sutter – 1977
107.1 IP, 1.34 ERA, 0.857 WHIP, 1.61 FIP
Before there were closers, there were "firemen"—those entering in tenuous situations regardless if it wasn't the ninth inning. Sutter was certainly among the best at it, and earned a place in Cooperstown because of it.
At 24 years old and in his first full big-league season, Sutter rose to baseball's elite with 129 strikeouts in 62 appearances for the Chicago Cubs. His WHIP and FIP were the lowest of his Hall of Fame career, with just 23 walks and 69 hits allowed.
Sutter would be named the Cy Young Award winner in the National League…two years later. This in spite of his numbers not being as tremendous (albeit still great) as what he did in '77.
Willie Hernández – 1984
140.1 IP, 1.92 ERA, 0.941 WHIP, 2.58 FIP
While it's difficult to figure out the best of this group, Hernández easily takes the "out of obscurity" prize. After 27 saves over the previous seven seasons combined with the Cubs and Phillies, the left-hander flourished in his first year with the Detroit Tigers—appearing in 80 games, finishing 68, and saving each of his 32 save opportunities.
Through late August, Hernández had successfully protected a lead in 39 straight appearances as Detroit was well on its way to a division title. The Tigers went 104-58, swept Kansas City in the ALCS, and took care of the San Diego Padres in five to win the World Championship.
Fittingly, their newest bullpen ace yielded just one run in five October innings and was on the mound for both postseason clinchers. Hernández not only got a ring, but became the fourth American Leaguer to win the Cy Young and MVP in the same year.
Dennis Eckersley – 1990
73.1 IP, 0.61 ERA, 0.614 WHIP, 1.34 FIP
The line when closers became primarily a one-inning responsibility was drawn in 1988. It might be hard to believe, but there was a time when "Tony LaRussa" and "innovative" blended together. As manager of the Oakland A's, he transitioned a former starter into a limited, yet remarkably effective role. Hall of Fame effective, in fact. Eckersley was so dominant he took the Cy Young Award and MVP in 1992, but his performance two years earlier is arguably more impressive.
A 0.61 ERA and a WHIP of 0.614 was basically unheard of in the moment. Five earned runs and a 20:1 K to walk ratio is too. Not only wasn't he the most recognized pitcher on his own team (starter Bob Welch took the Cy Young), he wasn't the most honored reliever. Eck's 51 saves were second in the league to Chicago's Bobby Thigpen, who racked up 57 and earned more Cy votes. Dennis somehow settled for sixth.
Mariano Rivera – 1996
107.2 IP, 2.09 ERA, 0.994 WHIP, 1.88 FIP
It would've felt wrong to not include the greatest closer ever on this list. Determining the best among a drove of tremendous performances was hardly a simple task. Interestingly, his most standout year was when he wasn't yet the Yankees closer.
As the lead-in to John Wetteland, Rivera struck out almost 11 per nine innings. That turned out to be the highest of his 19 major-league seasons and the 1.88 FIP would wind up a career-low. Rivera was tough to hit, but even tougher to square up. In fact, he allowed just a single ball to be hit over the fence.
Rivera was third among American League Cy Young finalists but he won the first of five World Series titles. And by 1997, the closer job was his.
Trevor Hoffman – 1998
73.0 IP, 1.48 ERA, 0.849 WHIP, 2.04 FIP
At home games, Hoffman entered to the tune of AC/DC's "Hell's Bells." An ominous toll for opponents to hear. The Padres were 62-4 when he pitched.
He had 54 save opportunities with a 0.49 ERA in those situations. Hoffman converted on all but one and he tied the then-NL record in the process.
In 66 total appearances, Hoffman allowed 41 hits and 21 walks with 86 strikeouts (10.6 per nine innings). Opposing hitters batted .165 against him. More significantly, the Padres became National League champions for the first time in 14 seasons.
Eric Gagne – 2003
82.1 IP, 1.20 ERA, 0.692 WHIP, 0.86 FIP
The old saying that relief pitchers are failed starters sort of holds true here. Gagne went from erratic in the rotation to lights out in the bullpen. His 2002 was one of the best seasons by a reliever in recent memory, only to top that with one of the best all-time seasons by a reliever.
Gagne had 55 save opportunities in '03 and converted each one. Opponents registered a mere 49 total bases the entire season, drew 20 walks and got 37 hits in his 82-plus innings. And his FIP is still among the lowest by any relief pitcher.
Gagne was the runaway NL Cy Young Award recipient (28 of 32 first-place votes), becoming the ninth reliever to win it and also the most recent.
Brad Lidge – 2004
94.2 IP, 1.90 ERA, 0.919 WHIP, 1.97 FIP
His rank in the Houston Astros' bullpen hierarchy not more than two years ago would never have allowed such a season. The trade of Billy Wagner after 2003 made Lidge a set-up man for Octavio Dotel. But when Dotel struggled and Lidge thrived, the former was expendable.
As Houston climbed out of a 56-60 hole in mid-August, going 36-10 for the duration, Lidge remained a stable presence. His entrance into games (which happened 80 times) often meant the action would be confined to the 60′ 6″ that separate him from the catcher. Rarely were the batters too pleased with the results. Hitters swung and missed at Lidge's strikes 42 percent of the time and whiffed on more than 70 percent of his pitches out of the zone.
With 157, he set a new NL record for strikeouts by a reliever and third all-time (both of whom had higher workloads).
Craig Kimbrel – 2012
62.2 IP, 1.01 ERA, 0.654 WHIP, 0.78 FIP
Kimbrel, then a member of the Atlanta Braves, also falls into the "unhittable" category. Getting a pitch outside of the strike zone and taking it was worth celebrating as he went to an 0-2 count on more than half the batters he faced.
More than half the hitters fanned, which was the first a pitcher had established this rate of untouchability. With 116 K's over 62.2, his K/9 rate of 16.7 is the bar for Diaz to try and clear.
Kimbrel's hit rate per nine innings was 3.9 and his walk rate was 2.0, computing to a 0.65 WHIP and a .126 batting average against.
Zach Britton – 2016
67.0 IP, 0.54 ERA, 0.836 WHIP, 1.94 FIP
This season is almost more remembered for when he didn't pitch, as the Blue Jays beat the Orioles in the Wild Card Game with Britton watching from the bullpen. The times he was on the mound were almost universally superior.
Britton established a record of 43 straight games without allowing an earned run. From the start of May to the end of the year, his ERA was 0.16 (!) while holding hitters to a .160 batting average. His season ERA was the lowest for a pitcher with at least 50 innings.
Britton led the league in saves and games finished, but unlike many of his contemporaries he wasn't overpowering. Then again, when you posses a sinker that contributes to a grand total of 38 hits, you don't need to be.
Blake Treinen – 2018
80.1 IP, 0.78 ERA, 0.834 WHIP, 1.82 FIP
Among pitchers who tossed at least 80 innings, Treinen's microscopic ERA is the lowest of any pitcher in major league history.
His FIP was actually the second-best in the majors among pitchers with 40 innings or more (the only pitcher lower was actually Edwin Diaz, then of the Seattle Mariners). The main reasons he, like Kimbrel in 2012, was scored upon just seven times was a combination of a high strikeout rate (100), low walk rate (21), and a minimal amount of home runs against (two).
On top of Treinen's excellence in the fielding-independent categories he could control, the weak contact he induced led to a meager .157 batting average.