Feature
MLB Journeymen: Octavio Dotel
The embodiment of a journeyman, Octavio Dotel pitched in both leagues and in every division in Major League Baseball.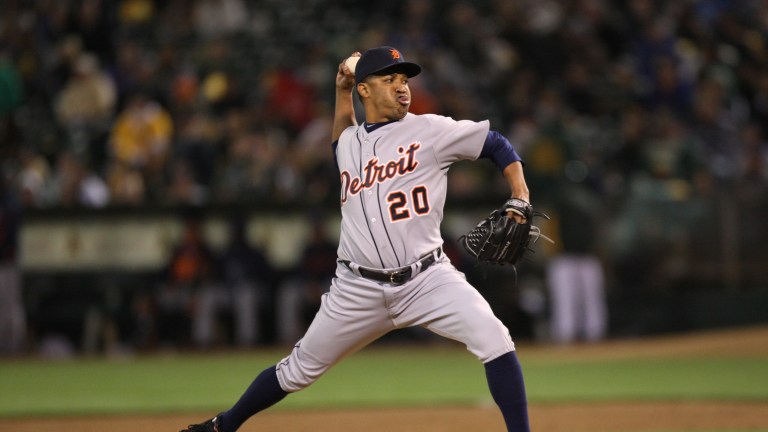 For the rest of the offseason, we'll look at baseball's well-traveled, some of who have changed franchises more often than others. Next up is a pitcher who may best define the notion of never staying put.
He took the ultimate baseball nomad title belt from Mike Morgan and company with this added degree of difficulty. Thirteen different teams is singular. Thirteen different teams in 13 seasons is a whole other level of impressive.
"Should he ship his suitcase to Cooperstown? Or should they give him his own show on the Travel Channel?" Jayson Stark wrote in ESPN.com, asking what should be done to mark the occasion.
Before becoming a vagabond, he had a relatively long stay in Houston – where he made himself comfortable for five whole years. He was then part of a deadline deal that brought Carlos Beltrán to the Astros and shipped Dotel to Oakland. But he didn't leave without cementing his legacy in team lore. Dotel was a part of five-pitcher no-hitter at Yankee Stadium in 2003. His contribution to the moment had it's own bit of uniqueness, as he tallied the rare four-strikeout inning in the eighth.
Dotel pitched in five postseasons. The first of those playoff trips came in his very first year while as a New York Met.
He was the last of the nine arms manager Bobby Valentine used in the epic Game 5 of the National League Championship Series at Shea Stadium. Dotel was in danger of being the losing pitcher after allowing the Atlanta Braves to score in the top of the 15th, but became the winner after the Mets scored twice in the bottom of the 15th – capped by Robin Ventura's "Grand Slam Single."
Postseasons were otherwise unkind to Dotel. He had allowed seven earned runs in his initial seven appearances, which encompassed eight innings. It wasn't until 2011 that he enjoyed personal and team success in October. He reached the World Series in year 13 and with team No. 12 – a member of the St. Louis Cardinals championship roster. He only waited until next year to be in the Fall Classic again, although his Tigers fell to the San Francisco Giants.
Dotel was far superior as a postseason performer at the back end of his career. In 2011 and 2012, he totaled 15.1 innings and just three earned runs allowed.
The rapid circumnavigation of the major league landscape between 1999 and 2013 allowed Dotel to wear every color on the pallet and encounter every notable player…plus some. He wore six different uniform numbers. He was involved in six different trades. He had over 600 different teammates
The silver lining on Dotel's whirlwind odyssey was that even if one team didn't want him, at least one other club did. And with good reason. When he retired after the 2013 season, Dotel's career strikeout rate of 10.8 per nine innings is the highest for right-handed pitchers with at least 900 innings pitched.
Dotel's life after the majors was marred in August 2019, when he was arrested on charges related to a drug trafficking and money laundering operation, although he and fellow former big-leaguer Luis Castillo were later cleared.
While that incident was certainly not celebrated, his unique playing career is. Dotel, like many who love the game, embraced his spot in history as the baseball world's foremost orbiter.
"I've been all over the place," he said in 2012. "I've been in every league. Every division, too: West, Central, East. National League – boom, boom, boom. American League – boom, boom, boom."