News
Corbin Burnes And Brandon Woodruff Injured For The Brewers
How serious are the injuries for Milwaukee's star pitchers, and how could the Brewers attempt to fill their void?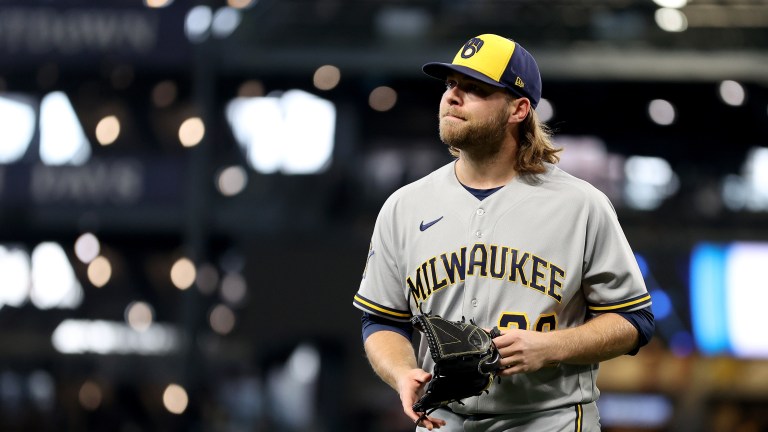 The Milwaukee Brewers are off to a hot start in 2023. They are at the top of the NL Central with a 12-5 record, and they have impressive series wins over some very good ball clubs to start the year. They've been a well-rounded team with efficient performances both at the plate and on the mound thus far.
Offensively, Milwaukee has received some significant production from several fresh faces on the team. Additionally, their pitching staff has been one of the most efficient in the MLB. They have a 2.94 team ERA through their first 17 games, which is the third-best league wide. They have four team shutouts and have been led by impressive outings all throughout their starting rotation.
Unfortunately for the Brewers, the injuries are starting to plague their pitching staff in a significant way. They've had several bullpen pieces already miss time with injuries, including Aaron Ashby, Adrian Houser, and Gus Varland. More recently, the Brewers have seen two starting pitchers- and their two biggest stars- go down with injuries themselves.
Last week, starting pitcher Brandon Woodruff was placed on the injured list with a strain to his right subscapularis muscle in his shoulder. Initially believed to be just a two-week absence, Woodruff is now estimated to miss much longer than the initial estimate.
More recently, Milwaukee's ace Corbin Burnes left Monday's game versus the Seattle Mariners with what appears to be a left pectoral injury. While the outlook on Burnes appears to be optimistic, any degree of injury to one of the best pitchers in the sport makes any ball club uneasy.
Corbin Burnes
Fortunate for not only the Brewers but for all fans of the game, it doesn't appear Corbin Burnes' injury is overly serious. Burnes spoke after the game about what led to his early exit and displayed a low-level of concern regarding his left-pec strain.
Burnes suggested he might have overstretched the muscle when applying a tag to Mariners' third baseman Eugenio Suarez on a pickoff play that ended in the 4th inning. He didn't notice any significant discomfort with the muscle, so Burnes continued his outing.
Later in the game, he started cramping when warming up in the bottom of the 6th inning. With the muscle tightness not improving from there, Burnes called it a day after facing the first two batters in the inning.
Speculation and panic spread as nobody truly knew the severity of the injury or how it even occurred exactly. Eventually, Burnes himself eased some of the concerns regarding the injury following the game.
When asked what his concern level was for the injury, he responded, "not bad at all" and that it "shouldn't be anything that forces him to miss a start".
Burnes was starting to snap back into Cy Young form following his rough first two outings of 2023. You never want to see the best in the sport go down with injuries, so it's a relief to hear the initial diagnosis for Burnes isn't severe. All things considered; this is good news for the star pitcher and it isn't worth taking any risks this early in the season.
While there will need to be more confirmation of the injury being minor in the coming days, Brewers fans can breathe a sigh of relief for Burnes for now. However, the same cannot be said for his teammate and co-star in the rotation Brandon Woodruff.
Brandon Woodruff
Brandon Woodruff was off to a phenomenal start in 2023. In his first two outings, Woodruff allowed just seven hits and one earned run while striking out 12 batters. He was commanding his pitches well and his velocity was strong.
It came as a bit of surprise to see him placed on the 15-day IL considering his strong performances. Ultimately, a sprain to his sub-scap muscle in his right shoulder landed him on the injured list.
The subscapularis is one of the four muscles that makes up the rotator cuff. It's obviously an important muscle in a very important spot of a pitchers' body. He would be at a high risk of re-injury if rushed back to soon as well.
While it was diagnosed as a mild strain and doesn't appear it will require surgery, it's important for the ball club to be cautious with the injury considering the muscle's key role in shoulder stability.
Woodruff stated he noticed that something wasn't quite right in his outing versus the Cardinals, but he didn't think much of it since his stuff was still performing well.
Woodruff went on to suggest that if this type of injury were to happen around the All-Star break, he would probably end up being shut down for the rest of the season. While Woodruff and the Brewers themselves are thankful it happened in mid-April as opposed to late summer, it's an unsettling situation for Milwaukee and he could be in jeopardy of missing a large chunk of the season.
The severity of Woodruff's injury is much more concerning than Corbin Burnes'. The Brewers don't expect Burnes to miss a start in the rotation while Woodruff could see an extended absence. He was placed on the 15-day IL, but there is a likelihood he could make his way to the 60-day IL.
While this is Woodruff's first arm injury at the big league level, it's uncertain how long it will take to strengthen the muscle back to where it needs to be to perform at a high level.
This is a big blow to the Brewers' starting rotation. Woodruff has been a major contributor to Milwaukee's success the past few seasons and is a foundational piece of their starting rotation. He will be re-evaluated when the team returns home from their road trip at the end of the week to get more clarity on his timetable to return.
It would be nearly impossible to replace the production of Brandon Woodruff or Corbin Burnes if he were to miss any time. That being said, the team will likely look internally to replace the production as best they can.
Who Will Fill the Holes in the Brewers Rotation?
Adrian Houser is recovering from a groin injury and should soon return from his rehab assignment in Triple-A Nashville. Houser was slotted for a bullpen role in 2023, but that might change for the foreseeable future once he returns to the Brewers.
Houser has valuable experience starting for the Brewers as he's been a part of Milwaukee's starting rotation since 2019. He is a ground ball pitcher who doesn't have eye popping statistics, but he will pitch to contact and can find ways to get outs. He will likely get a spot in the rotation if Woodruff misses substantial time.
Colin Rea has looked solid through his first two outings with the Brewers. In his first appearance with Milwaukee, Rea surrendered only two hits and one earned one across 5 2/3 scoreless innings versus a strong San Diego Padres lineup. He followed it up with a respectable performance versus the Mariners with the exception of a shaky third inning.
The Brewers signed the 32-year-old to a minor league deal back in January. While he has a year of experience pitching in Japan, the righty has just 30 2/3 MLB innings pitched since 2016. Rea could be called upon if Burnes misses any starts.
Bryse Wilson is also an option for the Brewers. Milwaukee acquired Wilson back in January from the Pirates, and they have used him as an innings-eater out of the bullpen thus far in 2023. In turn, he has already recorded two saves from pitching at least three innings in an outing.
Wilson has performed well in his 11 innings pitched, surrendering just eight hits and one earned run. While the Brewers planned on using Wilson out of the bullpen this season, he has experience starting games. He started 36 games over the past two seasons with different ball clubs and could be called upon to fill some starts for the Brewers.
Janson Junk was acquired from the Los Angeles Angels in a package for Hunter Renfroe in the offseason. Junk filled Woodruff's spot in the rotation last week, but his outing didn't go as planned for Milwaukee. The Diamondbacks roughed him up a bit as Junk surrendered seven hits and four earned runs through 4 2/3 innings pitched. He also failed to record a single whiff in 36 swings.
Junk was sent back down to Triple-A Nashville following the outing. However, like Rea, he gives the Brewers the capability for some spot starts if Burnes were to miss any time.
Obviously, there is no replacing the production from Corbin Burnes or Brandon Woodruff. They are incredibly significant pieces to this Milwaukee Brewers team not just on the field but also in the clubhouse. Their injuries will be monitored in the coming days as we receive more clarity on longevity of their absences.