Analysis
MLB Hitters off To Unlucky Starts
The expected numbers tell us that these unlucky hitters have been making better contact than there actual numbers would suggest.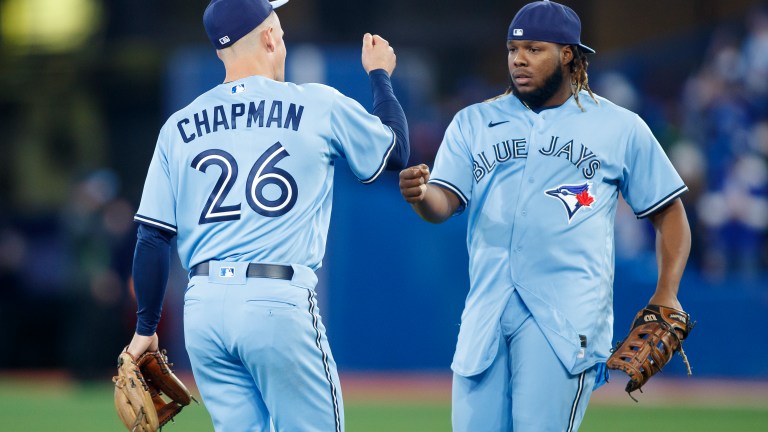 As we progress toward the halfway point of the MLB season and the All-Star break, numbers are starting to normalize and sample sizes are becoming substantial. However, some hitters just haven't been able to catch a break no matter how well they have been hitting the ball. 
While many players are underperforming their expected stats, here are four hitters who should see things start to fall their way in the near future. (All stats were taken prior to play on June 10th)
Ryan Mountcastle, Baltimore Orioles
2022 Stats: 198 PA, .253/.297/.425, .315 wOBA, 8 HR, 27 RBI, 105 wRC+, 0.4 fWAR
Between the dead ball and the new dimensions in left at Camden Yards, Ryan Mountcastle has a few contributing factors to his unlucky start in 2022.
The 25-year-old first baseman has one of the largest differences between his wOBA and xwOBA. The expected side of that stat has him at a .393 clip, .078 points higher than the results he's seen on the field.
Mountcastle has dramatically improved this season on his hard hit%, jumping from 39.7% in 2021 to 47.0% in 2022, placing him in the 86th percentile in MLB. Despite this jump, he's actually faring worse in each triple-slash category than he did a year ago.
In addition, Mountcastle isn't striking out more and is pretty much chasing at the same rate he did last season, so how is it possible that he's having a worse 2022? Does it just come down to luck?
Partially, yes. His xBA is .318 and he's only hitting .302 on balls he actually puts in play, showing that he should be due for some positive regression as the season continues.
However, one change that may be affecting Mountcastle's "luck" so far this season may be driven by the Orioles moving the left-field wall back 26 ½ feet and making it six feet taller.
In 2021, Mountcastle pulled the ball a majority of the time (38.7%) while going up the middle 32.9% of the time and to the opposite field just 28.4%. This season, he seems committed to using the whole field more often, pulling the ball 32.1% of the time, going up the middle 36.6% and going oppo 31.3%.
Part of the reason for Mountcastle's disparity in expected statistics versus real-life results may be from his change in spray angle. To hit for power up the middle, you need to hit the ball further and it is easier to show power to the pull side. So if Mountcastle is working on using the whole field more often, despite still hitting balls hard, he may struggle to find that power that we've seen in the past.
If he continues to hit the ball hard and maybe cleans up his chase rate a little bit, Mountcastle should eventually see balls start to land and see his numbers reflect the quality contact that he's been making.
Matt Chapman, Toronto Blue Jays
2022 Stats: 220 PA, .222/.312/.381, .310 wOBA, 7 HR, 23 RBI, 99 wRC+, 1.0 fWAR
The Blue Jays new third baseman has had a weird start to the 2022 season. Despite putting up numbers that look very similar to his All-Star 2019 campaign, he just hasn't seen the same results.
After dropping to the bottom 3% of MLB in K rate in 2020 and 2021, Chapman has reduced the amount he's been striking out by almost 10%. He is also in the top 15 for hard hit% (51.4%), top 20 in avg exit velocity (92.1 mph) and has a career-best xwOBA (.361).
However, he has a career-worst wOBA (.310) to go along with a career-worst BABIP (.267).
Chapman has done everything and then some he needed to do to return to the two-way superstar he was before the pandemic in Oakland.
While he is likely due for positive regression in the power numbers, you can already see things starting to fall in place over the past two weeks. Since May 28, Chapman is slashing .351/.442/.541 with a 178 wRC+. In that span, he's only hit one home run but he has also only struck out 14% of the time.
While there isn't anything that stands out to suggest why he's been super unlucky in 2022, Chapman's launch angle is something to keep an eye on. He does pop up 13% of the time, an issue that showed up for him in 2020. You can hit the ball as hard as you want, but if it goes straight up, it's going to be an out almost every time.
Besides that, Chapman should be due for a monster second half, which will only make Toronto's offense more difficult to deal with down the stretch.
Christian Walker, Arizona Diamondbacks
2022 Stats: 232 PA, .201/.297/.466, .334 wOBA, 15 HR, 28 RBI, 112 wRC+, 1.2 fWAR
Despite being one of the NL's home run leaders, Walker should probably be having an even better season than he is.
The Diamondbacks first baseman has the worst BABIP among qualified hitters at .182. Not only is he having some of the worst ball-in-play luck this season, but Walker is also among the top 10 in the difference between actual and expected average, slugging and wOBA in 2022.
Walker hits a barrel in 11% of his plate appearances, putting him amongst the likes of Bryce Harper, Mike Trout and Austin Riley. He also ranks in the 80th percentile in average exit velocity, max exit velocity, and hard hit%.
Walker may be the player in this article most likely to see dramatic improvements throughout the rest of the season. He has a solid command of the strike zone and while there is some swing-and-miss in his game, he's chasing at a career-low percentage and is making contact in the zone at a career-high rate.
He has had an already solid season, and despite a tough start to June, it looked like Walker was ready to take off at the end of May. From May 16-31, he posted a 150 wRC+ while slashing .218/.317/.618 with a .391 wOBA. In that span, he hit seven home runs and walked 12.7% of the time.
For Walker, the home runs are nice, but his luck needs to change when he's not hitting the ball over the wall. When that happens, he could become one of the best hitters in the league.
J.D. Davis, New York Mets
2022 Stats: 128 PA, .245/.336/.345, .310 wOBA, 1 HR, 27 RBI, 105 wRC+, 0.0 fWAR
J.D. Davis has the second-highest hard hit% in baseball.
Higher than Aaron Judge, higher than everyone not named Yordan Alvarez. Sure it's in half the batted ball events, but you'd figure a player hitting the ball hard 63.5% of the time might have a better line than the one above.
Davis tops the Statcast leaderboards in the differential between actual and expected slugging and wOBA so far this year.
However, unlike Walker and Chapman, Davis may be more than just unlucky. The Mets third baseman/DH once again has a ground ball problem. After taking a significant step forward in 2021 and improving his ground ball rate to 38.9% (down from 56.3%), he's back to 48.6% in 2022.
Despite hitting a ton of balls on the ground, Davis actually has a solid barrel%, which requires balls to be hit in the air to qualify. He ranks in the 88th percentile in barrel%, 97th in average exit velocity and 72nd in walk rate.
While it may be as simple as hitting the ball in the air more, Davis does have a solid BABIP (.342), suggesting that he is having success when putting the ball in play.
For Davis to unlock the numbers that match the quality of contact he's making, he either needs to strike out less and put the ball in play more or hit the ball in the air to tap into the power that he's already generating — just on a different angle.
All stats courtesy Baseball Savant