Analysis
Checking In With This Year's Rule 5 Draft Picks
Ryan Noda and Blake Sabol have been the headliners of this year's Rule 5 Draft so far, but how is the rest of the class doing?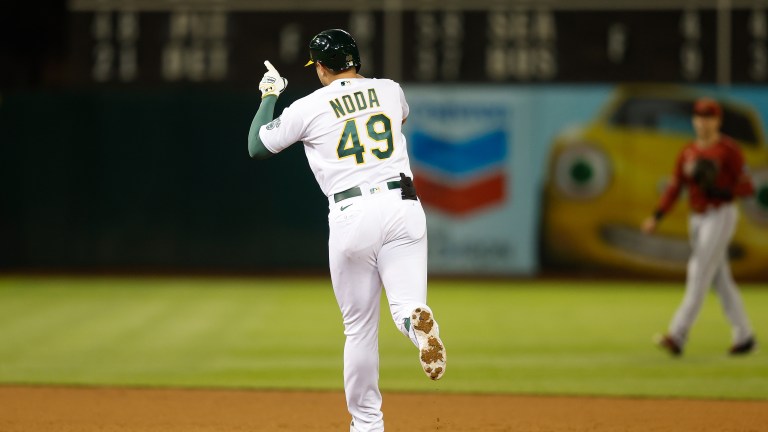 Fifteen players were chosen in the Rule 5 Draft in December.
Since then, six have been returned to their original clubs after proving unable to stick on the 26-man roster, while others have gone on to be legit big-league contributors in their first season with their new organizations.
After the 2021 edition of the Rule 5 was canceled thanks to the lockout, we've gone over a year without finding success stories come from the draft. Can the likes of Ryan Noda and Blake Sabol play into a team's long-term plans after a full season, as we saw from Garrett Whitlock and Akil Baddoo in 2021?
That's still to be determined, but Noda and Sabol are just a couple of picks from this year's draft, so let's catch up with the rest of the class to see where they all stand.
Thaddeus Ward, Reliever, Washington Nationals
2023 stats: 13 G, 17.2 IP, 4.58 ERA, 6.22 FIP, 1.36 WHIP, 21.6 K%, 20.3 BB%, -0.2 fWAR
Former team: Boston Red Sox
The first overall pick of the draft, Ward hasn't looked look the pitcher that tore up Double-A after returning from Tommy John Surgery.
The former Red Sox farmhand has done an OK job of keeping hitters off base via balls in play, allowing just a .153 average against, but ranks in the 10th percentile or lower in barrel, walk and chase rates.
He hasn't done a good job of generating swing-and-miss either, posting just a 23.5% whiff rate.
The main problem for Ward has been his walk rate ballooning to above 20%. He didn't post a great walk rate last year at Double-A (10.1%), but that number, combined with a near 30% strikeout rate, was enough to move him to the top of Rule 5 Draft boards.
Ryan Noda, 1st Baseman, Oakland Athletics
2023 Stats: 161 PA, .232/.398/.424, .365 wOBA, 4 HR, 15 RBI, 140 wRC+, 1.1 fWAR
Former team: Los Angeles Dodgers
The second player taken in this year's draft, Noda has returned the most value, by fWAR, of any pick so far.
After tearing up Triple-A to the tune of a .259/.395/.474 slash line with 25 home runs, 90 RBI and 20 stolen bases, Oakland's first baseman has continued his success at the major league level.
Through five minor league seasons, split between the Dodgers and Toronto Blue Jays' affiliates, Noda never posted an on-base percentage lower than .372.
Now with the A's, he's walking 19.9% of the time — trailing only Juan Soto league-wide — and reaching base the 15th most of any player in MLB. And while the plate discipline numbers may draw most of the attention, Noda has been making quality contact as well.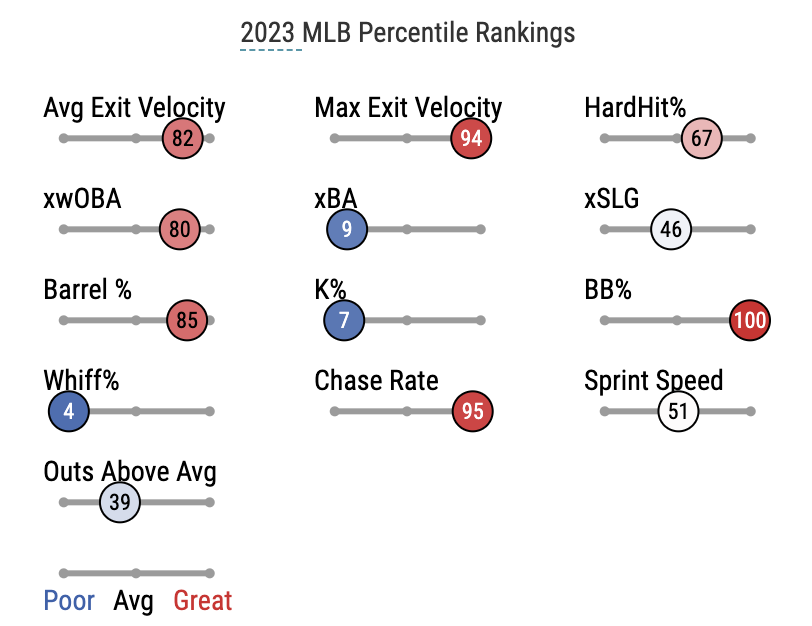 His .365 wOBA lines up very well with his .362 xwOBA, suggesting that he isn't getting lucky when he does put the ball in play. Of course, he is striking out at a 32.3% clip and hasn't hit for as much power as he did during his minor league career, but he has established himself as an above-average big leaguer and a bright spot in an otherwise dark season for Oakland.
José Hernández, Reliever, Pittsburgh Pirates
2023 stats: 18 G, 19.2 IP, 2.75 ERA, 2.92 FIP, 1.38 WHIP, 27.3 K%, 3.9 BB%, 0.3 fWAR
Former team: Los Angeles Dodgers
Another former Dodger that found early success with their new team, Hernández, has put together an excellent debut campaign with the Pirates.
The 25-year-old lefty has posted one of the best walk rates in baseball and gotten incredible results with his slider.
He uses a three-pitch mix, complementing his slider with a four-seam fastball and changeup.
Hernández uses his slider 41.2% of the time and has limited opponents to a .034 average with no extra-base hits while throwing it. It also generates a 44.1% whiff rate.
Blake Sabol, Catcher/Outfielder, San Francisco Giants (chosen by the Cincinnati Reds and traded)
2023 Stats: 117 PA, .267/.342/.457, .355 wOBA, 5 HR, 13 RBI, 121 wRC+, 0.7 fWAR
Former team: Pittsburgh Pirates
Sabol's versatility, hit tool and power made him an early Rule 5 target this year.
Split between Double and Triple-A in 2022, the 25-year-old hit 19 home runs while slashing .284/.363/.497 in the Pirates' system.
While he has struggled mightily against left-handed pitching, posting a 48 wRC+ against southpaws, compared to a 136 mark against righties, Sabol has been a valuable member of the Giants' attack in 2023.
Sabol has been the sixth most valuable rookie by fWAR in the National League but has struggled when placed behind the dish.
He's graded out well as a framer but has struggled with his chances when blocking and throwing out runners — only six catchers have less than his -3 defensive runs saved.
With Roberto Perez and Joey Bart on the IL, he's probably caught more than San Francisco envisioned, recently calling up 2020 first-round pick Patrick Bailey to ease some of the burden on Sabol.
But with his excellent results at the plate, Sabol is a perfect fit with how the Giants use platoon advantages in their lineup.
Mason Englert, Reliever, Detroit Tigers
2023 stats: 16 G, 27.2 IP, 4.55 ERA, 6.02 FIP, 1.38 WHIP, 27.3 K%, 3.9 BB%, -0.6 fWAR
Former team: Texas Rangers
The fifth player taken in the draft, Englert's results have been a mixed bag in 2023.
He's had nine scoreless appearances, with six being for two or more innings. It's been the three outings in which he allowed a total of 11 runs through 4.2 innings that have tanked his overall numbers.
Englert hasn't posted great strikeout numbers, as he did throughout his minor league career and his fastball has gotten hammered by opposing hitters.
Opponents are hitting .357 and slugging .964 against the pitch, which Englert throws 27.2% of the time. His changeup hasn't been much better, but his slider has proven effective so far. It holds just a .114 average and .171 slugging against and is used 36.4% of the time.
As a 23-year-old with just two years of professional ball under his belt, some struggles could have been expected for Englert. But as he becomes more consistent and learns what works for him at the big-league level, he should be able to improve as the season goes along.
Kevin Kelly, Reliever, Tampa Bay Rays (Chosen by the Colorado Rockies and traded)
2023 stats: 20 G, 24.1 IP, 4.44 ERA, 2.91 FIP, 1.48 WHIP, 16.7 K%, 5.6 BB%, 0.5 fWAR
Former team: Cleveland Guardians
Kelly's funky delivery and intriguing minor-league profile made him and the Rays a perfect match in the draft.
In 57.1 innings across double and Triple-A in 2022, Kelly struck out 75 and only allowed 22 walks and one home run — finishing with a 2.04 ERA.
Now with Tampa Bay, he is still running a low walk rate and hasn't allowed a home run, but the strikeout numbers haven't transferred to the majors. Another number that hasn't transferred yet has been his ground ball rate. After getting hitters to put the ball on the ground 66.2% of the time at Triple-A last year, MLB hitters are only doing so in 44.4% of their plate appearances against Kelly.
He has limited hard contact well but has maybe gotten a little unlucky, allowing a .370 average on balls in play. While the strikeout dip is concerning, he has only allowed two barrels this season and could be a candidate for some positive regression.
Nic Enright, Reliever, Miami Marlins
2023 Triple-A stats: 6 G, 10.0 IP, 3.60 ERA, 4.16 FIP, 1.00 WHIP, 27.5 K%, 2.5 BB%
Former team: Cleveland Guardians
Enright announced in February that he was battling Hodgkin's Lymphoma.
In one of the best stories of the baseball season, he is back on the mound, already appearing in eight minor-league games between single and Triple-A.
He will be eligible to come off the 60-day IL and join the Marlins' bullpen next weekend.
Nick Avila, Pitcher, Returned to the San Francisco Giants by the Chicago White Sox
2023 Triple-A stats: 17 G, 24.0 IP, 3.38 ERA, 4.83 FIP, 1.17 WHIP, 19.6 K%, 13.4 BB%
Avila was returned to the Giants after being unable to crack the White Sox's Opening Day roster.
After posting a 1.33 ERA in 2022, he has struggled with allowing walks, posting a career-high walk rate through his first 17 appearances in 2023.
Andrew Politi, Reliever, Returned to the Boston Red Sox by the Baltimore Orioles
2023 Triple-A stats: 18 G, 19.2 IP, 3.20 ERA, 3.76 FIP, 1.22 WHIP, 27.2 K%, 8.6 BB%
Politi was unable to make the Opening Day roster of his drafting club, like Avila, and was returned to the Red Sox at the end of March.
He has been a solid option in the Worcester version of the Red Sox's bullpen, posting similar strikeout and walk numbers to his 2022 totals. He has also picked up five wins and three saves so far in 2023.
Gus Varland, Reliever, Returned to the Los Angeles Dodgers by the Milwaukee Brewers
2023 stats: 8 G, 8.2 IP, 11.42 ERA, 9.51 FIP, 2.65 WHIP, 11.8 K%, 15.7 BB%, -0.3 fWAR
After opening the season in the Brewers' bullpen, Varland was returned to the Dodgers on Monday.
It's no secret that Varland struggled in his first big league experience with Milwaukee, walking more hitters than he struck out and allowing nine runs in his final appearance with the team.
Before that nine-run explosion, he only allowed runs in one of his seven appearances. In those seven games, he had a 2.25 ERA but still had to work around quite a bit of traffic, allowing 14 baserunners in eight innings.
He has made one Triple-A appearance since returning to the Oklahoma City Dodgers, working a three-up, three-down inning on Wednesday.
Noah Song, Pitcher, Philadelphia Phillies
Has not appeared in 2023.
Former team: Boston Red Sox
Song was selected in the Rule 5 after not pitching between 2020-2022 while serving in the Navy. He last pitched professionally at low-A in 2019.
He is currently on the IL with a back injury but has been throwing to hitters at the Phillies' spring training facility in Clearwater, Fla.
Once he starts his rehab assignment, Philadelphia will have 30 days to add him to the active roster.
José López, Reliever, Returned to the Tampa Bay Rays by the San Diego Padres
2023 Triple-A stats: 18 G, 16.2 IP, 8.10 ERA, 3.88 FIP, 2.22 WHIP, 20.9 K%, 11.6 BB%
López was returned to the Rays before Opening Day.
A high-strikeout, high-walk arm, López has continued to be just that at Triple-A this season — but with worse results.
He struck out 91 hitters in 55.1 Double-A innings in 2022 and has put up 18 in 16.2 so far in 2023.
Chris Clarke, Pitcher, Returned to the Chicago Cubs by the Seattle Mariners
2023 Triple-A stats: 5 G, 16.0 IP, 3.38 ERA, 3.90 FIP, 1.13 WHIP, 18.8 K%, 7.8 BB%
After posting a 5.40 ERA over seven spring appearances, Clarke was returned to the Cubs.
Back in Triple-A, he's made four starts and put together a solid beginning to the season. He's been striking less and walking more hitters than he has throughout his minor-league career but has kept hitters from doing a lot of damage — forcing a 57.8% ground ball rate.
Wilking Rodriguez, Reliever, St. Louis Cardinals
2023 Triple-A stats: 3 G, 2.0 IP, 0.00 ERA, 3.96 FIP, 2.00 WHIP, 10.0 K%, 10.0 BB%
Former team: New York Yankees
Rodriguez began the season on the IL with right shoulder tightness and started his rehab assignment in late April.
Unfortunately, he would only make it three appearances before hitting the IL again, this time to undergo arthroscopic surgery on this throwing shoulder.
The 33-year-old was one of the more intriguing picks in the draft, not having played affiliated ball since 2015.
Zach Greene, Reliever, Returned to the New York Yankees by the New York Mets
Has not appeared in 2023.
Greene was the last player chosen in the draft and was returned to the Yankees on March 14.
He has yet to pitch in 2023 and is currently on the 10-day IL.
In 2022, with Triple-A Scranton Wilkes-Barre, Greene threw 68.1 innings with a 3.42 ERA and struck out 33.3% of the hitters he faced. He struggled in spring training with the Mets, allowing seven runs in 4.2 innings of work.