Analysis
Minnesota Twins Extend Pablo Lopez Off Great Start to 2023
The addition of a sweeper has Pablo Lopez looking like an ace and the Minnesota Twins are buying in, signing him to a contract extension.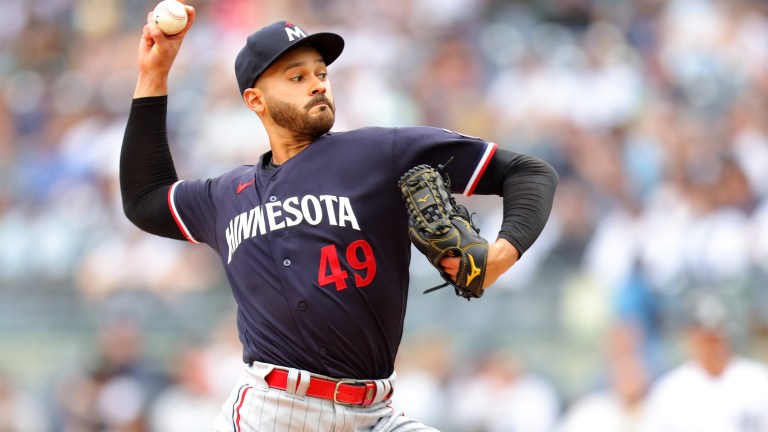 Pablo Lopez has made four starts for the Minnesota Twins. They have seen enough.
With two years left of team control (including this season), the Twins have decided to lock down their newfound ace, signing him to a four-year contract extension that buys out his remaining year of arbitration and his first three of free agency.
Lopez spent his entire MLB career with the Miami Marlins prior to this season, where he solidified himself as a solid No. 2 starter next to Sandy Alcantara. Now with the Twins, Lopez has looked the part of an ace himself, pitching to a 1.73 ERA across his first four starts.
Yesterday, Lopez received a tough loss against the New York Yankees, where he allowed just two runs across 6 2/3 innings pitched. He struck out seven in the game, moving his season total to 33 in just 26 innings pitched, which currently leads MLB.
Whether he can keep this up for a full season is to be seen, but regardless, this is an exceptional deal for the Twins to get this extension done.
Once it kicks in, Lopez will be getting paid just over $18 million per season on average. Chris Bassitt is seven years older than Lopez and signed a three-year, $63 million contract as a free agent this offseason that pays him $21 million annually.
The Twins are getting age-27 through age-31 seasons from Lopez, and at that dollar amount, he only needs to pitch to the back of the baseball card to be worth it. Across his career, Lopez has pitched to a 3.83 ERA.
Looking more specifically at the last three seasons, Lopez made 63 starts for the Marlins and pitched to a 3.52 ERA, striking out 9.21 batters per nine. The Twins can expect at least that from Lopez, but his start to the season has them dreaming on more.
Could Lopez Be a Legit Ace Moving Forward?
Lopez is no stranger to fast starts. Last year, the right-hander pitched to a 1.83 ERA across his first 10 starts. Unfortunately his season tailed off significantly, as he pitched to a 4.69 ERA across his final 22 starts to finish the year with a 3.75 ERA.
However, there could be an explanation for that dip in performance and it is more mental than a lack of stuff from the talented pitcher. The Marlins went 7-19 in the month of May, very quickly dismissing any notion that they would be contending in 2022.
With Lopez pitching to a 1.83 ERA on a bad team, trade rumors began to circle as early as June and remained a constant through the deadline. Committing to building a young rotation around eventual NL Cy Young, Sandy Alcantara, Lopez's lack of control in comparison to guys like Jesus Luzardo and Edward Cabrera made him the clear piece to be moved.
After months of feeling like he was on audition for new teams each night, Lopez had to come to terms with not being dealt after all, pitching on underwhelming Marlins team to close out the year.
It's not excuse all of his struggles, but it does make you wonder how much those factors played into his performance to close 2022. Getting a fresh start with a new team has seemingly done wonders for Lopez and now an extension should only ease his mind further.
The Twins haven't had an ace in a long time. Which makes their eagerness to lock up this deal all the more apparent.
Lopez has looked sensational to start this season, proving again that he is as good as anyone when at his best. It's a very small sample size, but looking at Lopez's Baseball Savant page right now could set your screen on fire it's so red.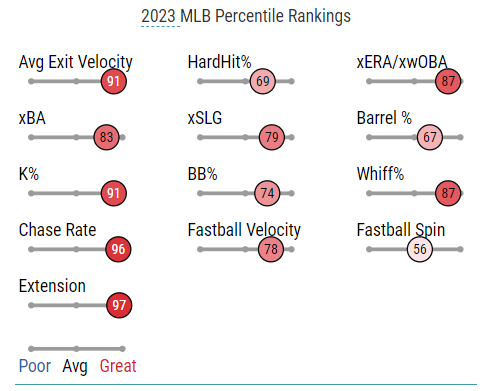 In the past, Lopez's pitch mix has primarily been fastball-changeup, while mixing in a cutter, sinker and curveball. The cutter was hit particularly hard last year, as batters hit .321 with a slugging percentage of .696 against the pitch. This year, it seems Lopez has ditched the cutter in favor of baseball's favorite new pitch, the sweeper.
Early in the season, Lopez has used the sweeper more than any of his other secondaries. This is noteworthy for a guy who used to throw his change-up nearly as much as his fastball.
Last season, Lopez threw his change-up 35.3% of the time. This year that is down to just 19.8%, with his sweeper coming in at 21.9%. The alteration to his mix has made his great change-up stand out even more, as he has allowed just one hit on the pitch all season.
Batters have swung through the change-up 35.1% of the time this year, which is right in line with the 34.4% whiff rate on his fastball. Still, the pitch getting the most swings in misses is that new sweeper, which has registered a 50% whiff rate thus far.
Instead of a tight-breaking cutter that mostly dropped vertically, the sweeper gives Lopez a pitch that breaks an additional 10 inches compared to the cutter.
Even more important with the sweeper is the change in velocity. Lopez's cutter averaged 88.8 MPH last season. His sweeper is coming in at just 83.9 MPH. Lopez throws his change-up at 88.8 MPH, so he needed that differentiation between those two offerings.
With two exceptional secondaries and a fastball that has even seen a spike in velocity from 93.6 to 95.4 MPH, Lopez can now mix speeds way better to keep batters off-balance. There is every chance the best is yet to come for Lopez, who could legitimately be an ace moving forward.
Minnesota has started the season 10-6 and clearly view themselves as contenders moving forward. When their starting lineup includes Carlos Correa and Byron Buxton healthy, the Twins have a chance to be a special team. Adding an arm to that was vital and the Twins look to have hit a home run with their acquisition of Lopez.
It is crazy to think that a team could trade away a batting champ, watch him hit .471 to start the season, and still be thrilled with the trade. But that is exactly what happened here for the Twins, after completing the Most Cordial Trade in MLB History with the Miami Marlins.