Analysis
The Twins' Rotation is Becoming Their Strength
Pablo Lopez, Sonny Gray and Joe Ryan headline a rotation that is far exceeding expectations right now, which could become one of MLB's best.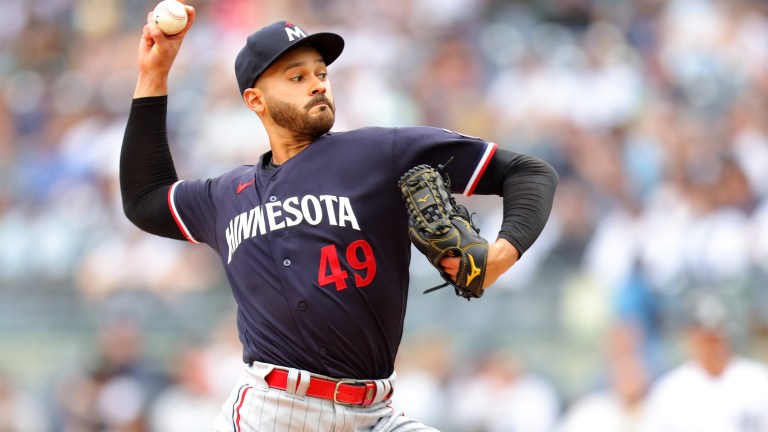 For years the Minnesota Twins have been held back by their injuries and lack of consistency from their pitching which has prevented them from achieving anything significant. While injuries may always be an issue, the pitching has been the exact opposite of an issue this season.
The starting rotation has become the best feature of this team through the first few weeks of the season. With the addition of Pablo López this winter and Tyler Mahle last season, this rotation is deeper and stronger than it's been in a long time.
In 2021, the Twins finished with a team ERA of 4.83 which ranked 26th in the league and the main reason for their failure to succeed at all that season. In 2022, they improved to a 3.98 ERA that was good for 19th in the league but wasn't enough to significantly improve their team success in addition to their injury-riddled offense.
It's only been a few weeks, but they're currently second in the league with an unbelievable 2.61 ERA (prior to 4/19) that trails just the 15-3 Rays pitching staff. This appears to be a pitching staff with a massively elevated floor and ceiling in comparison to previous years. The turnaround has been unreal for the Twins' pitching and it's worth looking into the players and factors that have made the biggest difference.
While the rotation has steadily improved on paper, one of the biggest concerns was the lack of an ace in the rotation. Now it looks like they have may two or even three pitches capable of performing like an ace!
Three-Headed Monster
These three pitches have led the way all season for the Twins and are currently the best rotation trio in the league. The pure dominance of this group has been the biggest factor that has allowed the Twins to see more success early in the year than most expected. If they're able to continue these trends, Minnesota will have a legitimate chance to return to the playoffs and it'll be in large part because of these three arms.
Pablo López
The newest addition Pablo López has been one of the most impressive arms in the league as he's pitched to a 1.73 ERA across 26 innings in his first four starts for the team. His ability to work deep into games and his pitch adjustments have led to a pitcher that looks even better than he ever did with the Marlins. He's been so impressive that the Twins just locked him up on a four-year extension.
López has allowed two runs or less in every start this season, while striking out 33 batters thus far. His advanced metrics have ticked up noticeably as he's produced a 96th-percentile chase rate with by far the biggest strikeout-rate of his career at 33.7% right now.
The addition of a sweeper has further aided his ability to miss bats and has put him solidly in the mix for the AL Cy Young at this stage in the season.
Sonny Gray
Believe it or not, another pitcher in this rotation has been better on the surface than López. Sonny Gray is currently third in the league with a 0.82 (!!!) ERA through his first four starts. While his length of outings and pure stuff isn't at the level of López, he's barely allowed any runs.
Gray is a veteran and has been around the league for a while, but his variety of pitches and elite movement has allowed him to succeed more than ever so far this season. His expected numbers show that he'll likely regress a little, but his strikeout rate is nearly as high as his best career season and he looks ready to continue his success and put together his best season with the Twins.
Joe Ryan
The youngest member of the rotation looked like he was on track to becoming a quality arm and has fully continued that progression this season. Joe Ryan has taken a huge step forward as his off-speed pitches have greatly improved to create a way better pitcher in cohesion with what was already one of the best fastballs in the game. He currently has an ERA of 2.84 and the Twins have won every game he's pitched to this point. He's only allowed nine hits through his first three starts.
I mentioned Ryan in my piece about up-and-coming pitchers and he has not disappointed this season. His strikeout rate is up to 37.1% right now, after being at 25% last season, while his chase rate is up to the 87th percentile.
Furthermore, his expected metrics are even better than his actual numbers as his expected ERA is 1.57, which is better than that of López or Gray. His expected batting average against him is just a .153 with his expected slugging percentage at .257 so far.
Outlook
The top three mentioned above have been phenomenal and they'll need to continue to do so, but let's look at the outlook of the rotation as a whole.
The back-end of the rotation hasn't been nearly as good but it also hasn't been bad and has the ability to get better. Tyler Mahle and Kenta Maeda have ERAs of 4.11 and 4.09 respectively which is adequate for the 4th and 5th starters on a team, but they both could be even better.
Both pitchers have turned in stronger seasons in the past and increased production from them could take this rotation to an unbelievable level. Mahle's expected numbers point to him being more of a mid-3's ERA type of pitcher this season, which he was for multiple seasons with the Reds just a few years back.
If he's able to regain the form from prior to his trade to Minnesota, that would add even more production to this group.
Maeda might be past his prime at 35 years old but some of his data is better than it's been in years. He hasn't walked a single hitter in his two starts and his chase rate is in the 94th percentile of the league as he continues to miss bats frequently with his varied offerings.
Furthermore, the Twins could have younger reinforcements as an option later in the season. Simeon Woods-Richardson debuted for the Twins last season and started one game for them. While he's off to a slow start in Triple-A this season, he could be an option for the Twins later in the year if any injuries occur.
The Twins pitching rotation is off to an incredible start and while the top three likely can't maintain their insane pace right now, the pitching staff looks much better than it has for a while.