Analysis
A Couple of Pitcher Breakouts You Might Not Have Noticed
It's easy to overlook relief pitchers this early in the season, but Matt Brash and Griffin Jax deserve your attention.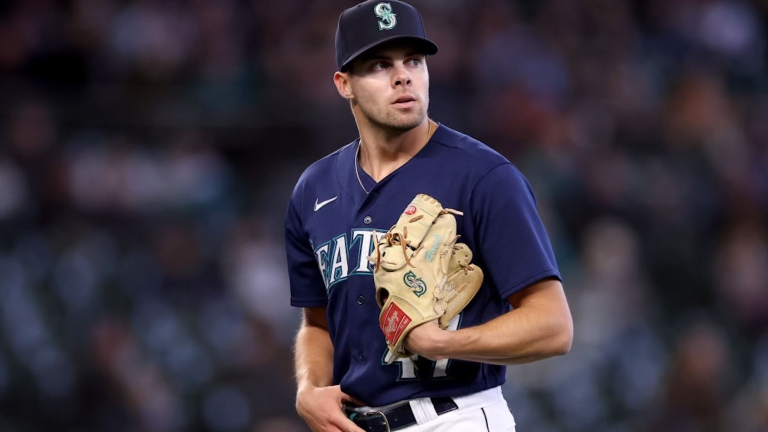 We've spent plenty of time talking about guys like Pablo López, Grahm Ashcroft, and Hunter Greene, each of whom is having a breakout season to behold. However, the big names aren't the only players off to stellar starts. Several other pitchers have quietly taken another step forward in 2023.
In this piece, I'm going to highlight a couple of guys who have been dominant in April but haven't gotten the attention they deserve. These are relievers, so they've only thrown a handful of innings each, but they've done enough to convince me they're going to be nasty bullpen weapons for the rest of the season.
Matt Brash – RP – Seattle Mariners
Traditional Stats: 13 G, 2-2, 5.91 ERA
Advanced Stats: 18.56 K/9, 4.22 BB/9, 1.17 FIP, 2.36 xFIP, 2.53 xERA
Don't be scared by that unsightly ERA, Matt Brash has been one of the best relief pitchers in baseball. He leads all relievers with 22 strikeouts, and his 44.4% whiff rate ranks in the 98th percentile on Baseball Savant.
His secret is simple: he blows past hitters with a 98-mph fastball and then hangs them up to dry with his devastating curve.
Mariners backstop Cal Raleigh called Brash's slider the toughest pitch he has to catch. Chris Langin, director of pitching for Driveline Baseball, suggested it might be one of the best pitches in major league history. Our own Lyle Goldstein compared it to Waluigi's slider in Mario Superstar Baseball. When you pair that with a fastball that can touch 100 mph, you've got yourself one heck of a reliever.
One heck of a reliever is exactly what Brash has been this season. A few rough outings have skewed his ERA, but his FIP ranks eighth among qualified bullpen arms. According to DRA, the comprehensive pitcher metric from Baseball Prospectus, Brash has been the best pitcher in baseball. His 2.70 DRA is 42% better than league average.
Brash was fantastic out of the bullpen last season too, appearing in 34 games with the M's from mid-July through the end of the season. This year, however, he's pitching in higher leverage spots. According to FanGraphs, his average leverage index when entering games this season is 1.85, which ranks 13th in baseball. Last year, that number was 1.15, which is much closer to league average.
To sum it all up, Matt Brash has been dominating opposing batters with a killer arsenal in high-leverage spots. Still just 24 years old, he has the potential to become a top-tier closer in the near future.
Griffin Jax – RP – Minnesota Twins
Traditional Stats: 11 G, 1-2, 3.48 ERA
Advanced Stats: 10.45 K/9, 1.75 BB/9, 1.59 FIP, 2.20 xFIP, 1.80 xERA
You could argue Griffin Jax broke out last season, when he posted a 3.36 ERA in 65 appearances out of the Twins bullpen. However, he's performing at a whole new level in 2023, and he's doing it in higher leverage spots:
| | | | | | | |
| --- | --- | --- | --- | --- | --- | --- |
| Year | ERA | FIP | xFIP | xERA | DRA | Average Leverage Index |
| 2022 | 3.36 | 3.17 | 3.32 | 3.17 | 3.51 | 1.14 |
| 2023 | 3.48 | 1.59 | 2.20 | 1.80 | 2.87 | 1.79 |
Jax is achieving these excellent results with a refined pitch arsenal. He is using his fastball less often, but he's throwing it nearly a full mile per hour faster. He's also throwing it with more extension, which means it looks even faster when it crosses the plate.
Meanwhile, he's throwing his sweeper more than ever. It was already his primary weapon, but now he's using it nearly three-quarters of the time. It's his favorite pitch to start an at-bat, and it's his favorite pitch to finish one. Once he gets two strikes on a batter, it's almost a guarantee he'll throw a sweeper, but even when they know what's coming, opposing hitters have struggled to do any damage against the pitch. This approach might be unorthodox, but I won't argue with results. On a per-pitch basis, Jax's sweeper has been the fourth most valuable in baseball.
So far this season, Jax has been overshadowed by his flashier teammates Jhoan Duran and Jorge López. However, one could make the case that Jax has been the most valuable arm in Minnesota's bullpen. His 0.5 fWAR is tied for first among AL relievers, and his average leverage index leads the team.
Will he continue to outpitch Duran and López? That I can't say, but I'm confident Jax will work alongside them to form one of the scariest bullpen trios in baseball. I shudder to think about facing those three in a short postseason series.
Honorable Mention: Fernando Cruz
I'm not quite ready to say Fernando Cruz is having a breakout season, but I've been impressed with his work so far. He is tied for second among all relievers with 20 strikeouts, and he's inducing more groundballs than he did last year. On the flip side, his walk rate is still way too high (4.97 K/9), and he isn't generating as much swing-and-miss as I want to see. I'm not worried about his 5.68 ERA, nor am I convinced by his 1.83 FIP. Cruz is one to keep an eye on, but he still has work to do.