News
Los Angeles Angels Fire Joe Maddon, Name Phil Nevin Interim Manager
Amid a disastrous 12-game losing streak, the Angels are hoping that a managerial change can spark their team back into playoff contention.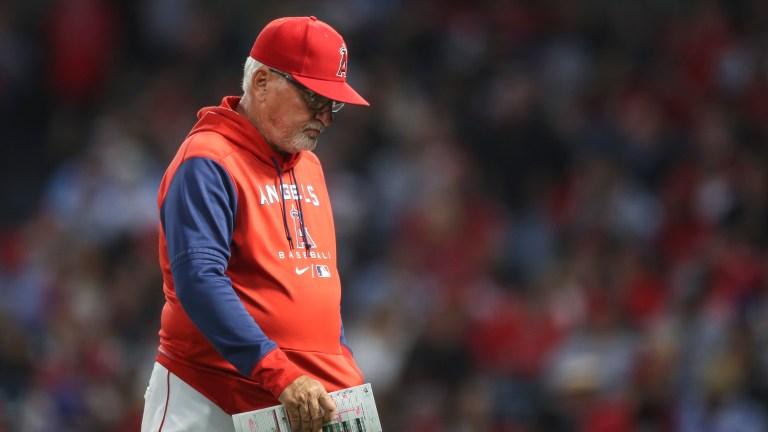 For the second time in a week, a decorated manager is out of a job. Joe Maddon was fired as manager for the Angels in midst of their 12-game losing streak.
After pioneering "the Rays Way" of small market shifts and lineups leading to success, Maddon was brought to Chicago to end the Cubs curse back in 2015. He did just that, winning the 2016 World Series, before leaving Chicago after a 84-78 2019 season.
Maddon ended up taking a new job with the same franchise where he got his start, with the Los Angeles Angels on a three-year deal. Expectations were high, and Maddon never reached them.
The Angels have two of the best players in the league and currently sit at 27-29, 8.5 games back from the first place Astros. Maddon failed to finish at or above .500 in his first two seasons with the Angles, and the front office was not going to let it happen for the third-straight season.
The city and fans are starving for success. Mike Trout and Shohei Ohtani are in their prime and the time to win is now. The front office brought in complementary pieces along with pitching depth to push the Angels to a playoff spot in 2022, but through 56 games not much looks different from previous seasons. Something had to change and as we often see, the manager takes the fall. Phil Nevin will now make the lineup, his first experience as a big league manager after coaching stops with the Giants and Yankees.
A change in manager rarely leads to a drastic change in play. Perhaps it sparks an energy in the clubhouse, but the roster remains the same. This cannot be the only move the front office makes if they plan on reaching the playoffs in 2022. The trade deadline is getting closer and closer and focus can now shift to improving the people that play the game.