Feature
The Best Storylines From the First Half of the 2022 MLB Season
There's nothing better than a thick, juicy, succulent narrative. But which ones have been the most exciting to talk about in 2022 so far?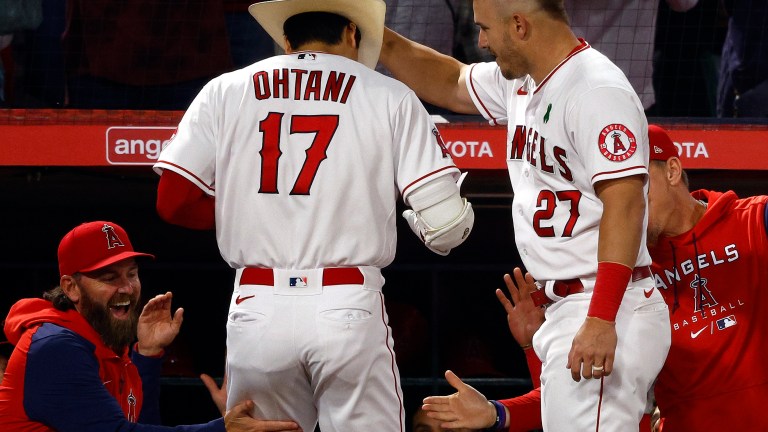 There's nothing better than a thick, juicy, succulent — with apologies to Tony Reali and Around the Horn's "banned words" gimmick — narrative. As much as the sport of baseball is predicated on numbers and Jeff Passan notification alerts, it's all about that story, man. The story is what gets us going!
When you're trying to enlighten the uninitiated, or inspire the youth that baseball so desperately needs, you don't recite just someone's wRC+ numbers. That's what nerds do! 
Instead, this article is going to be like hanging out with those cool uncles at Thanksgiving who hand you a joint before dinner and tell you totally-real-and-not-exaggerated stories about the time they had a real Project X party. And the plural for uncles is key, because I'm going to be joined by the brilliant Marc Delucci to discuss some of our favorite storylines for the first half of the 2022 season. 
But unfortunately, just like those Thanksgiving uncles, Marc's time will be short-lived. So enjoy this unorthodox goodbye letter that I begged him to be a part of. Baseball, baby!
The Shohei Ohtani Award for Favorite Positional Player to Watch
Marc: Shohei Ohtani
I'm not sure if Javi knows this, but Ohtani pitches too!
I don't think this is a pick that needs much explanation. He's arguably the greatest player of all time. He hits tanks. He steals bases. And his defense involves racking up strikeouts with a nasty splitter and upper-90s fastball. Ohtani is arguably doing more for his team than anyone in MLB since "Old Hoss" Radbourn back in the 19th century (look it up and enjoy the read). Insert all your Angels jokes here, but I'm making sure to enjoy Shohei as much as I can.
Javi: Julio Rodriguez
I'm not a fan of the tone Marc used at the beginning of his blurb, but since it's his final appearance for Just Baseball I'll let it slide. And SPEAKING OF SLIDES…let's talk about everyone's favorite speedster-that-can-also-do-everything-else: Juliooooooo!
There's a combination of factors here. His performance in the Home Run Derby was rad, yes — and possibly the first time many fans were acquainted with him — but it's also that he's exceeded expectations as a baserunner (his 21 steals are third in baseball) and simply his overall energy.
His affable personality is perfect for the extremely weird but lovable Mariners — a team that seems to have a knack for raising the most likable superstars (see Griffey Jr., Ken and Suzuki, Ichiro) — and I could not be happier for Seattle fans. Ever since his reaction to being robbed of a hit by Adolis Garcia, I knew the vibes were immaculate.
The Daisuke Matsuzaka Award for Most Irresistible Pitcher to Watch
Javi: Nestor Cortes
Nestor Cortes is why we love sports. As much as we like to pretend to see into the future, he's the embodiment of chaos. We thought his strong finish to the 2021 season was just a cute little footnote — a clear outlier that would be corrected because of the obvious — but ladies and gentlemen, it was not. Nasty Nestor is here, dominating with his (relatively) slow fastball that rises up on batters and bites them with the fury of a thousand mice.
Well, not really, but his dominance has been huge for not just the Yankees but fans everywhere. A 36th-round pick that manages to capture the hearts of the most notoriously obnoxious fanbase in the sport. What's not to like?
Marc: Kevin Gausman
I watched a lot of Kevin Gausman during his breakout in 2020-21 with the San Francisco Giants and was loudly critical of the franchise's lukewarm efforts to re-sign him. Still, I'm glad Gausman got paid last offseason, and it's been fun to see him prove the Blue Jays right in betting on his breakout performances out west.
In the most hitter-friendly division in MLB, Gausman has the best FIP in MLB and has posted an elite 2.84 ERA across 94 innings pitched with 106 strikeouts and just 18 walks. As teams (and their fanbases) have become more averse and critical of paying players who have been really good at baseball recently, I've enjoyed seeing Gausman reward Toronto for their spending.
The Brady Anderson Award for Favorite Overperformer
Javi: Matt Carpenter
I think I speak for everyone when I say: literally, what in the flying f**k is going on?
Matt Carpenter, who slashed .169//.305/.275 in 2021 and .186/.325/.314 in 2020, is currently — at the pristine young age of 36 — hitting .354/.469/.911 with the Yankees. He has more home runs than his last two seasons combined (13) in just 31 games. There were better odds of me writing a book on Matt Damon than Matt Carpenter being this good. You can dismiss this as being a product of playing in Yankee stadium, but if you do, I want you to know it's only because you're a narc. 
Marc: Alejandro Kirk
Alejandro Kirk may be the most underrated player in baseball right now. He's hitting the ball hard at an elite rate, somehow maintaining above-average walk rates while working free passes more often than he strikes out, and is one of the best framers behind the plate in the league. He's only 23 and he's already arguably the best catcher in MLB right now (Yes, even better than Willson Contreras). Oh yeah, he's also 5'8''-250 making him both a short and chubby king.
The Hunter Pence Scooter Award for Favorite Silly Storyline
Marc: Joe Maddon and Tony La Russa's struggles
Few things annoy me more than managers, usually white managers, with incredibly talented teams who love talking about themselves and receive adulation from media calling them geniuses. Needless to say, I have kind of enjoyed Tony La Russa and Joe Maddon's "downfalls" this season, even if it's come at the cost of several of my favorite players.
It's not a silly story to Angels or White Sox fans, but I'm thankfully not aboard those ships this year, so I've been able to enjoy overrated managers dealing with some well-deserved negative press. Tony La Russa's intentional walks after getting pitcher's counts remain pretty unparalleled in the world of incredibly incompetent decisions, but those kinds of mistakes have never been the reason I disliked La Russa and Maddon. It was how they handled them. 
La Russa's obnoxious reactions to justifiable criticism and Maddon himself having his moment of clearly taking out his own frustration on a reporter asking a fairly straightforward question was just further confirmation that both of them care more about their egos than the people around them.
Hopefully, the Angels can somehow rebound in the second half and La Russa can follow Maddon in getting fired this year.
Javi: Everything Buck Showalter
Continuing on with the theme of white managers but in a more positive nature, I want to give some credit to Buck Showalter. My affinity for him traces back a long time, particularly after his sobering comments following the Baltimore riots. Perhaps this is the case of giving too much credit for the bare minimum — or how, at the time when I was in high school, a kid in my grade made waves for using a racial slur on Twitter describing the ordeal — but I've been rooting for him ever since.
His comments weren't mind-blowing or anything, but I'm just so used to all the wrong things being said by old white guys in this sport, especially.
But it's not just Showalter's general success with the team that I've enjoyed because, after all, this is about our favorite silliness. Buck Showalter has simply been a good vibe. Aside from all the Mets players' antics in the dugout, Showalter's death-stare after a player is hit by a pitch has become perhaps the singular-most important baseball meme of 2022. I simply can't get enough of it. Plus, stumbling upon this has made me unreasonably happy for months:
The Trade Machine Award for Favorite "Enough! This is Getting Old!!" Storyline
Javi: Derek Jeter Overrated???
I'm going to try to keep this short. Really, I don't think the stat nerds deserve my effort. But with ESPN's latest documentary, The Captain, combined with his departure from the Marlins organization, there have been many instances of Derek Jeter slander to be found.
Derek Jeter was a bad defender, we get it!
There probably wasn't a time in his career when he was the unquestioned best player at his position, we get it!
He was made infinitely more famous by being on the Yankees, we get it!
I'm glad you're making the realization that the circumstances of one's surroundings has an incalculable effect on someone's life! 
It's not cute. The same people pedaling the Jeter Overrated narrative are the same kind of people who think the hot dog is a sandwich or Die Hard is a Christmas movie debates are at all interesting to make up for their lack of creativity or even personality. Grow up!
Marc: Tommy Pham/Joc Pederson Fantasy Football
I'm not going to get into rehashing things too much, but Tommy Pham slapped Joc Pederson because of fantasy football. It was an understandably alarming and entertaining story when the news first broke, but it quickly morphed from some weird side beef to something a little more uncomfortable. Pham hasn't really apologized and it quickly got memeified on baseball Twitter.
I'll admit, part of my hesitation to dive into this story is Pham, who has one of the most unlikely stories of any MLB player. Go read the early life section of his Wikipedia page and it's hard not to want to root for him.
However, it also feels like a story where many people's reactions felt excessive to me. It makes sense. When something wildly unexpected happens, we tend to overemphasize the important/severity of the incident. What Pham did was objectively weird. It was obviously wrong. But is it actually more egregious than someone throwing a mid-90s fastball at someone's head because they (or their teammate) celebrated hitting a home run "too much"?
I don't think so. In fact, I actually don't think it's close to as bad.
I think folks (perhaps myself included) expected Pham to apologize, admit his competitiveness got the best of him in that moment, and then it could move on to being a fun joke. But Pham's refusal to apologize makes the premeditation of the slap weirder and more uncomfortable and, in my opinion, it's just kind of a sucky thing that happened this season that I wish didn't.
Javi: This might be the perfect summation of why my beloved Marc is leaving, because he is clearly way too smart for my nonsense.