Analysis
Top Five Most Dissapointing MLB Teams in 2023
Between high-priced failures like the New York Mets, San Diego Padres and New York Yankees, this year was very bad for some prominent teams.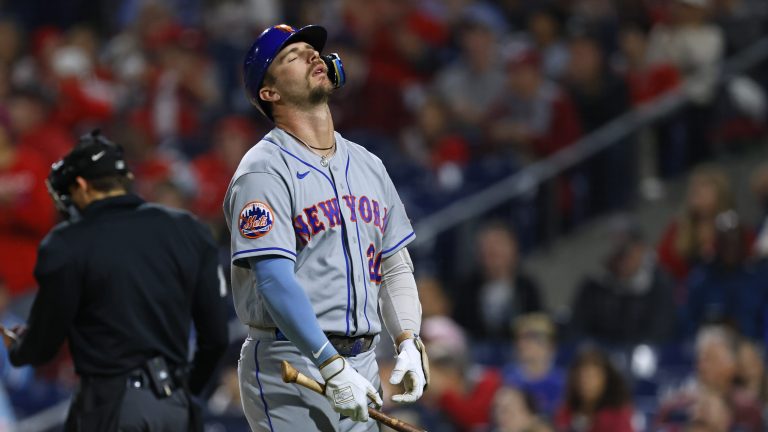 The 2023 regular season is nearly coming to a close, which for some teams in Major League Baseball, brings a merciful end to what has been an unmitigated disaster of a year.
There have been big money failures around baseball, where teams spent to raise team expectations prior to the season, only to watch their club fall flat and out of the playoff race entirely. This is, of course, at a time where three Wild Card spots keep things wide open until the very end.
On the latest episode of the Just Baseball show, I was a guest alongside host Peter Appel, where we broke down the five biggest disappointments in baseball this season. We came up with our list by looking at the preseason over/under lines for team's win totals in 2023. Then we compared those preseason betting odds to where teams ultimately ended up with their current win totals.
What we landed on was a list of the five teams who had the most frustrating seasons in baseball when you pair preseason expectations with where they ended up. These teams have a lot of questions they have to answer in the offseason, which we explored on the show as well.
All preseason over/unders were provided from our partners at BetMGM. If you sign up to BetMGM with our promo code JUSTBASEBALL you will receive up to $1,000 in Bonus Bets back if your first bet doesn't win.
Honorable Mention: Cleveland Guardians
Preseason win over/under: 86.5
Current win total: 74
At the time we recorded the show, the Cleveland Guardians and Los Angeles Angels each sat 12 games below their projected win total and we were left to chose which season has been the bigger disappointment. While the Guardians had the higher projected win total, there was no contest here.
Yes, the Guardians made playoffs last year and were the favorites to do it again in a very weak AL Central. With that said, they did not mortgage the future at all to go for it this season.
They had a team predicated on pitching that lost it's two most notable arms for large portions of the season in Shane Bieber and Triston McKenzie. Their offense never clicked and saw major regressions from Andres Gimenez and Steven Kwan, amongst others.
Still, the Guardians are no worse for wear heading into next season. The same can't be said for the following five teams, particularly No. 5.
5. Los Angeles Angels
Preseason win over/under: 82.5
Current win total: 71
The Los Angeles Angels 2023 season was a dumpster fire. They entered the year with high hopes, as they made plenty of moves in the offseason to take one last crack at building a contender around Mike Trout and Shohei Ohtani.
Ohtani delivered all season, as he had the MVP race all sewn up before the injuries began to hit in the second half. For Trout, injuries once again colored his season, limiting him to 82 games played.
Still, there was a moment in time at the trade deadline where everyone was optimistic about the Angels, who decided to double, triple and quadruple down on Ohtani's second MVP season by going for it at the deadline.
Their big move? Trading top prospect Edgar Quero for Lucas Giolito and Reynaldo Lopez, two pitchers who were on a expiring deals. They continued to build out their roster by collecting what can be described as C+ players, hoping that the influx of MLB talent would be enough to put them over the top.
A month later, the Angels put their prized deadline acquisition of Giolito and Lopez on waivers for cost-cutting purposes, effectively kissing their best prospect in Quero good-bye for one of the most frustrating months of baseball we have ever seen. The Angels went 8-19 in the month of August and lost all playoff hope yet again.
Now we look up as the dust settles and the Angels are bracing for a future without Ohtani, who everyone expects will leave them in free agency, with a farm system that is now barren after they went all-in by both promoting and trading all their prospects to win-now.
The future in Anaheim looks very bleak, which could lead the Angels to trade Trout and start entirely from scratch in 2024.
4. New York Yankees
Preseason win over/under: 93.5
Current win total: 80
The New York Yankees might not be enduring a losing season, but it certainly hasn't been a winning one either. The Yankees have been a .500 baseball team for too long this season when compared to their preseason expectations.
Injuries to their two big offseason expenditures of signing Carlos Rodon and re-signing Aaron Judge doomed their season, but their was also a lack of production across the board from the players who were on the diamond.
Considering how well Judge has played when healthy this year, it is fair to say that he is still the best overall position player in all of baseball. Gerrit Cole is heading towards winning his first Cy Young, an award that has been due to come his way for a very long time.
Going into 2024 with both the best pitcher and the best hitter in baseball should put the Yankees squarely in a window to contend, but considering how bad this year has gone, it is hard to have faith in this version of the Yankees.
Giancarlo Stanton has become an absolute albatross of a contract, as he is not only an anchor in terms of production compared to salary expectations, but also an anchor when it comes to mobility after years of injuries.
Unfortunately for the Yankees, Stanton is under contract for four more seasons, still owed $118 million with an additional $10 million buyout on a $25 million option for the 2028 season.
Along with the questions surrounding Stanton, the Yankees have to question pretty much everything on their roster outside of Judge, Cole and their ability to build a great bullpen. That all is enough to take them far, but they have to supplement those pieces properly to avoid a similar fate next year.
3. San Diego Padres
Preseason win over/under: 93.5
Current win total: 78
The San Diego Padres might be the biggest disappointment in the sport, despite the fact that they have won more games then the next two teams on our list.
The difference between the Padres and the teams that follow is that San Diego has been going for it all year, while the other two teams folding up shop with an eye towards losing for the lottery positioning long ago.
On the surface, there is a lot that has gone right for the Padres this year. Blake Snell has been dominant and is the runaway favorite to win the NL Cy Young. Josh Hader has been great in the closers role and Juan Soto had a strong first full season in San Diego.
Fernando Tatis Jr. returned from his suspension and didn't miss a beat, even handling his move to the outfield so well that he is worthy of winning a Gold Glove in right field, if not a Platinum Glove for being the best defender in the sport.
With a good lineup and a quality starting rotation that performed as well, the Padres should have been in playoff contention this season.
Their +94 run differential is fourth-best mark in the National League. The problem is that their bullpen was terrible and they got destroyed in one-run games all year, crippling their record to the point where they can get eliminated from playoff contention as soon as today.
Now with reports that they will be looking to cut payroll down in 2024, and impending free agents like Snell, Hader set to leave for nothing, who will be impossible to replace, things are going in the wrong direction in San Diego.
A core of Manny Machado, Tatis and Xander Bogaerts is great to build around, but if the Padres are cutting salary it does led to questions about Soto's future with the team as well. Soto can be a free agent after the 2024 season, and could very well be the piece moved to cut salary this winter.
The Padres have gone from the star-studded small market super-team that was going to take on the world, to a team that is about to miss the playoffs and go through some wholesale changes in the offseason. Not an ideal 2023 campaign to be sure.
2. St. Louis Cardinals
Preseason win over/under: 88.5
Current win total: 69
The St. Louis Cardinals have been awful this year, mostly because they can't pitch.
For years now we have wondered why the Cardinals have failed to be more aggressive in acquiring pitching talent and this year that all caught up to them. Adam Wainwright earned his 200th win, but in the most agonizing way possible when you look at the totality of his season.
Miles Mikolas is supposed to be one their frontline starters and he regressed horribly this year, meanwhile the Cardinals don't have a single young arm in their rotation who can be counted on to be there in two years.
In some ways, the Cardinals season was not as bad as some of these other teams when it comes to long-term outlook because they still have a really good core of position players in place.
This is the franchise's first losing season in over 15 years and there is every chance they can bounce back well next year and avoid a similar fate. Still, they must overhaul their pitching staff this winter, or this recent fall from grace could extend for years to come.
1. New York Mets
Preseason win over/under: 91.5
Current win total: 71
We have finally gotten to the biggest-priced flop in MLB history, the New York Mets!
Steve Cohen spent nearly half a billion on his team this year and the Mets responded by going from a 101-win ballclub in 2022, to a team that will finish well over 10 games below .500. Everything that could go wrong did go wrong, starting with Edwin Diaz being lost for the season celebrating a victory with his teammates in the World Baseball Classic.
Justin Verlander opened the season on the IL, Jose Quintana missed the whole first half, the Mets saw great regression from top players like Starling Marte and Jeff McNeil. By the time the deadline rolled around, the Mets made a complete 180 when it comes to the franchise's direction, going from the biggest buyer in the sport to the biggest seller.
With their change in course, the Mets at least were able to salvage something from what was otherwise a lost year. They significantly improved their farm system.
Verlander and Max Scherzer were each getting paid $43.3 million per season and all that money was going to become a sunk cost in 2023 if the Mets failed to make the playoffs. They could have let things play out, and then kept those aces on the books for another run in 2024.
Instead, Cohen paid down their salaries and turned Scherzer and Verlander into the two hottest commodities on the market at the deadline. The result was acquiring Luisangel Acuna for Scherzer and Drew Gilbert for Verlander, with those two prospects now looking to be the top two in this farm system. The Mets also acquired a slugging prospect in Ryan Clifford for Verlander, who should slot well within their top 10 as well.
Along with the three headlining prospects, the Mets were able to acquire a handful of other young players by trading David Robertson, Mark Canha, Tommy Pham and Dominic Leone. Now armed with a farm system that was just ranked No. 4 in all of baseball by Bleacher Report, the Mets are well on their way to making this rebuild as short as possible.
To further improve their standing moving forward, Cohen finally landed the President of Baseball Operations he has long been searching for, hiring David Stearns from the Milwaukee Brewers.
While the Mets were absolutely the biggest disappointment in the sport when compared to preseason expectations, they at least found a new direction moving forward, which cannot be said for most of the other teams on this list.