Analysis
What has Gotten Into Gary Sanchez?
After a slow start to the season, it appears Gary Sanchez is back. What did he do to find his swing?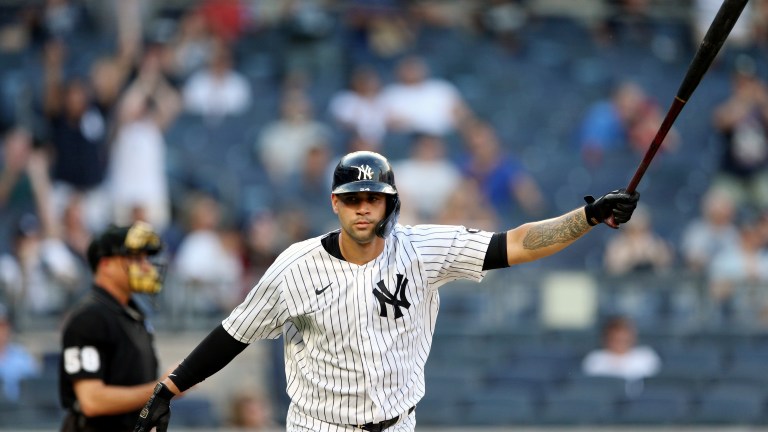 Earlier this season, Gary Sanchez hit the lowest point of his six-year MLB career. After slashing an abysmal .190/.329/.310 in 70 April plate appearances, Sanchez lost his starting catching job to Kyle Higashioka late in the month.
Considering the Yankees also went with a catching platoon during the 2020 postseason, it was fair to wonder if Sanchez's days in the Bronx were numbered. Since then, something has changed. Through a number of adjustments, Sanchez has regained the form that made him elite earlier in his career, and won back his starting gig. Since May 7th, Sanchez has a .944 OPS and 12 home runs in 158 plate appearances. The 2021 New York Yankees have largely been a colossal disappointment, but Gary Sanchez's resurgence has been one of the few positives.
Increased Plate Discipline
Fixing his issues with plate discipline has arguably been the biggest key for Gary Sanchez this season. Sanchez has always been a player that hits for a ton of hard contact, as evidenced by his 91.1 MPH career exit velocity and 43.9% hard hit rate. The problem is that he usually swings and misses too much for it to matter.
In 2021, that has improved. Sanchez has a 25.6% swing rate against pitches outside of the strike zone this season, the best of his career. As a result, the 28-year-old catcher has the highest walk rate (13.1%), second-highest OBP (.347) and third-highest batting average (.238) of his career.
| | |
| --- | --- |
| Season | Gary Sanchez Outside Zone Swing % |
| 2016 | 33.2% |
| 2017 | 33.7% |
| 2018 | 32.3% |
| 2019 | 35.3% |
| 2020 | 31.5% |
| 2021 | 28.4% |
Data Courtesy: Fangraphs
Eliminating the Leg Kick
Besides Sanchez's change in approach, he also switched up his mechanics mid-season. Throughout his career, he has alternated between using a high leg kick, a more abbreviated one and a toe tap as timing mechanisms at the plate. This inconsistency in mechanics might explain why he has been so streaky, but that discussion is for another day.
Over his last 20 games since June 6th, Sanchez is batting .309 with a 1.133 OPS and eight home runs over 78 plate appearances. Simply put, he has been one of the best hitters in the league during that stretch, and it coincides with dropping his leg kick.
Hitting the Breaking Stuff
So far this season, Gary Sanchez is hitting breaking balls better than ever. His .554 slugging percentage against breaking balls is the highest since his breakout season of 2016. His .510 xSLG is the best he's ever had, along with a 35.4% whiff rate against breaking balls, also a career best. As a result, he's now seeing fastballs at a career-high 59.1% clip.
Historically a hitter that mashes fastballs (79 of his 129 career home runs came off of fastballs), this increased volume of heaters could pay dividends for Sanchez's power production down the stretch.
Will it Continue?
This is a question that's impossible to answer. Sanchez has been known for these hot streaks throughout his career:
| | | |
| --- | --- | --- |
| Month | Triple Slash | HR |
| August 2016 | .389/.458/.832 | 11 |
| June 2017 | .307/.390/.659 | 9 |
| May 2019 | .286/.348/.631 | 9 |
| June 2021 | .289/.372/.663 | 8 |
Will this simply go down as a another in a long line of great months for the 28-year-old? Possibly. However, I do think the changes Sanchez made give him a good chance of keeping this going for the rest of the season. If he can continue laying off pitches out of the zone, keep his mechanics consistent for the rest of the season and maintain his production against breaking balls, Sanchez should stay steady. If the Yankees are going to turn things around and salvage their season, they'll likely need it.