Analysis
Examining the Revamped New York Yankees Infield
With three moves in five days, the Yankees have completely retooled their infield ahead of the 2022 season.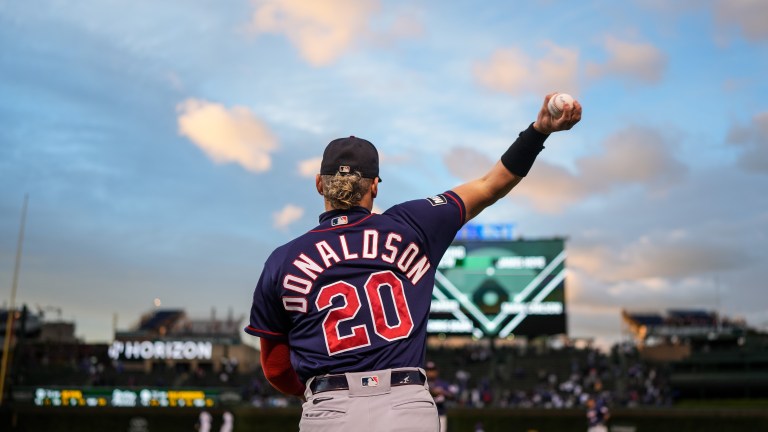 After a quiet start to the offseason back in December, the New York Yankees have given their infield a complete facelift since the lockout ended a little over a week ago. Between trading for Josh Donaldson, Isiah Kiner-Falefa and Ben Rortvedt from the Twins on Sunday, and re-signing Anthony Rizzo on Tuesday, the Yankees brought in potentially four starters in a 48-hour span.
Following a disappointing 92-70 campaign in 2021, it was unlikely New York would run it back like last year. The last five days have made that a reality.
The Moves
1. Traded 3B Gio Urshela and C Gary Sanchez (2.5 combined fWAR) to the Minnesota Twins for 3B Josh Donaldson, IF Isiah Kiner-Falefa and C Ben Rortvedt (5.7 combined fWAR)
In a trade that truly came out of nowhere, Brian Cashman dealt two mainstays. It was odd, and unexpected, but the Yankees likely improved. With all due respect to Gary Sanchez, it was time to move on. His bat is too inconsistent for how bad he is defensively at such a crucial position.
Maybe a change of scenery will help him return to being the elite hitter he once was. Meanwhile, Gio Urshela is coming off of his worst season as a Yankee (96 wRC+), and an offensive upgrade at third made sense.
Enter Josh Donaldson, who had a 124 wRC+ last year at age 35 with the Twins. Taking on all $50 million that Donaldson is owed over the next two years is the big downside of this entire deal, but if he's still an elite producer with his bat, it will be worth it.
For more information, Sam Luckini wrote in-depth about Donaldson earlier this week.
Additionally, the Yankees added an elite defensive shortstop in Isiah Kiner-Falefa (10 DRS), allowing them to move Gleyber Torres back to second base where he belongs. He'll be a good placeholder until top prospect Anthony Volpe is ready down the road.
2. Re-signed 1B Anthony Rizzo to a two-year, $32 million deal
While there were some rumors connecting the Yankees to Freddie Freeman, that always seemed like a pipe dream. Acquiring Matt Olson via trade was probably more realistic, but New York was ultimately either unwilling, or unable, to match Atlanta's trade package. That left Anthony Rizzo as the best option remaining.
Rizzo is still a pretty nice fallback though, considering he's had a wRC+ over 100 every year since 2012, and is a four-time Gold Glove winner. He's not what he once was, but Rizzo is still a steadying force, respected leader and was brought back on a reasonable contract.
3. Traded 1B Luke Voit to the San Diego Padres for RHP Justin Lange
With Rizzo re-signed, it felt like there was little to no chance Luke Voit would return this season. What's surprising to me is that he didn't have a little more of a market. Remember, between 2018-2020, Voit hit 57 home runs in 774 at bats, with no less than a 126 wRC+ any season.
However, there are drawbacks between his struggles defensively and with his injury history. Ultimately, it's a nice low-risk move for San Diego and gives Voit a chance to start. We'll have more on what the trade means for the Padres with an article coming soon from Javy Reyes.
What Does It Mean?
For one, the Yankees should be a significantly better defensive team than they were at the start of last season. Gary Sanchez's struggles behind the plate are well-documented and don't need to be rehashed. Trading him is addition by subtraction. Add in the fact that both Kyle Higashioka and Ben Rortvedt are quality defensive backstops and they should improve drastically in that department.
As for the rest of the infield, in 2021, the grouping of 1B Voit; 2B LeMahieu; SS Torres; 3B Urshela combined for an awful -17 DRS. As a team, the Yankees finished 29th in MLB with -41 DRS last season.
On the other hand, the combination of 1B Rizzo; 2B Torres; SS Kiner-Falefa; 3B Donaldson totaled 3 DRS last season. Offensively, the upgrade of adding Donaldson's bat instead of Urshela could be enough to offset having two glove-first players at shortstop and catcher in the lineup.
Notably, DJ LeMahieu wasn't included in that mock starting infield. That's because he's fully expected to fill a utility role this season. He can play first base, second base and third base, and will be seeing time at all three spots. He can also of course get some at-bats at DH too.
Expect him to start around five times per week. It's a luxury to have five starting-caliber infielders and it enables Aaron Boone to rest players and mix and match with different lineup combinations.
What's Next
If Brian Cashman has one more move in him, it will likely be to address either their catching situation, or starting rotation. There are recent rumors that the Yankees are exploring a trade with the Athletics for Sean Manaea or Frankie Montas.
Either of them would significantly upgrade the rotation. However, a perfect world would see the Yanks swing a deal for one of those starters AND Oakland's All-Star catcher Sean Murphy. Doing so would shore up two weak spots and give the Yankees their best chance of competing in the loaded AL East. We should have an answer to this possibility in the coming days.