Analysis
Revisiting Last Offseason's Blockbuster Josh Donaldson Trade
The New York Yankees would probably like to have this one back, as the trade for Josh Donaldson and Isiah Kiner-Falefa ended up being a bust.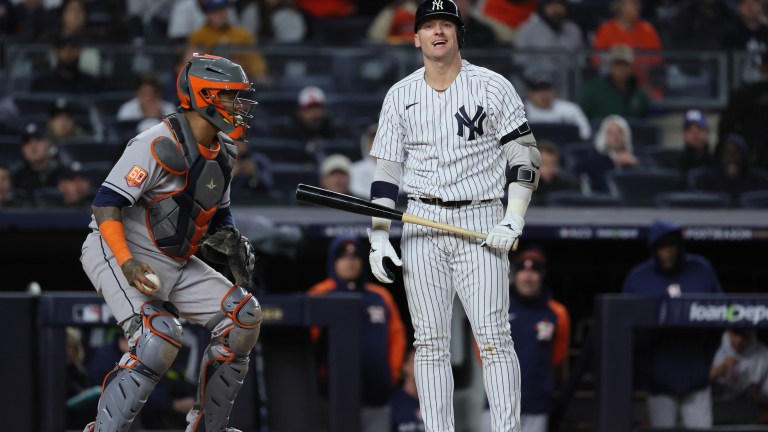 For over a decade, Josh Donaldson has been one of the most feared hitters in Major League Baseball. His time in Toronto saw him rise to baseball stardom, winning an MVP award and leading the team to numerous playoff appearances. He's always been known as a hot-headed player who seemingly always got the job done.
Even into his older age, Donaldson was still producing at an elite level after the 2021 season. His 124 wRC+ season total last year was fifth among qualified third basemen. That number was higher than players like Manny Machado, Kris Bryant, and Nolan Arenado. It seemed like a slam dunk deal to bring Donaldson and his massive $25 million salary to the Bronx, as the Yankees seemingly had a hole at third base. It looked like an elite upgrade.
Isiah Kiner-Falefa was also headed his way to the Bronx. IKF was well-regarded as one of the best defensive players in the game, nabbing a Gold Glove award while playing third base for Texas back in 2020. With a plethora of shortstop prospects on the way up, it didn't make much sense to splash out on one of the prized shortstops on the market last offseason. Instead, the Yankees front office opted to acquire a "stop-gap" player in IKF to fill the role until the kids were ready to come up.
Gary Sanchez and Gio Urshela were key contributors to the late 2010's Yankees teams. Sanchez bursted onto the scene early, taking over the job as the everyday catcher back in 2017.
Despite his enormous power potential, the fan base turned on him after his poor performances behind the dish became repetitive. In this same time, it seemed he had lost his skill in the batter's box, piling on to his shortcomings.
Urshela was a consistent regular at third base for the Yankees. His slick glove and steadiness at the plate caused the Yankee faithful to fall in love with him. Unfortunately, he was unable to produce in an injury-riddled 2021, which saw him miss a ton of time.
The pairs were swapped with each other back on March 14th of this year. Catcher Ben Rortvedt was headed to the Bronx as well to effectively replace Sanchez. After seeing a full year of these players, let's see how each panned out for their new ballclubs.
Yankees acquire: Josh Donaldson, Isiah Kiner-Falefa, Ben Rortvedt
Brian Cashman and the New York Yankees opted against making a big splash in free agency last season. Instead, they decided to take on Josh Donaldson and his monster salary with the space they had freed up. IKF came in to be the everyday shortstop, and it seemed like Rortvedt would compete for a role as the starting catcher.
Let's start with the positives. Despite not being nominated for a Gold Glove award, Josh Donaldson was incredible over at the hot corner this year. Donaldson's 7 DRS was tied for the second-highest in the American League this season. He's never been regarded as a great defender, but really did flash the leather this year.
Kiner-Falefa provided speed to this Yankees team, adding a factor that this organization has lacked for a long time. IKF stole 22 bags in 2022, good for the 15th-most in the game.
Now, onto the true analysis of this deal. It's been a disaster for the Yankees and could go down as one of the club's worst moves ever.
Josh Donaldson arrived in New York with an outstanding offensive pedigree. The assumption was that even still in his old age, he could continue to provide results for a team that was in need of another dimension. And well, none of it was the same.
The 2022 campaign was the first of Donaldson's career where he was a below-average hitter over a full season. His 124 wRC+ in 2021 dropped an entire 30 points down to 94.
Everything is down across the board. The batting average, on-base percentage, slugging percentage, wOBA, xwOBA and isolated power all took drastic dips. The home runs dried up, sending just 15 out of the park this year, compared to 26 in the last.
It was the worst season of the third baseman's career by a good distance. Donaldson seems to have finally met father time after such an illustrious career in the bigs. Factor in the fact that the veteran will make another $25 million next year, it makes it even worse.
The decision to bring in Donaldson was summarized by his performances in the ALCS. The third baseman was 1-for-13 in the series, striking out 10 times. Brutal.
Donaldson consistently put in uncompetitive at-bats that left many fans shaking their heads. It didn't even seem like he was trying to swing the bat. And that's how it seemed the entire year. The club is now handicapped by a player who has seemingly fallen off a cliff.
As for Kiner-Falefa, while not compensated as much as Donaldson, that has also been another awful part of this trade. IKF was brought in to work as the "stop-gap" shortstop while top prospects Anthony Volpe and Oswald Peraza developed in the minors. Falefa was touted as an elite defender who could help the Yankees in an area where they struggled mightily in 2021, with shortstop defense.
IKF's DRS total of 10, which was the eighth-highest of any shortstop, was met by 17 errors in the field, the fifth-most in MLB. The shortstop costed the Yankees a multitude of games with horrendous performances in the field, and even made bad choices during key moments in the playoffs. He led to much frustration in the fan base.
Kiner-Falefa was even benched for his defensive shortcomings in the playoffs. It finally became clear to manager Aaron Boone that something wasn't working, so a mix of both Oswald Peraza and Oswaldo Cabrera took turns at the position.
It's not like the player was hitting well enough to keep him in the lineup. Falefa's .642 OPS was laughable, and it took him almost five months to hit his first home run with the ballclub. So really, where was the value here?
Ben Rortvedt was a complete non-factor in this trade, as he didn't even play for the Yankees in 2022. So overall? This ended up being an awful deal for the Yankees. And it could quite possibly be one of the worst of General Manager Brian Cashman's tenure in his current position. Sure, Sanchez is gone. But at the cost of this return? it doesn't seem worth it whatsoever.
Twins receive: Gio Urshela, Gary Sanchez
For Minnesota, you have to see this trade as a win. Shedding Donaldson's massive contract led the way for the team to sign Carlos Correa to a massive contract. Despite the fact that he has opted out of it at this point, getting a year out of Correa compared to what Donaldson did this year was massive. The team was bad yes, but the money was better well spent on a player of that caliber compared to an aging-out star.
Moving onto the assets, The Twins didn't make out so bad in this deal. Let's start with catcher Gary Sanchez, who was the lesser of the two for this Minnesota team in 2022.
Sanchez was… horrendous. He was a below league average hitter once again, posting an 89 wRC+ over his 128 games. His OBP saw a massive dip from .307 the previous year all the way down to .282. And for a power-hitting catcher, he slugged a mediocre .377 this season.
Moving from Yankee Stadium to Target Field also saw a decrease in home runs, with the catcher only hitting 16 this season. Gary split time between catching and in the DH spot in 2022. These kinds of numbers coming from your designated hitter are extremely concerning.
A massive flaw in Sanchez's game was his inability to provide solid defense behind the dish. The Twins limited his time behind the plate, down about 180 innings from the year prior. While he wasn't anywhere close to being a good defender, there was some improvement.
Gary ranked as the 19th-best catcher according to DRS. Not great but can also be accredited to the lack of innings. Every defensive metric is around the same from his time in pinstripes, but there is one improvement. The catcher was consistently unable to steal strikes for his pitcher with his time in the Bronx. As a Twin, he awarded his pitching staff with 17 extra strikes. An improvement!
Regardless, Sanchez was poor for the Minnesota Twins in 2022. There wasn't a ton of hope with the player in general, and he's continued to slide as the years have gone on.
Gio Urshela was really the prized possession from this trade. After an injury-riddled 2021, hope seemed lost for the third baseman. However, he bounced back in a big way this year proving the Yankees front office wrong.
Urshela slashed .285/.338/.429 with a 119 wRC+ in 2022. Despite hitting just 13 home runs, he added 27 doubles to his team, while driving in 61 runs. While he wasn't as great as he was with the 2019 Yankees, this is a step in the right direction for the 30-year-old. He became an instant presence in this Minnesota order and filled the void left by Donaldson at third base following the trade.
The third baseman graded out as the 12th-best defensive third baseman in the league. He's always been a good defender, but the bat fell off in 2021. But he's back! Urshela has taken over Donaldson's job at third and has done it seamlessly, and for way less money.
With Urshela set to hit free agency after the 2023 season, this is a trade that may not be impacting either roster much a year from now, but it is still one that Yankees fans will never forget.