Analysis
Logan Webb Did Everything He Could Down the Stretch
Logan Webb was phenomenal for the Giants in September. Unfortunately, it still wasn't enough to secure his team a postseason berth.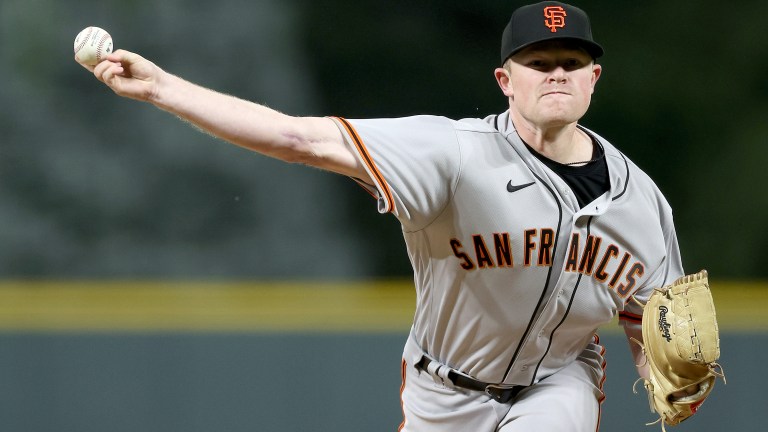 About a month ago, Dave Schoenfield of ESPN wrote about the Giants' Wild Card push, calling the team contenders without a single star.
"Somehow, some way, despite a roster devoid of stars or even non-stars having surprise seasons, the Giants are in the hunt, baseball's Houdini act."
"…the Giants have proven how depth helps cover for a lack of stars."
"If the Giants want to turn 2021's success and this year's surprise contention into long-term success, they know that eventually they'll need to add some star power to the roster; it's hard to keep winning with platoon players and waiver-wire castoffs."
I could keep quoting, but I don't mean to criticize Schoenfield directly. His piece is merely a good example of a widely-held belief about this ballclub. He wasn't the first or the only person to make such a claim about the Giants, a claim which might have started as a compliment but soon became a criticism when San Francisco fell out of contention.
Regardless of intention, I never quite accepted the premise that the Giants don't have a star; Logan Webb has been right there the entire time.
Webb has never been an All-Star. He's never finished in the top five (or top ten, for that matter) in Cy Young voting. He wasn't a top draft pick, nor was he ever a top-100 prospect. 
Yet over the past three seasons, the Giants' ace has been nothing if not a star. In 92 games and 556.2 innings, he has pitched to a 3.07 ERA and a 3.00 FIP. Only five pitchers have thrown more innings, all of whom are former All-Stars and/or Cy Young winners and finalists:
| | |
| --- | --- |
| Pitcher | IP (Since 2021) |
| Zack Wheeler | 558.1 |
| Kevin Gausman | 551.2 |
| Corbin Burnes | 562.2 |
| Aaron Nola | 579.1 |
| Gerrit Cole | 591 |
| Logan Webb | 556.2 |
Meanwhile, only four have a lower ERA (min. 75 GS). Only three have a lower FIP. Only one has a lower xFIP:
| | | | | |
| --- | --- | --- | --- | --- |
| Pitcher | GS | ERA | FIP | xFIP |
| Max Scherzer | 80 | 2.83 | 3.30 | 3.48 |
| Corbin Burnes | 93 | 2.94 | 2.92 | 3.01 |
| Joe Musgrove | 78 | 3.05 | 3.62 | 3.59 |
| Julio Urías | 84 | 3.07 | 3.72 | 3.85 |
| Logan Webb | 91 | 3.07 | 3.00 | 3.03 |
via FanGraphs
In 2023, Webb leads the National League in innings pitched, walk rate, and strikeout-to-walk ratio. He ranks among the top six in ERA and every major ERA estimator. He ranks fifth in FanGraphs WAR, second in Baseball Reference WAR, and first in Baseball Prospectus WARP. On top of all that, Webb ranks in the 99th percentile in pitching run value, per Baseball Savant.
And you're trying to tell me the Giants don't have any stars?
Perhaps you could argue that Logan Webb is an ace but not a star. After all, stars should be recognized for their work, and Webb is criminally underrated. But if that's the point you're trying to make, then you're not talking about San Francisco's roster construction.
Webb might not be a household name. He might not get the credit he deserves. But he pitches like a star, even if he's never been treated like one.
Indeed, the right-hander did absolutely everything he could down the stretch to carry his team into the playoffs.
Over the last 30 days, Webb has made six starts with a 2.16 ERA. He leads NL pitchers in fWAR over that time. He has issued just four walks while striking out 31. To cap it all off, he twirled a complete game gem in his final start of the season, keeping his team's playoff hopes alive for one last night.
Webb did everything a star is supposed to do. In the end, the Giants' problem wasn't that they didn't have a star, but that they had only one.
Logan Webb will finish the 2023 season with a losing record. He's a long shot for the Cy Young, and it's more than possible he won't even finish top five.
Nevertheless, there is no denying that Webb has blossomed into a true star, in any sense of the word. He's one of the best pitchers in baseball, and still just 26 years old, he isn't giving up that designation anytime soon.
Stats and rankings updated as of September 29.