Analysis
Thairo Estrada's Hot Start Raises Questions About Future With Giants
Thairo Estrada could be a hot commodity at the trade deadline, but the Giants might be smart to keep him in San Francisco a little longer.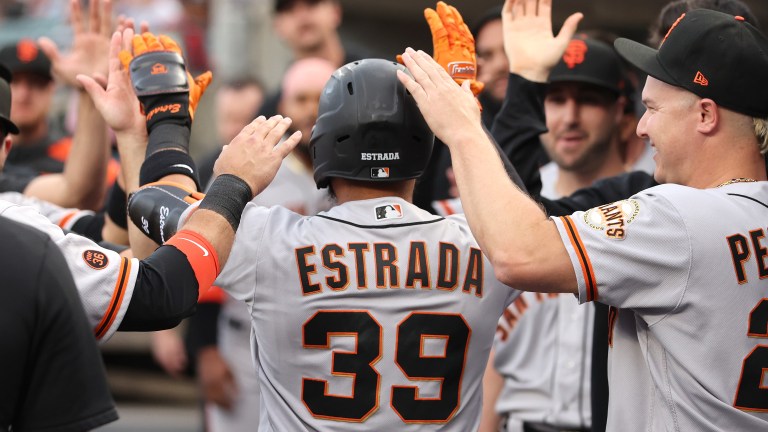 After catching lightning in a bottle in 2021, relying largely on veteran hitters having career years and a platoon-heavy lineup card, the Giants haven't run into any success since then. That is, however, with the exception of a trade with the New York Yankees back in April of 2021, where the Giants fleeced the Yankees, giving away cash for infielder Thairo Estrada.
Estrada came up with the Yankees in 2019, and in his 61 games with the club, he held only a .214 batting average. But with the Giants' magic in 2021, they found a new piece to their puzzle, implementing him into their lineup and placing him all over the infield and the outfield corners.
Ever since putting on the orange and black, Estrada has found success with a .277/.336/.435 slash line on top of 27 home runs and 32 stolen bases in 226 games. Estrada is on pace for a career year, carrying a starless Giants lineup with a 151 wRC+ and a team-leading 1.7 fWAR.
Stats updated as of Friday, May 12.
Estrada's hitting has put the league on notice. His .329 AVG is fourth in the National League, only trailing Luis Arraez, Ronald Acuña Jr. and Elias Díaz. An exciting player to watch, slugging .507 with a .382 OBP while stealing 11 bags in 14 attempts, the 5'10" Venezuela native also has some power to add with six home runs and 14 RBIs. His success has earned him the everyday role at second base for San Francisco, proving he can provide consistent production at the big league level.
Despite Estrada's success, the Giants still stand at 17-21 and 6.5 games out of first in the National League West. With a veteran roster struggling to find consistency and a bleak farm system, it's hard to tell where San Francisco stands. They have no big names to trade away in July to receive promising prospects, thus bringing into question where Estrada stands in the Giants' future plans.
Why Estrada's Time as a Giant Might Be Dwindling
The Giants' farm system and young "core" looks bleak. Joey Bart has been disappointing, Heliot Romas has performed well below expectations, and top-100 prospect Marco Luciano, can't stay healthy. The Giants are also one of the oldest teams in baseball, with 17 players on their 40-man roster at least 31 years old.
Therefore, the Giants need prospects, and since their roster is full of veterans or mediocre young platoon players, it's going to be hard to dump most of them for meaningful prospect returns. Things are especially bad on the position player front, as the Giants do have Logan Webb signed for the next five years, an ace of a closer in Camilo Doval, and top-100 prospect Kyle Harrison on his way to the big leagues.
Enter, Thairo Estrada. Still relatively young, he can provide MLB experience, an above-average bat, and the threat to steal 30 bags and hit 15 home runs. He can play around the infield and even a solid left field if needed. For a contending team that wants depth or is missing an infield piece, Estrada could be a target at the deadline.
Why Estrada Is a Fit for the Giants' Future
Brandon Crawford's contract is up at the end of the season, and with Crawford turning 37 next year, it's likely this is the last season in orange and black for the three-time World Series Champion. J.D. Davis, Wilmer Flores, and David Villar have performed well enough in their platoon roles, however their futures with the team are uncertain as both Flores and Davis are in their early thirties. Villar has worked his way into the Giants lineup due to his versatility, however a career .202 average in San Francisco isn't going to cut it.
The Giants called up Just Baseball No. 75 prospect, infielder Casey Schmitt, on Tuesday in hopes of beginning to untap his potential to be one of the better defenders in the league. Schmitt made as good of a first impression you can with his bat, recording his first career hit and home run on one pitch he sent over 400 feet into the left-center field bleachers. Off to a hot start, going 8-12 with two home runs and four RBIs in his first three big league games, he has created a scary infield duo with Estrada that is electric to watch.
The ideal replacement for Brandon Crawford, Marco Luciano, hasn't met the expectations of the Giants front office because he is constantly finding himself on the injured list, freezing his development. If this continues, it is quite possible we see Estrada snag his spot for a few years or, more likely, split time with Luciano at second base when he finally gets promoted.
With Schmitt's potential to be a middle-of-the-order hitter and Gold Glove defender, it's very possible we see him in the same lineup as Luciano and Estrada in a couple of years if Estrada keeps his pace. I would bet on this scenario in the Giants' future if Luciano, Schmidt and Estrada can stay afloat in the big leagues.