Analysis
Justin Steele Has Cemented Himself as the Chicago Cubs Ace
Justin Steele has not only pitched the Chicago Cubs into the playoff race, he has also pitched himself into the Cy Young conversation.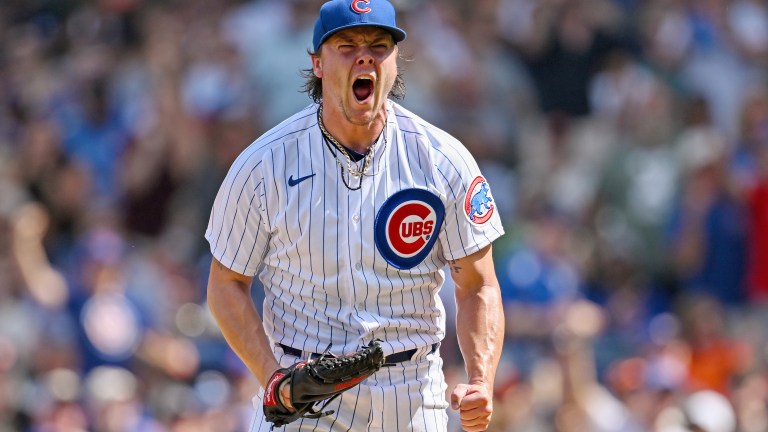 When the Chicago Cubs made the decision to retool in the years following their 2016 World Series Championship, few would have predicted that the organization would find itself back in the National League playoff picture so quickly.
The emergence of Justin Steele as a bona fide ace has played a massive role in the Cubs resurgence, and the 28-year-old figures to be a mainstay at the top of the Cubs rotation for years to come.
Steele proved to be a solid starting pitcher last year, but this season his breakout has been palpable, particularly as he is getting better when the Cubs need him most in this playoff push. The left-hander has been nails in this last two starts, helping keep the Cubs comfortably in a Wild Card spot.
First, the Cubs were taking on their division rival, the Milwaukee Brewers.
A series victory by Milwaukee may have put the NL Central on ice, and the Brewers took the first game by a score of 6-2. Getting a single run of support, Steele scattered six hits across six scoreless innings pitched, striking out eight batters, while walking just one.
The Cubs won the game 1-0, then went on to win the series in the following game to keep the NL Central division title within reach.
Then yesterday, Steele faced off against a team the Cubs are in direct competition with for a Wild Card spot and a pitcher who is in the Cy Young conversation with Steele in Logan Webb.
Steele turned in his best start of the season, pitching himself directly to the front of the Cy Young race alongside Blake Snell. The Cubs ace put up eight zeroes, allowing just two hits and two walks, with a season-best 12 strikeouts. The Cubs won 5-0.
With the eight scoreless innings, Steele lowered his season ERA to 2.55, which is just slightly above Blake Snell's MLB-best 2.50 mark. Considering the fact that Steele is leading a surprise playoff team, it is fair to call him the sudden front-runner for this award.
Pitcher record isn't valued the way it once was, but for Steele there is really an argument to be made that it should matter. He is 16-3 on the year and the Cubs have won each of his last nine starts. Actually, going back to when Steele returned off a short stint on the IL on June 17th, the Cubs have won all but one of his last 14 starts.
The final four or five starts that Steele makes this season will determine whether or not he wins the Cy Young. If he is lights out down the stretch, there is a great chance he takes home the award. Regardless though, he has already claimed the title of the Cubs ace moving forward.
Surprising Road to Becoming the Cubs Ace
Steele was never a much-heralded prospect, which makes his rise to stardom all the more impressive and important for the organization; Steele was not someone who was viewed as a future ace, so his performance has been in many ways a "bonus" for the Cubs. 
Drafted out of high school in the fifth round of the 2014 draft, Steele dominated the lower minors but struggled mightily when he reached Double-A, posting a 5.59 ERA across 11 appearances. However, when promoted to Triple-A in 2021, he rounded back into form and posted a 1.32 ERA across nine appearances, five of which were starts. He was called up later that season.
Steele has steadily improved each season, dropping his ERA from 4.86 in 2021, when he functioned as a swing-man who bounced between the bullpen and the starting rotation, to 3.18 in 2022, which was his first full year as a starter.
When diving deeper, one could see this remarkable season on the horizon thanks to Steele's underlying numbers; the true jump happened between 2021 and 2022. Steele dropped his FIP by a stunning 2.3 runs between his first and second year, paving the way for his success this season.
While many pitchers, particularly starters, emerge as aces after the addition of a new pitch to their arsenal, Steele's story is quite the opposite. When he first broke into the league, Steele was a five-pitch pitcher, featuring a fastball, slider, sinker, changeup, and curveball. Entering 2022, he essentially eliminated everything except his fastball and slider, which paid dividends.
Despite not having overpowering stuff, like other two-pitch starters like Spencer Strider, Steele finds success based on his ability to tunnel his fastball and slider; the two pitches look the same out of his hand, and hitters are left to guess whether the offering will stay true or break and dive out of the strike zone. 
His slider has eight more inches of horizontal movement, and 1.4 more inches of depth, than the league average, making it a devastating pitch when played off of his 91 MPH fastball. This movement certainly helps explain how Steele has managed to get into the 84th percentile of chase rate.
While he averages less than a strikeout per inning, Steele is a master at inducing weak contact. His hard-hit percentage is in the 72nd percentile, average exit velocity is in the 78th percentile and his barrel percentage is in the 82nd percentile. Steele also excels at keeping the ball on the ground, with his 48.6% GB% being in the top 10 among qualified pitchers.
Another key to Steele's success has been his ability to get ahead in counts and avoid walks. Steele ranks in the top 9% of the league in terms of walk percentage.
This ability to get ahead and stay ahead, while not being afraid to pitch to contact, has kept Steele's pitch count down and allowed him to work deep into games, as he has already blown by his career high of 119 IP with 152 IP this year.
The success the Cubs have had this season was certainly unexpected, and when they make their appearance in October, it will be their unexpected ace Justin Steele who takes the ball in game one. That will be the case again on Opening Day and potentially for years to come.