Analysis
Journey to the Futures Game: Will Klein On Overcoming Adversity
Kansas City Royals prospect Will Klein joined our Behind the Seams podcast to discuss what has been a tough journey through the minors.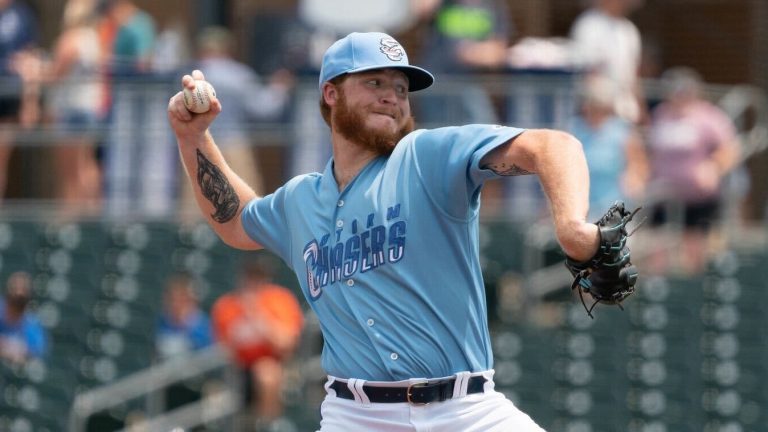 Will Klein's career started off in a weird way like many players did in the 2020 MLB Draft. It was the draft during the middle of COVID-19 and most guys selected in that draft didn't pitch until 2021. He joined us on Behind the Seams to discuss his unique journey through professional baseball so far.
When Klein started his 2021 season, he got off to an incredible start to his career. He compiled a 7-1 record with a 3.20 ERA while striking out 121 batters in 70.1 innings pitched for an absurd 40.9 K%. Not only did he have insane personal statistics, but the High-A team he was on, the Quad Cities River Bandits, went on to win the 2021 Midwest League Championship.
"That was the most fun I've had playing baseball in a while. It was like just college or summer ball and it was a team that played for each other," Klein said. "It is the best team I've played on probably ever. The playoffs were just a great experience and there was much adrenaline going on at that time."
Klein was surrounded by a team full of guys who are now in the major leagues. That Quad Cities was loaded with talent including names like Vinnie Pasquantino, Michael Massey, Angel Zerpa, Logan Porter, and Nick Loftin all who have made their major league debuts. Klein felt he was on the same fast track to the bigs.
Following all that success Klein found himself starting to run into moments of adversity. Through nagging injuries and other aspects of the game he had started to lose confidence on the mound.
"In 2021 I had a really good year, I was really healthy. But then I hurt my shin in spring straining and that kind of derailed my entire year," Klein said. "The mental side of things weren't great then."
That led to a very pedestrian 2022 where he only threw 43.2 innings and posted a 10.51 ERA in Double-A. Klein felt that every outing his mind was in a negative space. "On the mound, if you're only thinking negative things you're only going to get negative results," Klein said.
A shift of his entire mindset to focus on the positive during this past offseason led to an incredible 2023 for Klein.
"Just being able to be positive or not even like you don't have to be positive but just not negative on the mound can make a huge difference," Klein said. "Just keeping yourself in it and yeah just that mindset not being negative and down on yourself in just every walk of life."
The shift helped Klein make sure he focused on where his feet were and that he wasn't taking his performances (good or bad) home with him at night. He started the year in Double-A and was back to dominating hitters again posting a 33.6 K% while posting a 3.38 ERA. It was good enough to get him selected to the All-Star Futures Game. 
"That was just amazing, super cool to be chosen by them and just to be around all those guys that are like the future of their organizations," Klein said.
Following the Futures Game Klein was moved up to Triple-A Omaha and is now one step away from the major leagues. As he moves into the offseason, he hopes to take a break from baseball and also find ways to carry his same mindset he had this year into 2024.
"I try to kind of turn [baseball] off. I am going for a lot of walks, a lot of hikes. There is some cool nature around St. Louis," Klein said. "Then I'll play some video games and do some other stuff at home just to kind of forget about baseball for a little bit."
The opportunity to reset his mind during the offseason gives him a chance to refresh and recharge for 2024. To have the ability to pick up right where he left off once he gets back into the grind.
Klein's experiences are a great lesson for any future athlete and for those of us trying to overcome adversity in our day to day lives.
"Take it pitch by pitch… you can take that into your daily life… see some good in bad… if you're only looking at negatives and you're only seeing negatives there's no way to really improve from that," Klein said. "If you see some things like some good things you can build off that… that can really help turn those bad couple days into a good week, good month."