Analysis
A Quick Look at Canadian-Born Players Selected in the 2022 MLB Draft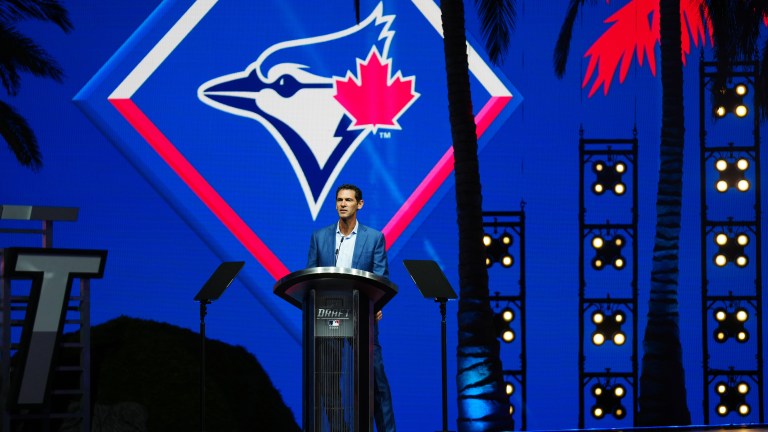 Each season, high school and college players from across North America hear their names called through the MLB Draft, deciding whether to transition to the pro ranks and moving onwards on their journey to the MLB or head to post-secondary to better their chances for a higher draft selection in the future.
While a majority of drafted players are born in the United States, numerous Canadian-born players find themselves drafted each year, some suiting up with the Junior National Team while others take their talents south of the border to American college programs to further their careers on a bigger stage.
At the 2022 MLB Draft, 15 Canadians were drafted by various teams across the league, starting in the third round and going all the way to the 18th. Let's take a quick look at the group.
2022 MLB Draft: The First Canadian Off the Board
SS Dylan O'Rae – Round 3 (Milwaukee Brewers)
The first Canadian taken off the board, shortstop Dylan O'Rae hails from Sarnia, Ontario and is a product of the Canadian Junior National Team and the Great Lakes Canadians baseball program. With a commitment to the University of Illinois, the lefty batter who hit primarily in the lead-off spot impressed with Team Canada on their trip to the Dominican Republic this year, authoring a .286 batting average with a .508 OBP against talented young arms.
C Lamar King Jr. – Round 4 (San Diego Padres)
While he was born in Canada, Lamar King Jr. was playing with Calvert Hall College High School in Towson, Maryland at the time of the MLB Draft. Son of former NFL football player Lamar King Sr., the younger King has a strong arm and uses his 6'3″ frame not only well behind the plate but also in the batter's box, amassing a .506 average with 14 home runs in his senior season at Calvert Hall. He currently has a commitment to Georgia Tech.
3B David McCabe – Round 4 (Atlanta Braves)
A product of Oshawa, Ontario, infielder David McCabe is the first collegiate Canadian taken off the board, selected by the Atlanta Braves. With the University of North Carolina at Charlotte, McCabe slashed .341/.451./679 with 30 home runs and 96 RBI through 346 at-bats. The righty-batter has solid power and has already signed with the Braves for just under slot value at $476,400.
SS Nathaniel Ochoa Leyva – Round 6 (Washington Nationals)
A righty batter out of Burlington, Ontario, Nathaniel Ochoa Leyva was ranked by Perfect Game as the top shortstop in Ontario heading into the 2022 campaign. A member of the Canadian Junior National Team in 2021, Ochoa Leyva spent the 2022 season in the MLB Draft League and hit for a .224 average with seven RBI, 11 walks, and a .622 OPS on the season. He signed over slot value at $375,000.
The First Canadian Pitcher Selected at the 2022 MLB Draft
RHP Jonah Tong – Round 7 (New York Mets)
The first Canadian pitcher selected in 2022, Jonah Tong went stateside to Georgie Premier Academy for his senior high school season. He also played in the MLB Draft League with the Frederick Keys but struggled through his four outings, allowing 14 hits through 11.2 innings pitched with 14 earned runs and three home runs. He also has some swing and miss to his game, as the right-hander struck out opposing batters at a 10.8 K/9 clip. The Markham, Ontario product decided to forego his commitment to North Dakota State and signed with the Mets at slot value ($226,000).
RHP Adam Maier – Round 7 (Atlanta Braves)
Hailing from Vancouver, British Columbia, right-hander Adam Maier started his journey at the University of British Columbia before moving to Oregon for the 2022 season, starting three games and pitching to a 4.02 ERA before an elbow injury sidelined him for the season. Maier put himself on the map in 2021 when he had a strong showing in the Cape Cod League, appearing in six games and pitching to a 4.56 ERA through 25.2 innings against stronger competition (UBC did not play in 2021 due to COVID-19). He signed for way over slot value, inking a cool $1.2 million bonus from the Braves.
C Gavin Logan – Round 9 (Arizona Diamondbacks)
The first Albertan to be drafted this year, Oyen's Gavin Logan heads to the Diamondbacks in Round #9. A product of the Okotoks Dawgs baseball program, Logan transferred to Oregon State for the 2021 season and through two years, he hit to a .815 OPS with 14 doubles, four home runs, and 40 RBI while walking more than he struck out (24 vs. 21 respectively). He finished the season with All-Pac-12 First Team honors during his junior season at Oregon State and posted a .998 fielding percentage behind the plate.
1B Matt Coutney – Round 10 (Los Angeles Angels)
Born in Wetaskiwin, Alberta, first baseman Matt Coutney spent three summer seasons with the Edmonton Prospects in the Western Major Baseball League and two years at Colby Community College before transferring to Old Dominion for the 2020 campaign. The fifth-year senior had a fantastic 2022 season, crushing 27 home runs with 70 RBI with a .376 batting average and a 1.281 OPS through 229 at-bats, leading the team in home runs (single-season school record), OPS, and slugging (.808). He signed with the Angels for $7,500, well under slot value.
RHP Jacob Zibin – Round 10 (Cleveland Guardians)
The only MLB.com-ranked Canadian to be drafted this year, right-hander Jacob Zibin took his talents to TXNL Academy this past season and is reaping the rewards. With a mid 90's fastball, a solid changeup, and a breaking ball that mimics a slider/slurve combination in his arsenal, Zibin sits in a great position because he is one of the younger players in the draft at just 17 years old (born in early 2005). He has a commitment to South Carolina for the 2023 season if he doesn't sign with Cleveland but if the Guardians want the Langley Blaze product, they will have to go well over slot value.
RHP Eli Saul – Round 13 (Arizona Diamondbacks)
Previously drafted by the Texas Rangers back in 2019 (29th round), Vancouver's Eli Saul took his talents to Sacramento State and turned in a solid 2022 campaign that helped improve his draft stock. He struggled in 2021 both at Sacramento and in the Cape Cope League but turned it around this season, starting 15 games and pitching 87.1 innings while earning a 3.71 ERA with 66 strikeouts on the year.
The First Quebec Born Player is off the Board
RHP Cédric De Grandpré – Round 13 (Atlanta Braves)
A right-hander out of Chipola College, the Saint-Simon-de-Bagot product Cédric De Grandpré pitched for both Chipola College and in the MLB Draft League this past year, excelling with both squads. With West Virginia (MLBD), he appeared in five games and pitched to a 2.25 ERA with 14 hits, four earned runs, and 26 strikeouts through 16.0 innings. He also pitched well at Chipola, appearing in 18 games (12 starts) while earning an 11.33 K/9 with a 2.80 ERA through 70.2 innings pitched.
LHP Adam Tulloch – Round 15 (Cleveland Guardians)
Toronto-born Adam Tulloch has seen his fair share of schools over the past few years. While born in Canada, he grew up in the United States and started his collegiate journey at Wingate in 2019 before moving to West Virginia in 2021 and then transferring to Arizona State for the 2022 campaign. Through three college seasons, Tulloch has pitched to a 5.89 ERA through 46 appearances (34 starts) and 159.0 innings while striking out batters at an 11.9 K/9. Armed with a fastball that sits low-90s and a slider and changeup combo, scouts believe Tulloch will be moved to the bullpen to help combat his high walk rates.
LHP Nathan Landry – Round 15 (Boston Red Sox)
A product of Victoriaville, Quebec, Nathan Landry started his secondary baseball journey at Mineral Area College in Park Hills Missouri back in 2020. Following two years there, he transferred to the University of Missouri where he split his time between the bullpen and rotation, ending the year with a 3.67 ERA with one save and a stellar 1.5 BB/9 and 11.7 K/9 through 41.2 innings.
C Hugh Pinkney – Round 17 (San Diego Padres)
Another Canadian catcher of the draft board, Etobicoke's Hugh Pinkney played high school ball at Silverthorn Collegiate Institute and was a product of the Ontario Terriers travel team. Ranked as the top catcher in Ontario by Perfect Game, the lefty-batter was also on the Canadian Junior National Team. He currently has a commitment to Rutgers University.
Last but not least for the MLB Draft
LHP Jérémy Pilon – Round 18 (Toronto Blue Jays)
The last Canadian player drafted in 2022 was Quebec's Jérémy Pilon, selected in the 18th round by the Toronto Blue Jays. A product of the Canadian Junior National Team and Academy Baseball Canada, the left-hander is one of the youngest players to be drafted as he turns 17 in September of this year (another 2005 birthday). His fastball currently sits in the high 80's/low 90's area and has a changeup and breaking pitching to complete the arsenal.