Analysis
Pete Alonso's Journey From Defensive Liability to Gold Glove Candidate
Once seen as destined for DH, Pete Alonso has surprisingly provided value at first base.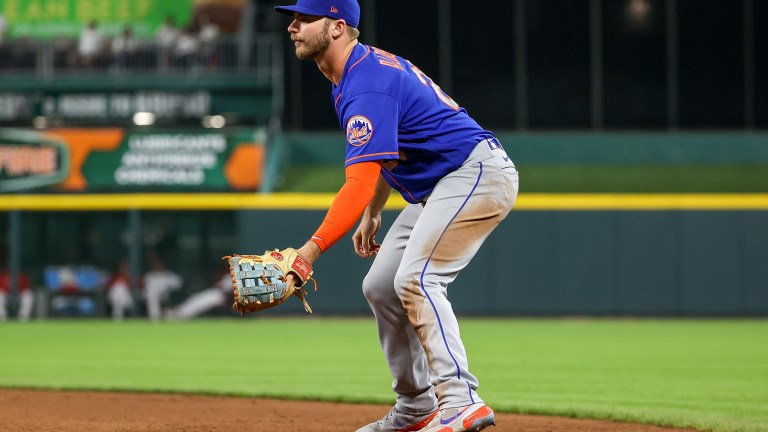 Ever since getting drafted with 64th overall pick in 2016 MLB Draft, one thing was clear about Pete Alonso. The guy was going mash baseballs.
The two-time reigning Home Run Derby champion has showcased immense pop dating back to his days as a Florida Gator, where he had a .659 slugging percentage as a junior, with 14 home runs and 18 doubles in 58 games. That power stroke continued throughout his minor league career, where he needed just two full seasons to prove his bat was MLB-ready.
In 2018, Alonso actually had a good enough offensive season to warrant a promotion to the show, hitting .285/.395/.579, with a minor league-leading 36 home runs and 119 RBI across 132 games played between Double-A and Triple-A.
He never received the call though due to his defense at first base and maybe a few other business factors (*cough* service time manipulation).
Everyone knew Alonso's bat was going to play at the big league level, but there was serious concern about whether he would be able to play first base every day. Prior to the 2019 season, Baseball America ranked Alonso as the Mets No. 2 overall prospect and said the following about his defensive limitations in his scouting report,
"Defense is Alonso's bugaboo and has become his developmental focal point. Hard hands and limited mobility at first base turn some routine plays into adventures, but he scoops throws from infielders well. He must keep working to become even adequate defensively."
The Mets started Alonso's rookie season with the strategy of playing him for the first seven or eight innings and subbing in Dom Smith to take his place as a defensive replacement late in games. This strategy was soon abandoned however, as the hard work Alonso put in during the offseason paid off.
Across 1,328 innings played at first base, Alonso proved to be slightly above-average according to Fangraphs' Defensive Runs Saved, posting a 1 DRS mark in his first season. He did not fare as well in Statcast's Outs Above Average, as he was worth -5 OAA in both the 2019 and 2020 campaigns. But that did not stop the 26-year-old from putting the work in to achieve his lofty goals at the position.
While Alonso is having a down-year offensively compared to the lofty expectations he set in 2019, he is enjoying the best defensive season of his career. Through 108 games played and 873 innings, the Mets first baseman has graded out above-average in both the major defensive metrics, 2 DRS and 3 OAA.
He is currently in 85th percentile when it comes to Outs Above Average, ranking second among MLB first basemen. The biggest reason for his positive grade in OAA is his ability to guard the hell out of the first base line.
Right-handed first basemen always have an advantage over their left-handed counterparts when it comes to guarding the line, but Alonso currently grades out as the best in baseball with his 4 OAA on balls hit to his left.
He trails only Anthony Rizzo right now when it comes OAA and runs prevented, as the four-time Gold Glove winner is currently pacing baseball with his 7 OAA and 5 runs prevented. When the New York Yankees traded for Rizzo, they did Alonso a favor, as his main competition for the Gold Glove went to the American League.
Listed at 6-foot-3 and 245 pounds, the Polar Bear has always presented a nice big target for his infielders and years of working on his footwork around the bag has turned him into an excellent receiver at first base.
By pairing his surprising athleticism and reaction time with his ability to clean up other infielders mistakes, Alonso has turned himself into an above-average fielder in short order, making him a far more valuable piece for the Mets moving forward.
Everyone is hoping to see the universal designated hitter return to the National League in 2022, a position many theorized would one day belong to Alonso. Now due to his improvements, the Mets can use that position for other defensive liabilities like J.D. Davis or even Robinson Cano.
Once he returns from serving his second suspension due to testing positive for PED's, the Mets still owe Cano just over $40 million over the next two seasons. Cano will be turning 39-years-old in October and will be best served to stay off his feet and out of the field as much as possible. Alonso's improvements defensively provide the Mets with that luxury.
So many times it is hard for players to shake the initial evaluations they receive in the minor leagues defensively. If a player is scouted to be below-average on defense, that narrative can follow them around for the rest of their career. For some it can became a self-fulfilling prophecy.
If everyone keeps saying you suck at something, it's going to be hard to break through that mentally and get yourself to a point were you can turn heads enough to change their minds.
Whether or not Pete Alonso ever wins a Gold Glove, he has at least accomplished something that few players are able to do successfully. Alonso has turned his greatest weakness into a strength, proving his doubters wrong through hard work.