Analysis
Jose Ramirez Is a Modern-Day Unicorn
Jose Ramirez is proving you don't have to trade strikeouts for power, as he is becoming baseball's most flawless hitters.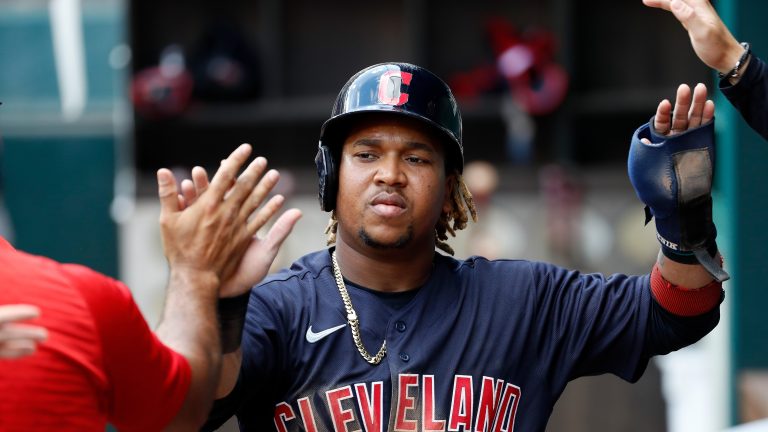 Don't say anything to Jose Ramirez about three true outcomes. Arguably one of baseball's most skilled players, you'd need both hands to count how many ways J-Ram can help his team win a game.
Similar to the best player on his little league team, Ramirez leads the Guardians in virtually every offensive category, but his power, speed and bat-to-ball trio could provide something Major League Baseball has never seen.
Over the last several years, increasing strikeout rates have been a frequent topic of discussion surrounding baseball as pitchers become nastier and home runs have become prioritized. The 29-year-old Ramirez has said, "Why not both?" and is on pace to slug more than any hitter we've seen with a sub-10% strikeout rate.
J-Ram has always been difficult to punch out, posting a, 11.8 K% in his 10-year career. What's crazy about the switch-hitting star in 2022 is that he is on pace to strikeout at the lowest clip of his career (7.4%) despite swinging and chasing more.
Generally, a more aggressive approach is not ideal for feared hitters, but Ramirez is swinging more because he is flat out hitting more. Among players with at least 200 plate appearances, Ramirez paces baseball with a 92.9 zone contact rate.
Again, more swings does not mean more misses for Ramirez who is also on track to put up his lowest whiff rate of his career and second-highest walk rate.
A key to Ramirez's success has been his destruction of fastballs. The Guardians third baseman is whiffing at just 6% of heaters and has over three times as many homers (13) than strikeouts (4) against the pitch this year.
The switch-hitter has been consistently great from both sides of the plate in his career, but it's his left-handed swing that can do no wrong right now. As a lefty, Ramirez is hitting .321/.416/.690 with a 208 wRC+.
On top of being one of the game's best all-around hitters, Ramirez is an elite baserunner. I don't have a stat to quantify Ramirez's elusive slides and incredible reads on the base paths, however he has a chance to put up a stat-line that we have only seen once since 1980.
If Ramirez maintains his pace, he would be the first player since Vladimir Guerrero Sr. (2002) to hit more than 30 homers, steal more than 20 bases and strikeout less than 10% of the time. Typically, Ramirez provides above average defense as well, racking up 18 Defensive Runs Saved since debuting in 2013.
So far this season, Ramirez has surprisingly struggled to -4 Defensive Runs Saved, but if history is any indication for the 10-year player, the glove work should improve soon.
It's hard to argue that a single player could be more important to his team than Ramirez is to the first-place Guardians. Yes, first place! The Guardians are one of baseball's hottest teams, going 17-4 during the month of June to leapfrog the Minnesota Twins.
Ramirez accounts for nearly a third of his team's homers and more than 20% of the Guardians' RBI (62), stolen bases (12), extra base hits (41) and total bases (148).
The slow start defensively has Ramirez fourth in all of baseball in fWAR (3.9), behind only Manny Machado, Rafael Devers and Aaron Judge, but through the first third of the season, Jose Ramirez looks like the most valuable player to me.