Feature
Jose Fernandez: An Irreplaceable Icon of Miami Sports
Remembering the legacy of Jose Fernandez and the game after his passing, five years later.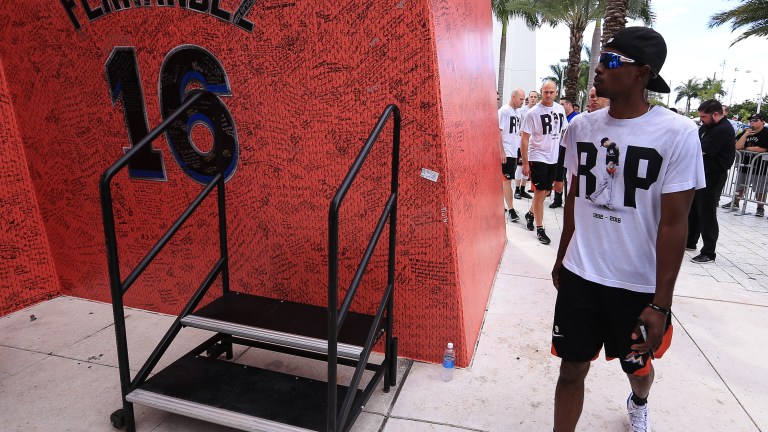 Five years ago today, my Dad and I were driving down to Miami to watch the New York Mets in their push to make the playoffs. At the time, the Mets were one game ahead of the San Francisco Giants for the first Wild Card spot and 1.5 games ahead of the Cardinals with six games left to play.
This series against the Miami Marlins was remarkably significant in terms of the 2016 season, but as we got closer and closer to the stadium, the game itself felt wildly insignificant. Because we were entering a city that was collectively mourning a sports hero who was taken from us way too soon.
There have been two sports figures who have passed away in my lifetime that have had a profound affect on me. When Kobe Bryant, his 13-year-old daughter and seven others died in a helicopter accident on January 26th, 2020, I like many others could not believe what had just happened. A sports figure that shaped my childhood was gone in an instant and the reality of that still doesn't make sense to me to this day.
But when Kobe passed, the feeling was awfully reminiscent to me, because I felt the same way back in 2016, when the news began to trickle out that Jose Fernandez had died in a boating accident.
As a South Florida native, this one hit me especially hard, because Fernandez was a transcendent sports star thriving in my backyard. South Florida does not get a lot of sports stars and when we do, the whole community galvanizes around them, knowing success in this market can be fleeting.
The Miami Heat have owned this city for pretty much my whole lifetime, with stars like Alonzo Mourning, Shaquille O'Neal, Dwyane Wade and the "Big Three" being figures that shaped my generation. I always thank my Dad for not being a basketball fan, because it allowed me to root for the local team and enjoy three championships instead of being saddled with the Knicks.
When it comes to baseball, the Marlins have been my access point to watch the Mets every Summer. Shea Stadium wasn't the ballpark I called home as a little kid, it was Pro Player. Whenever the Mets were in town for a series, we would head down and at least catch a pair of games. So I have seen firsthand all of the different star players that have passed through Miami in their careers.
Whether it's Gary Sheffield, Pudge Rodriguez, Josh Beckett, Miguel Cabrera, Dontrelle Willis, Hanley Ramirez or Giancarlo Stanton. The Marlins have featured plenty of star players over my lifetime, but few have connected with the community in the same way as Jose Fernandez.
Fernandez had a story that was almost too perfect of a fit with Miami to have been true. In his youth, he made three unsuccessful attempts to defect from Cuba, with each failed attempt resulting in a prison sentence. Finally at 15 years old, Fernandez made it to freedom with his mother and his sister, reaching Mexico before ultimately moving to Tampa, Florida.
Fernandez was drafted by the Miami Marlins with the 14th overall pick in the 2011 MLB Draft and he would make it the big leagues less than two years later.
Before Fernandez even threw a pitch, he had endeared himself to the Miami community as he had a story so similar to the large Cuban population that lived right outside the ballpark. Whenever Jose took the mound in Miami, it was an event. I look back now and am just happy I was able to witness that in person on multiple occasions.
It really is incredible to think that Jose has been gone longer than he was playing in the big leagues. Fernandez made his debut in 2013, playing parts of four seasons with the Marlins before passing away.
His rookie season was something truly special to watch, as he not only was the Rookie of the Year, but also finished third in the Cy Young voting. The 20-year-old pitched to a sparkling 2.19 ERA, with 187 strikeouts in 172 2/3 innings pitched. I saw Fernandez pitch for the first time on April 29th, 2013, but it was another young star that had brought me to the ballpark that day.
Matt Harvey was the man back in 2013, pitching in his first full season and dominating every fifth day. As a Mets fan, I was anxious to watch this new ace pitch in person and didn't pay too much attention to who he would be going up against. Then as I am watching the game, I couldn't take my eyes off Fernandez.
Fernandez was the type of pitcher where the cell phone stayed in your pocket whenever he was on the mound because it felt insensitive to be looking at anything else when an artist was working on a masterpiece. This first start against the Mets at home was nothing special on the surface.
Harvey was better, going 5 1/3 innings with seven strikeouts and just one run allowed compared to Fernandez's two. The Cuban starter only pitched four innings before being pulled after throwing 81 pitches. The one mark against him was a two-run homer by John Buck. The Mets carried a 2-1 lead into the ninth inning, but Bobby Parnell blew the save to get Fernandez off the hook and send the game to extras.
The game ended after 15 innings, with the Marlins edging out the Mets 4-3. But even though it was hours after either of them had thrown a pitch, I remember thinking about how cool it was going to be to watch Harvey and Fernandez square off for the next decade.
The next time they met on that same mound was on June 5th, 2016, when the narrative around those two pitchers couldn't have been any more different. Both had come back from Tommy John surgery at that point, but Harvey's injury problems were just beginning.
Harvey carried a 5.35 ERA into that start, having allowed multiple runs in all but one of his first 11 starts of the 2016 season. Meanwhile Fernandez was at the top of his game, pitching to a 2.53 ERA with 96 strikeouts in his first 67 2/3 innings pitched.
As a Mets fan I distinctly remember my dread heading down to the ballpark, knowing Fernandez was about to carve up a lineup that was still batting Alejandro De Aza leadoff.
Harvey would relish these types of matchups against another great young starter and you could feel that intensity from the crowd when you watched him pitch. But in this start, it felt more like Harvey was on a constant tight-rope, trying to execute every pitch so precise to avoid any mistake. In the other dugout, Fernandez didn't have a care in the world.
Fernandez was the top dog and he knew it.
He had complete command of his 96 mph fastball, with the ability to dot the pitch on all four corners of the strike zone. Pair that with a curveball that had a 49.3% whiff rate that season and you had the best strikeout pitcher in baseball.
Fernandez only allowed four hits against the Mets that day, with two of them coming in the seventh inning. Wilmer Flores came up to the plate with two outs and two runners on, as the Marlins were clinging to a 1-0 lead. Four pitches later, on Fernandez's 100th of the game, Flores struck out swinging. That would be Fernandez's third strikeout of the inning and 14th of the game.
Harvey pitched seven innings for the Mets to go head-to-head with Fernandez, but it looked nowhere near as dominate. Harvey only had three strikeouts, while 13 of his outs came through the air on flyouts. The one time a runner was in scoring position, Harvey gave up a single to J.T. Realmuto in the fifth inning, which ultimately proved to be the difference in the 1-0 game.
Two pitchers, who were once considered equals, trending in completely opposite directions in their careers. Harvey had a taste of being the best pitcher in the National League, albeit a short-lived one. Fernandez was trending towards becoming the best pitcher in baseball.
In 2016, Fernandez made 29 starts and pitched to a 2.86 ERA with 253 strikeouts in 182 1/3 innings pitched. His 12.5 K/9 was the best mark in baseball. The Marlins went 18-11 in the 29 games started by Fernandez that season, while they were 61-71 without him. It was simply a different team when he was on the mound, especially in that ballpark.
Marlins Park can feel cavernous at times, with rows of empty seats in a ballpark devoid of energy. When Jose was pitching though, Little Havana came to the ballpark to support their hero and the park was full of the type of exuberance that matched the energy of the young superstar. Whether it was with his bat, glove or golden arm, Fernandez was a showman who would set out to entertain his audience with his dominance.
Even though the Mets were always losing, those games will forever be my favorite I have seen in that building because of that palpable buzz that would be in the air as soon as you exited the parking garage for a Fernandez start. I was in attendance for all four of his Marlins Park starts against the Mets. The Marlins were 4-0.
This brings me to the fifth game I went to at Marlins Park that centered around Fernandez. The one that took place a little over 24 hours after the tragic boat crash.
Right when we got out of our car, I had the urge to get right back in and drive away. The air was thick with mourning. From the parking attendants, to the police officers, to the beer vendors, everyone looked like they had lost their closet friend. The easiest way I have been able to describe that game to people is to say it was like watching a baseball game in the middle of a funeral.
Nothing about playing baseball that day felt right. The reading of the lineups felt out of place, there was no music or sound coming through the speakers before first pitch. It was an unforgettable experience to be in that building, but not in a good way.
Then in the bottom of the first inning, the left-handed Dee Gordon stepped into the right-handed side of the box in honor of his fallen friend. After taking the first pitch, Gordon went back to hitting left-handed and delivered the most powerful sports moment I have ever witnessed in person.
I am not exaggerating when I say there was not a dry eye in the building as Gordon took his trot around the bases, as everyone gave him a standing ovation. That was the only home run Gordon hit in the 2016 season.
Through my lifetime I have been to a lot of Mets games and that night was the only time I couldn't bring myself to pull for my team. Even in the final week of the season, playoff implications were set aside for a night, as all of that stuff seemed meaningless compared to the real-life events we saw unfold.
Now as I look back five years later, I can't help but think about how that ballpark still feels empty without Fernandez.
Even when I have been to Mets vs. Marlins games since that have had respectable crowds, that buzz just isn't the same as it was when there was an entire city rallying around one superstar. I really hope the Marlins are able to find that type of a transcendental talent again, that can connect with the city in that way.
But as we remember the legacy of who Jose Fernandez was and what he meant to Miami, it is hard for me to imagine anyone ever having that kind of an impact again.