News
Hurricane Ian Could Impact the Most Important Series of the MLB Season
Heavy rainfall from a hurricane could threaten what is the biggest series of the season between the Mets and Braves in Atlanta this weekend.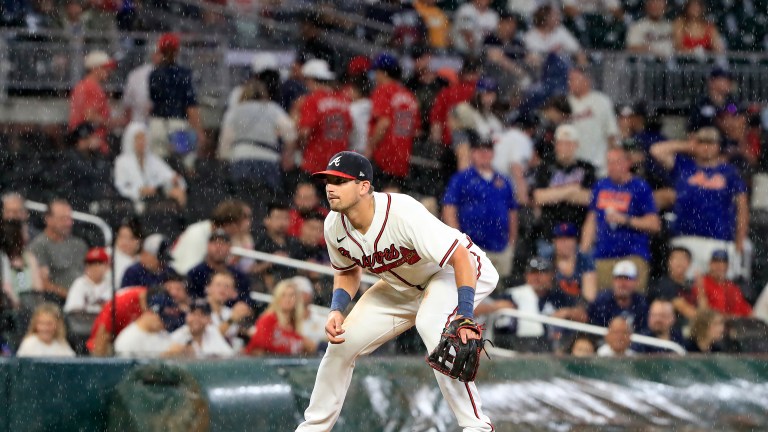 At a time where all we should be worried about is magic numbers, award races and playoff previews, Major League Baseball has been thrown a monkey wrench that could jeopardize the greatest story in the sport right now.
The Atlanta Braves and New York Mets are in a war of attrition in National League East right now. Each team has proven that they are legit World Series contenders, both having already punched their ticket into the playoffs by clinching a berth.
The division is, however, very much up for grabs, with the Mets leading by a game and a half, while the Braves still have a game in hand as they play the lowly Nationals tonight during an off day for New York. These two juggernauts are on a collision course, set to play a weekend series in Atlanta that will likely decide the division. Their is one problem though.
There is a Hurricane that could hit Atlanta on Friday, the exact same time that this series is supposed to begin.
Tracking Hurricane Ian
Now I am no meteorologist, but I have lived in South Florida my entire life, so tracking storms is nothing new to me. The biggest thing I have learned in my 27 years, is that these things can change drastically. The report today is already way different than it was 48 hours ago and the same will likely be true 48 hours from now.
Before we get into the baseball implications of this, we should acknowledge that there are far more important things to worry about than a series between the Braves and the Mets. This is a powerful storm that could make landfall as a category three or four, which could have a devasting impact on the states that border the Golf of Mexico like Florida, Georgia and Alabama.
With that being said, this is Just Baseball and for our purposes we have to consider the great chance that this storm brings heavy rainfall to Atlanta's dome-less stadium this weekend.
Major League Baseball can't run the risk of these games getting rained out with nowhere to play, as it could create a scheduling nightmare that would impact a playoff slate that has already been pushed back due the lockout prior to the start of the season.
What Are MLB's Options
As previously stated, these things can change. Really regardless of where this storm travels, rain will likely make playing in Atlanta very difficult on Friday, but if the storm moves beyond Atlanta by Saturday night, the series could be played as is.
The Braves will obviously be pushing to keep their home games at all cost.
A doubleheader on Saturday or Sunday could solve any issues and allow the season to end as planned. With really no time to make up these games beyond this weekend, Major League Baseball could step in and be proactive if they feel like the weather puts things at too much a risk.
New York will finish their season at home against the Washington Nationals with a series that begins on Monday, while the Braves close things out against the Marlins in Miami. With one day off after the season for one of these teams to prepare for a Wild Card round, these games must be played this weekend. So if not in Atlanta, then where?
The Braves are going to be in Miami anyway, why not arrive three days early and play a few home games there first.
Based on the current trajectory of the storm, Hurricane Ian will have long moved past Miami by Friday and the effects of the storm are not expected to be much more than some heavy rainfall. LoanDepot Park has a retractable roof, so the series can take place there without any risk of weather effected the games that have to be played.
The Braves would hate this scenario because it removes their home field advantage, but at the end of the day, the games have to be played. Both the Braves and Mets have off-days on Thursday, allowing each team enough time to travel down to Miami from Atlanta via bus if needed.
Another option would be to play the games in Arlington at Choctaw Stadium, as the Rangers are going to be playing a series in Anaheim.
Major League Baseball has been proactive in the past, moving series ahead of bad weather, particularly at the end of the season when there is no time to makeup games. There is a very real chance we could see that happen again over the next few days depending on where this storm is supposed to make landfall and at what time.
For now, the Mets and Braves each have a series to play against the two worst teams in their division, before this much-anticipated final matchup this weekend. Until then, it is a waiting game to see what Mother Nature has in store.