Podcast
State of the NL East: Who Can Challenge the Mets?
The latest episode of our State of the Division podcast is all about the NL East, as we discuss who could challenge the Mets in this division.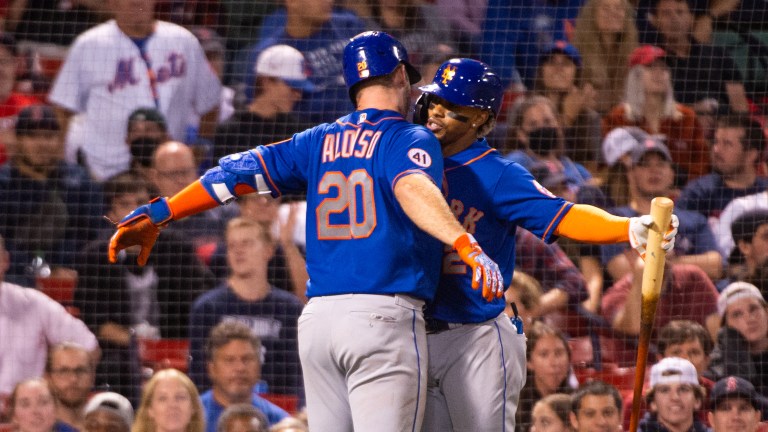 LISTEN TO THE STATE OF THE DIVISION ON APPLE PODCASTS
Today is Thursday, which means it is all about the NL East on the latest edition of the State of the Division podcast!
Aram Leighton and I walk you everything you need to know on the show, as the New York Mets continue to maintain their stranglehold on the division lead. On the show, we discuss if the Mets have an Achilles heel that could still derail their season.
Also Tylor Megill, who had been so great to start the season, has come back down to earth a bit. Could the Mets rotation be in trouble if he can't bounce back?
We also talk about who could rise from the pack of the Atlanta Braves, Philadelphia Phillies and Miami Marlins and what would it take for each team to do so?
Make sure you tune in to hear all of our thoughts and read ahead for your State of the National League East Division.
1. New York Mets: 21-11
The New York Mets remain the hottest team in this division, as they have won eight of their first nine series played. The only series the Mets have not won through Wednesday's play is their four-game set against the Atlanta Braves last week, but they split the series thanks to a doubleheader sweep.
When we recorded last week's State of the Division, the Mets were about to begin a four-game series against the Philadelphia Phillies and boy were we in for a thrilling Game 1 of that set.
Trailing by six runs as they entered the ninth, the Mets rallied from behind and scored seven to stun the Phillies at Citizen's Bank Park. The Phillies had to sit on that loss for two days, with games getting rained out on Friday and Saturday.
The Mets and Phillies split their doubleheader on Sunday, giving New York another series victory over a division rival. The Mets will look to close out the Nationals in their series finale today after splitting the first two games. New York is 12-7 against the NL East to start the 2022 season.
2. Atlanta Braves: 15-17 (6 GB)
If we told you before the season that the Mets and Braves would be in first and second in the NL East, nobody would have batted an eye. They would however have been stunned to find out that the Braves would be sitting two games under .500 and six games back in the division on May 12th.
Call it a World Series hangover, or just a slow start, the Braves have not been the same team this season, but they are starting to show some life. Last week, the Braves did play the Mets to a draw and they then went on to beat the first place Milwaukee Brewers in a series over the weekend.
Atlanta has won four of their last six, and just split a two-game set against the Boston Red Sox.
Ronald Acuna Jr. has been red-hot over the past seven days, going 6-for-14, with four walks, three stolen bases, two home runs, four runs scored and three RBI over his last four games played.
Meanwhile the Braves finally got a good start out of Charlie Morton, as he pitched five scoreless to help win their rubber game against the Brewers on Sunday.
T3. Miami Marlins: 14-17 (6.5 GB)
The Miami Marlins just went through a dreadful stretch where they lost nine out of 10 games with seven of those losses coming by a one-run margin. We will see if an 11-3 blowout victory can turn things around for them, as they got to carry that good feeling into an off-day before a nine-game homestand.
The Marlins offense is starting to figure things out, with Avisail Garcia, Garrett Cooper and Joey Wendle all hitting over .300 over the past seven days. Still, the strength of this team is their starting pitching and Sandy Alcantara and Pablo Lopez are certainly holding up their end of the bargain.
Lopez had a gem this week, pitching eight scoreless innings to lower his season ERA to a league-leading 1.00. Alcantara's 2.74 ERA may not be quite as impressive as Lopez's, but he is leading the National League with 42 2/3 innings pitched.
The question remains when does this rotation get another future ace, as top prospect Max Meyer is drawing closer and closer to his MLB debut.
T3. Philadelphia Phillies: 14-17 (6.5 GB)
The Phillies have bounced back from their devasting loss last Thursday as well as they could have hoped, splitting their doubleheader against the Mets on Sunday before winning their next series against the Seattle Mariners.
A team predicated on offense, Philly has started to see some balls fly out of the yard over the past seven days, with four different players hitting multiple home runs. Rhys Hoskins leads the pack, as he has homered in each of his last three games played. Jean Segura has three bombs as well and Nick Castellanos and Bryce Harper have each chipped in two of their own.
Unfortunately the road is about to get much tougher for the Phillies, as they now travel down south a bit on their West Coast swing and have to take on the Los Angeles Dodgers in a four-game set that begins today.
5. Washington Nationals: 11-21 (10 GB)
Can a team be 10 games under .500 through 32 played and actually be better than you thought?
That's just how low expectations were for the Nationals this season but they have at least seen some pretty decent production out of their offense as of late.
Juan Soto has gotten help, as Washington has seven players with an OPS .788 or higher over the past seven days. With an .899 OPS, Soto actually ranks fifth on the team over the last week, with Nelson Cruz (1.096), Alcides Escobar (1.055), Josh Bell (.966) and Keibert Ruiz (.916) all having posted better marks.
Also of note, Patrick Corbin pitched five scoreless inning against the Mets for one of his better starts this season. The Nationals are still going to lose a ton of games this year, but at least there have been some positive developments as of late.
Washington also has a chance today to deliver the Mets first series loss of the season, which is just too ironic not to happen.