Analysis
Best Underrated Players Available at the Trade Deadline
Last season it was the underrated deadline additions the Braves made that led to a World Series win. Who could be those players this year?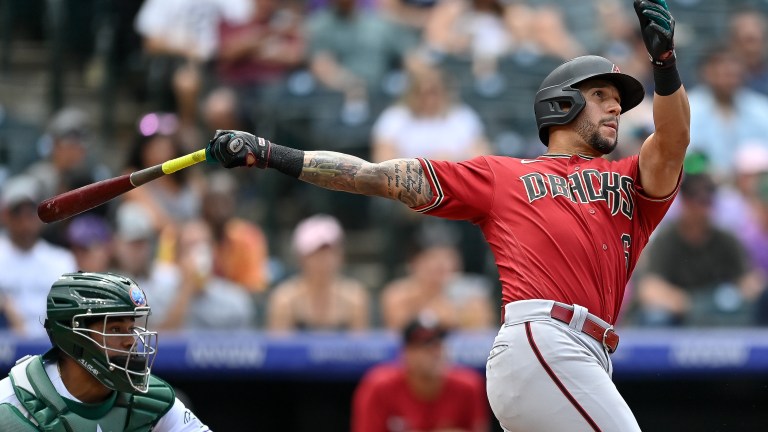 The trade deadline is like Christmas. Each year people start talking about it earlier and earlier. While most focus on the big names who could make the most impact, I wanted to dive into the second tier. The tier of players that always seem to get moved and no one really talks about it.
Sometimes these players go onto play the biggest role for a contender. Just last year the Braves added Adam Duvall, Jorge Soler, and Joc Peterson. Few thought they would go on to have the impact they provided.
* To qualify for this list a player must not be on the Just Baseball top 20 trade deadline list.
Hunter Doizer – OF/3B/1B – Royals
2022 Stats: .265/.327/.445, 9 HR, 31 RBI, 118 wRC+
Potential Fits: Mets, Brewers, White Sox
Kansas City has had a miserable 2022 and are on the verge of a failed rebuild. To maximize value, the Royals could look to move more than just rentals. Dozier is under contract through 2024 ($7.25 in '23, $9 in '24) with a $10 million dollar club option for 2025.
An acquiring team would have to be comfortable with that guaranteed money. Personally, I think Dozier is worth it. He provides a decent amount of power, while being able to play all the corners. A high-end bench bat or designated hitter option, who could also be used as a platoon option.
Dozier's defense is not great, but his bat will certainly help a lineup. Getting him out of Kauffman Stadium would be interesting. His road slash of .281/.371/.468 is significantly better than his home numbers of .250/.280/.424 this season.
Daniel Vogelbach – 1B/DH – Pirates
2022 Stats: .228/.338/.430, 12 HR, 34 RBI, 118 wRC+
Potential Fits: Guardians, Twins, Red Sox, Padres
Vogelbach is experiencing his best power season since the 2019 rabbit ball year. In fact, his 11.7% barrel rate is is almost identical to his 11.5% in 2019. He has shown the ability to hit the ball hard while also being patient enough to draw walks. Sure, first base is a stacked position but it should not cost much to get Vogelbach's expiring contract.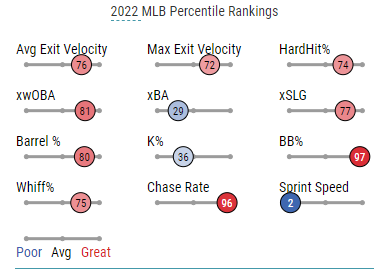 The problem with Vogelbach is he can only play first base, and not well, or fill in at designated hitter. Any team needing some lefty pop or a platoon bat could be interested.
This season Vogelbach is slashing .260/.365/.532 against righties with all 12 of his home runs. An elite eye at the plate with some power at a low cost will be intriguing to a number of teams.
Gregory Soto – RP – Tigers
2022 Stats: 2-4, 2.59 ERA, 1.25 WHIP, 18 SV, 31.1 IP, 32 SO
Potential Fits: All Contenders
I am not sure if it could have gone any worse for the Tigers in 2022. A team trending in the right direction has taken a nose dive to a 37-55 record. With other possible assets having down years, the Tigers could move Soto and help restock a farm system that has seen top prospects graduate this season.
Soto, Detroit's All-Star representative, has drastically increased his fastball usage this season. After throwing it only 7.3% in 2021, he's now up to 41.1% in 2022.
While this has lead to a slight decrease in his strikeout numbers, it has helped his issue with walks. Don't get me wrong, Soto still struggles with command. However, his home run problem seems to be fixed and has helped him be more productive.
In 2021, Soto had a home run-to-fly ball percentage of 12.1%, down from 14.3% in 2020. In 2022, he's sitting at only 3.1%. The advanced metrics are still worrisome, which leads me to believe the Tigers would be willing to trade Soto at perhaps his highest value.
Joe Mantiply – RP – Diamondbacks
2022 Stats: 1-2, 2.21 ERA, 0.96 WHIP, 36.2 IP, 38 SO (sam moll)
Potential Fits: Mets, Mariners, Astros, Twins, Red Sox
Just Baseball has had plenty of Joe Mantiply content recently, and deservedly so. The 31-year-old lefty is putting together a fantastic season and should be available considering where Arizona is in their competitive timeline.
Mantiply has relied on elite movement from his off-speed and breaking ball to miss barrels and limit extra-base hits. He's under team control through his age-35 season and should not break the bank. Older bullpen arms without much of a track record usually do not cost too much in terms of return. I expect many suiters for Mantiply.
Any team that is looking for a similar cost and does not land Mantiply could turn their attention to Sam Moll, who just missed this list.
David Peralta – OF – Diamondbacks
2022 Stats: .236/.301/.444, 12 HR, 38 RBI, 102 wRC+
Potential Fits: White Sox, Rays, Mets, Guardians, Yankees
The veteran outfielder has been with Arizona since 2014. Throughout his career, Peralta has been a solid hitter who's shown some pop at times. He's no longer a .290 batter, but can provide some depth to an outfield. The advanced metrics, such as his .345 wOBA and .265 xBA, show that Peralta could be a better option than the surface stats show.
Peralta is in the final year of his contract earning $8 million in 2022. Due to his age and declining production, it is hard to see him as more than a rental. A veteran lefty bat off the bench who's shown decent pop often has a place on a contenders roster. Again, not a high level return but getting anything for an expiring contract at his age would be a win.
Tommy Pham – OF – Reds
2022 Stats: .242/.329/.391, 11 HR, 36 RBI, 7 SB, 100 wRC+
Potential Fits: Angels, Dodgers, Mets, Rays
Tommy Pham is just a solid baseball player. At 34, I doubt there's too much left in the tank but he is still producing enough to be an attractive asset. Pham's profile is pretty straight forward. A poor defender in left who hits he ball hard and has a great eye for the zone. His 92.1 MPH exit velocity ranks in the 92nd percentile in the league. An 11.6% walk rate is good for the 84th percentile.
Teams likely view Pham as a platoon against lefties (.244/.340/.427 vs LHP) or a fourth outfielder. His lack of outfield versatility would require an acquiring team to have options they could move around. Pham has plenty of experience and you could get out his his contract following this season.
Jose Iglesias – SS – Rockies
2022 Stats: .301/.340/.404, 3 HR, 34 RBI, 97 wRC+
Potential Fits: Cardinals, Rays, Phillies
The once slick-fielding shortstop has seen his defense slip over the past few seasons. Now graded as a poor fielder (13th percentile in OAA), Iglesias has provided more value with his bat. He only draws walks at a 4.1% clip, but has a low strikeout rate at 11.5%. Hi ability to put the ball in play has resulted in a .301 batting average but does not offer much power.
Most probably assume hitting in Coors Field has inflated his stats, but it's actually the opposite. Iglesias is slashing .363/.394/.467 on the road, compared to .243/.292/.347 at home. His bat-to-ball profile and expiring contract will make him attractive to teams needing a spot starter or reliable back up.
Cole Irvin – SP – Athletics
2022 Stats: 4-7, 3.21 ERA, 1.10 WHIP, 95.1 IP, 62 SO
Potential Fits: Twins, Blue Jays, Brewers
The Athletics rebuild is not off to the best start. With several other names likely moved before August 2, Irvin could be an unexpected name on the move. There's nothing special about Irvin. He does not strikeout many batters, throw hard, or limit hard contact. His 3.21 ERA is far off from his 5.00 xERA and 3.97 FIP. With Oakland having a few starters with limited upside and about the same age, one could be on the move.
So, why would a team want Cole Irvin?
He's only 28 years old and under team control through 2026. A cheap starter who can eat innings and help get you to the playoffs has value. In 13 of his 16 starts, Irvin has allowed three or less earned runs. There will be a market if the A's decide to move on and give opportunities to their older prospects.
Mychal Givens – RP – Cubs
2022 Stats: 5-2, 2.92 ERA, 1.29 WHIP, 37 IP, 45 SO
Potential Fits: All Contenders
Mychal Givens might get traded at every deadline for the rest of his career. At 32 years old, it's unlikely he will command more than a one or two-year deal going forward. Givens is having a pretty typical year, high strikeout numbers and above average walk numbers and a solid ERA around three.
All contenders can usually use an extra arm, especially one with experience and a good track record. Givens fits the roll. His contract is $3.5 million in 2022 with a mutual option of $3.5 million in 2023.
Jordan Lyles- SP – Orioles
2022 Stats: 6-8, 4.76 ERA, 1.42 WHIP. 107.2 IP, 91 SO
Potential Fits: Twins, Brewers, Padres, White Sox
Baltimore has been one of the best stories in baseball. However, can they really keep this up and make a magical run?
Probably not this year. With DL Hall knocking on the door of the big leagues, and Matt Harvey somehow still an option, Baltimore can afford to move Lyles to continue to add to their strong farm system.
Jordan Lyles has been in the league since 2011 accumulating a career 7.3 fWAR. He's been pretty much around league average every year and does not provide any upside. However, teams are always looking for veteran fifth starters to help get them through the season. He'll be considered a fallback option from other possibilities, but could eat some innings on an expiring contract.
The cost to acquire will be low, and so will the reward. Not much risk and not much reward. Not a very exciting asset, but an asset teams like to get as insurance to their rotation. Especially teams who could have rookies on innings limits.