Analysis
It's Pretty Cool That Brandon Nimmo is Now a Lifelong Met
One of the most coveted free agents in baseball, Brandon Nimmo could have played anywhere he wanted but all he wanted to do was come home.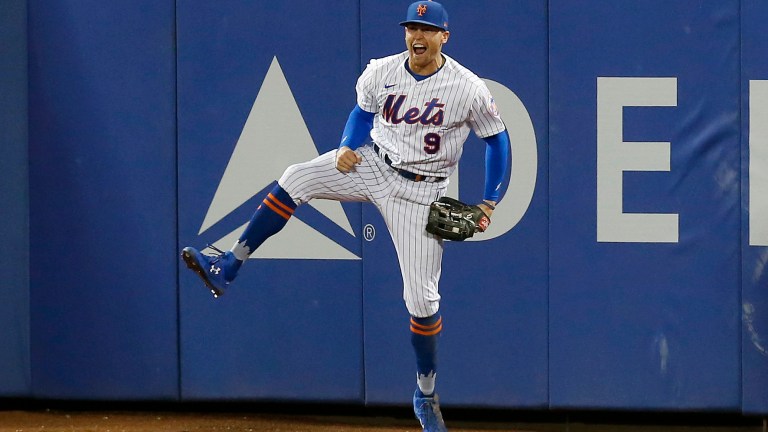 What do Aaron Judge and Brandon Nimmo both have in common?
Well for starters they both were drafted in the first round by a New York baseball team. Both started in center field for those baseball teams last season playing in contract years. Judge and Nimmo both delivered, finishing first and second in fWAR among all MLB center fielders (albeit with Judge more than doubling Nimmo's 5.4 fWAR total).
Now this week, Judge and Nimmo accomplished a feat few athletes get to in New York City. They signed contracts that should keep them home for the remainder of their careers.
Nimmo's Unlikely Journey to Lifelong Met
One year ago, there is not a person on this planet, outside of maybe Scott Boras, that believed Brandon Nimmo was going to sign an eight-year contract. Nimmo was primed to cash in for sure, but he needed to prove one thing. That he could stay healthy.
Coming into 2022, Nimmo had only exceeded 100 games played once in his career, but he was eager to prove he could hold up and play center field throughout a full 162-game season. Nimmo turned in the best season of his career.
Nimmo batted leadoff and started in center field for a Mets team that won 101 games last year. He was, quite literally, front and center in the lineup and on the field, making memorable plays that endeared him to Mets fans tenfold.
If you are reading this and you didn't click to watch the highlight I put above, please return and do so. Or if you are just a fan of baseball, watch that gem again!
Nimmo's game-saving home run robbery was the difference in a tight 2-1 game against a Dodgers team that had just won their 90th game at Citi Field the night prior. The win kept the Mets three games up on the Braves in the National League East and kept them in a series they eventually won the following night.
For a player that was drafted by the Mets with the 13th overall pick back in 2011, the journey from being an 18-year-old fish out of water from Cheyenne, Wyoming to robbing a home run in a pivotal game of a NL pennant race is truly remarkable.
Nimmo's calling card in the 2011 MLB Draft was that he got drafted out of a high school that didn't actually have a baseball team. Wyoming is one of the three states that didn't offer baseball, forcing Nimmo to make a name for himself in American Legion Baseball.
The Mets scouted Nimmo and liked him enough to select him in the first round. At the time he was selected, Nimmo was only 71 days removed from finally being able to have an unrestricted driver's license in the state of Wyoming.
The Mets drafted him to play professional baseball and handed him a check for $2.1 million.
Nimmo might have been a first round pick, but he was no guarantee as a top prospect. After spending five years in the Mets farm system, Nimmo was finally knocking on the door in Triple-A in 2015, but he never quite made it to the show.
Instead Michael Conforto, the 10th overall pick from the 2014 MLB Draft, was starring on a Mets team that went to the World Series. Conforto came to the Mets as one of the most polished college bats in the draft, making his MLB debut in his first full professional season.
Conforto spent just 91 games in the Mets farm system before leapfrogging Nimmo, making his MLB straight from Double-A. Nimmo had played around 400 minor league games at that point, but needed more time to develop skills other than the one he always had. An ability to get on base.
In 2015, Nimmo hit .269/.362/.372, across 104 games spent primarily between Double and Triple-A. Drafted to play center field, Nimmo started to see some playing time at the corners because there were concerns if he could play the position at the big league level.
It was in the following season that everything clicked for Nimmo offensively, as he hit .352/.423/.541, across 97 Triple-A games. The 23-year-old made his MLB debut that season, replacing a slumping Conforto in June of 2016.
Nimmo split time between Triple-A and the big leagues for a few years, but finally broke out as an everyday starter in 2018. That season, Nimmo flashed the potential of his first-round pedigree, hitting .263/.404/.483, with 17 home runs and a 148 wRC+. He led all Mets position players that season with a 4.8 fWAR.
The 2019 season was supposed to be a big year for Nimmo, but a neck injury limited him to just 69 games played. Nimmo stayed healthy in 2020, posting another season with an on-base percentage over .400 and a 149 wRC+. That was a 60-game season however, and in 2021, the injury bug held Nimmo under 100 games played again.
This bring us to the contract year that ultimately just net Nimmo $162 million.
After signing Starling Marte last offseason, the Mets could have moved Nimmo off his position in center field, but instead chose to keep him where he was. Nimmo rewarded their faith in him, grading out among the top 10% of league defenders in Outs Above Average.
More importantly, he stayed healthy, giving the Mets an above-average contributor both atop the lineup and in center field. Nimmo's 5.4 fWAR was third on the team last season behind Francisco Lindor and Jeff McNeil. He ended up leading the NL with his seven triples and again, was second among all center fielders in fWAR.
Nimmo hit the open market as the top center fielder available, and really the only one teams would have no qualms about being their everyday starter at the premium position. Nimmo had over an dozen team interested in his services, but ultimately got exactly what he wanted, returning to the team that drafted him on a contract that will take him though his age-38 season.
When the Mets made the playoffs this year, it marked the first time in Brandon Nimmo's career where he would get the taste of postseason baseball. It was a dream come true for Nimmo to play on a competitive New York Mets team with World Series aspirations.
Now he gets to keep living that dream for the remainder of his MLB career.
Dawn of a New Era for Mets Baseball?
The New York Mets signing Brandon Nimmo to an eight-year deal may not seem too comparable to the Yankees bringing back their reigning MVP, but that does not make this story any less exciting for Mets fans.
It has been few and far between that the Mets have been able to keep a star homegrown player for the entirety of their career. And while Nimmo doesn't fit the typical definition of a star, he started to become one last season and is now getting paid like one.
In the same week that Mets fans had to say good-bye to the most talented pitcher of this generation, Steve Cohen delivered an early Christmas present to fans that meant more than even acquiring the reigning AL Cy Young Justin Verlander a few days prior.
There is something to be said about the connection fans feel to a homegrown guy, which is why some like myself were so broken up to see Jacob deGrom sign elsewhere in the first place. DeGrom was supposed to be a forever Met, but unfortunately injuries made Cohen and company feel that he was too much of a risk to aggressively pursue on a long-term deal.
Instead the Mets made the risk-adverse move, by signing Verlander to a two-year deal with a vesting third-year option based on innings pitched. When it comes to re-signing Nimmo, the Mets did take a risk, but it was one they felt they had to make.
Unlike with the starting pitching market, there really were no alternatives to Nimmo available in free agency and trades for a starting center fielder are hard to come by. The best way for the Mets to replace Nimmo was to simply re-sign him, but that came with a big caveat.
Giving a player with an injury history an eight-year deal.
Ultimately making this commitment is another example of Cohen's dedication to the fans and winning at all costs. With Nimmo signed, the Mets projected payroll now sits well north of $300 million, as Cohen is set to spend at least $60 million on luxury tax penalties even if the Mets don't make another move.
Part of the benefit of giving Nimmo the eight-year deal is that it lowers the AAV down to $20.25 million, which is surely less than he would've commanded over a shorter-term deal. For the Mets to meet Nimmo's asking price, years became the main bargaining chip and with Francisco Lindor and Edwin Diaz being the only significant contracts left on the Mets books beyond 2025, Cohen decided to pull the trigger on bringing back one of his fans favorite players.
For fans, the move marks a new dawn for Mets baseball, where the team's homegrown players aren't just guaranteed to walk to greener pastures once they hit free agency. Both Diaz and Nimmo returned to the Mets, partially thanks to their own commitment and desire to come back finish what they started.
With their center fielder back in place, the Mets are sitting pretty with what is left to do in their offseason. They are still in the market for Kodai Senga and are looking to add depth to both their rotation and their bullpen.
In the meantime, fans get to celebrate seeing a player they were sure was on his way out the door, return to finish his career with the team that drafted him. A pretty cool story for an underrated guy like Nimmo, who has done nothing but work to improve every season of his big league career.