Analysis
Brandon Nimmo Has Quietly Become One of MLB's Top Performers
Off to a fast start in 2022, Brandon Nimmo continues to prove that he is one of the best players in baseball that never gets talked about.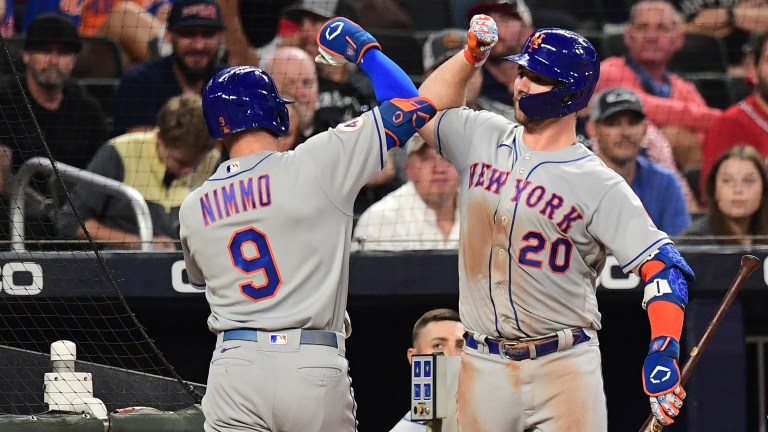 Brandon Nimmo may be most known for sprinting to first base after every walk, or for being the only MLB player who is from Wyoming. Really though, he should be known as one of the best players in the game today.
The former first round pick has quietly been one of the game's best hitters dating back to his breakout season in 2018. Nimmo has dealt with his fair share of injuries, yet when he is healthy, few players have been more valuable when at the plate.
Why is he so valuable you ask?
Tell them Jonah Hill.
Since 2018, Nimmo has gotten on-base at .399 clip. That is the third-highest mark in baseball behind just Mike Trout (.441) and Juan Soto (.429). Nimmo has started 29 games for the New York Mets this season. He has gotten on base in all but one of those starts.
The 29-year-old will be a free agent following the season, where he has the chance to be the second-best outfielder on the market behind Aaron Judge. Nimmo changed his representation to have Scott Boras become his agent this offseason, foreshadowing the big payday that is coming his way.
Let's explore what Nimmo has done so far this season and how he became one of the most underrated players in Major League Baseball.
Unlikely Path to MLB Success
Nobody gets drafted out of Wyoming, much less in the first round. Yet that is exactly the case with Brandon Nimmo, who was selected 13th overall pick by the Mets in the 2011 MLB Draft. They drafted Nimmo out of East High School in Cheyenne, Wyoming, which is a school that did not even have a baseball team because they don't play high school baseball in Wyoming.
Nimmo made a name for himself playing American Legion ball, before eventually getting showcased at national events like the USA Baseball's Tournament of Stars and the Under Armour All-America game. Still, many questioned the pick when the Mets selected Nimmo and early on his professional career, that skepticism never faded.
Nimmo reached his peak prospect status in 2015, ranking as a top 100 prospect by Baseball America (No. 45), Baseball Prospectus (No. 69) and MLB (No. 72), but he fell out of everyone's top 100 after a down 2015 season that saw him post a .734 OPS between Double-A and Triple-A.
Michael Conforto leapfrogged Nimmo in 2015, getting promoted over him from Double-A and would go on to play a big role on the NL Pennant-winning Mets team. Conforto struggled though in his sophomore campaign, opening the door for Nimmo to make his MLB debut in 2016.
Through his first two seasons Nimmo dealt with various injuries and was shipped back-and-forth between Triple-A and the majors. He hit .264/.367/.392, with a 110 wRC+ across 101 games played during that span. Then in 2018, everything clicked.
Playing in 140 games, Nimmo hit .263/.404/.483, with 17 home runs, 28 doubles and eight triples. Nimmo's 4.8 fWAR led the Mets that season and his 148 wRC+ was the 13th-best mark in all of baseball.
While injuries have continued to plague Nimmo over the years, he has consistently ranked as one of the top hitters in the game, largely thanks to his incredible on-base prowess. As mentioned earlier, Nimmo's .399 OBP is MLB's third-best mark behind just Trout and Soto since 2018.
Among hitters with at least 1,500 plate appearances over the last five seasons, Nimmo's 141 wRC+ is the ninth-best mark in MLB. That ranks him just ahead of elite mashers like Ronald Acuna Jr. (140), Jose Ramirez (140), JD Martinez (139), Anthony Rendon (139) and George Springer (138).
Pair that offensive production with an improved glove out in center field and Nimmo has become one of the best all-around players that nobody talks about.
Spark Plug to Mets First Place Start in 2022
The New York Mets just lost their first series of the season over the weekend, dropping their three-game set to the Seattle Mariners. While the Mets came up short, one player who can't be blamed fro the series loss is Nimmo. He went 5-for-12 in the series, with two runs scored and three driven in on two doubles and a triple.
Nimmo is currently on a 11-game hitting streak and a 26-game on-base streak. He has gotten on base in all but one of his starts this year, as he went 0-for-5 on April 10th and has gotten on in every game since.
For the season, Nimmo is hitting .304/.414/.473, with three home runs, 20 runs scored and 12 RBI. His 161 wRC+ is the 11th-best mark among qualified hitters and his 1.7 fWAR trails only Manny Machado (2.8) and Nolan Arenado (2.2) for the best mark in the National League.
Nimmo's 14.8% walk rate is right on line with his career 14.9 BB%, but he is striking out way less this year, with his current 15.6 K% being the lowest mark of his career. Nimmo is still drawing his walks (and sprinting to first base every time), but he is also making more contact than in year's past.
He is also hitting the ball harder with that extra contact, which has led to an absolutely beautiful Baseball Savant page, which is filled with a sea of red.

For the first time in his career, Nimmo's average exit velocity is over 90 MPH, with his 91.4 MPH average ranking in the top 15%.
Last year, Brandon Nimmo had just 10 barrels out of 248 batted balls. This season, Nimmo already has 10 barrels in just 93 batted balls. That has taken his Barrel% from 4 to 10.8. This improved contact has Nimmo's expected batting average at .294 and his expected slugging at .505, both ranking in the top 25% in the league today.
On top of his improvements offensively, Nimmo's defense in center field has been a revelation for the Mets over the last two seasons.
From 2017 through 2020, Nimmo was -12 DRS in center field. In 2020, Nimmo posted an awful -4 OAA in center field, which ranked him among the worst 10% of fielders. Last year, Nimmo flipped the script, ranking in the top 20% of fielders with his 3 OAA. He also posted a positive DRS for the first time in his career, with 4 DRS.
Nimmo looked so good in center field last year that the Mets decided to move Starling Marte over to right field for the first time in his career after signing the speedster to a four-year deal this offseason.
So far in 2022, Nimmo has proven the Mets were right to keep him in center, as he has been worth 1 OAA through his first 63 attempts. Nimmo ranks in the 20 percentile in both sprint speed (86th) and outfielder jump (81st).
Between his on-base prowess, improved contact and strong defense, there are few outfielders in baseball who provide more to a ball club than Nimmo. This is what makes him one of the most fascinating players to watch in his contract year this season.
Nimmo's Impending Free Agency
Back in February, I explored who was the better long-term fit for the New York Mets, Brandon Nimmo or Michael Conforto.
The basis of that article was to show that Nimmo has been a better player than Conforto throughout their respective careers, but his lack of availability due to injuries made Conforto the more valuable player. Now it is Conforto who is missing the season due to injury, as he failed to come terms with a new team prior to needing season-ending shoulder surgery.
Both outfielders are represented by Scott Boras and are going to be free agents in the offseason. But it is Nimmo who will be the priority for Boras, as he is set to be the top center fielder on the market.
Prior to the 2021 season, free agent George Springer signed a six-year, $150 million contract with the Toronto Blue Jays. If he were to hit free agency tomorrow, we couldn't rule out Nimmo receiving a similar nine-figure deal.
Assuming he maintains this offensive production throughout the remainder of the season, Nimmo will have set himself up perfectly to either get that big long-term deal with the Mets or with another team. The only question teams will have to ask themselves is if Nimmo can stay healthy.
The 2018 season is the only time in Nimmo's career were he eclipsed 100 games played. He has been healthy so far this season, but that does not just erase the injury concerns from his three previous campaigns. From 2019-2021, Nimmo played in 216 of the Mets 384 games, meaning he has been available just 56% of the time.
That is where the risk lies in betting on Nimmo long-term. Can he prove those injury concerns are just a thing of the past? Only time will tell.
Regardless though, one thing is clear with Nimmo. When the 29-year-old is on the field, he is one of the best all-around centerfielders in the game.