Analysis
Is Jose Caballero the Second Base Solution Seattle Was Seeking?
The Seattle Mariners have finally found their spark at second base, but not from where they were expecting.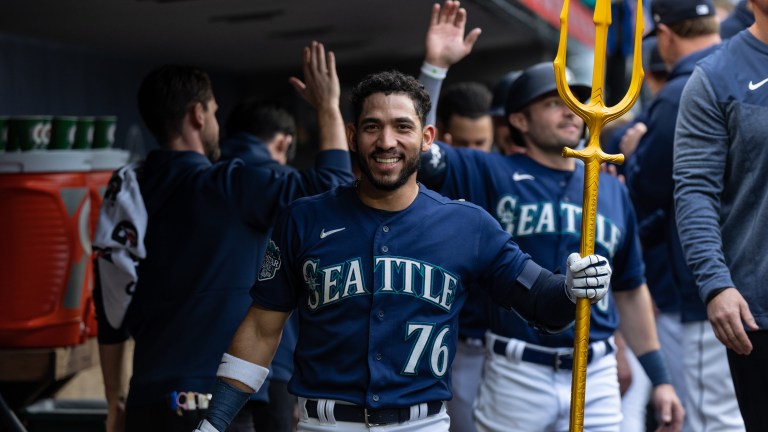 Since Robinson Cano was traded away after the 2018 season in what signaled the start of a major rebuild, the Mariners have struggled mightily to get much production at second base.
It seemed as if the position was set to be shored up for 2023 when Seattle acquired Kolten Wong, a walking two-WAR player with a low strikeout rate who has played plus defense for the majority of his now 11-year career. 
That has not been the case.
Wong has, so far, been far from the player that Seattle expected him to be on both sides of the ball (33 WRC+, -1 OAA, -0.8 WAR). As a result, he has played a minimized role with the club.
Even so, the team has received a real jolt at second base that really kicked into gear in the month of May. How, you may ask?
Enter Jose Caballero.
Sent to Seattle from the Diamondbacks in exchange for Mike Leake in the summer of 2019, the 26-year-old rookie has played just 76 games in affiliated ball for the Mariners since then due to a flurry of injuries and the cancellation of the Minor League Baseball season in 2020.
But after putting up a .974 OPS across 13 Spring Training games and following that up with a hot ten-game stretch to kick off the year in Triple-A Tacoma, Caballero received the call-up.
He started just 3-for-23 in his first few games, but in spite of that, it was easy to tell that he played the game incredibly hard, with some fire and intensity. And he wasted no time flashing the leather on defense.
Then May hit, and Caballero really got going. He started the month 7-for-17, including a clutch go-ahead double in a win over the Astros in what was part of a seven-run eighth inning.
It all continued going forward. Caballero finished with an eye-popping 145 wRC+ to conclude the calendar month while walking over 14% of the time and striking out at just a 20% clip. 
After Caballero started to show he had the ability to be more than just a last-resort guy off the bench, he started to get much more playing time while the Mariners hoped to get Wong back on track. They gave Wong a few rest days and then continued to play the veteran against righties (no different from the original platoon plan when Wong was brought to Seattle).
But between Wong's continued struggles and Caballero continuing to force the hand of manager Scott Servais, Caballero has now become the go-to option at the position. He and Wong have essentially flip-flopped roles, with Wong serving as a bench player and only seeing one to two starts per week.
On top of everything else, Caballero has now flashed some sneaky pop. He has smacked two home runs so far and has displayed the ability both in batting practice and games to put the ball over the fence.
Looking at Caballero's splits, he has fared much better against lefties than righties, albeit in a minuscule sample size of 54 plate appearances against right-handers. But the team still prefers his overall hot hand and quality defense over Wong these days.
And his defense? It ranks in the 86th percentile by OAA (per Baseball Savant). As a rookie.
Not to mention, Caballero already registers as the fastest player on the roster (93rd percentile in sprint speed). Altogether, that's good for just shy of one WAR in only 34 games.
So how long can he keep this up? Caballero has scuffled over his last few games, currently in the middle of a 4-for-24 stretch. It is, of course, not uncommon for players to hit a cold streak, especially rookies, but regardless, this will be a measuring stick for Caballero to show how he responds to some adversity.
When Dylan Moore returns, which is expected to be at some point during Seattle's current ten-game road trip, the two will almost certainly split time at the position. Moore will get his reps at second base, though the Mariners love to use Moore as a Swiss Army knife and play him all over the field depending on where he is needed.
But make no mistake about it: Caballero isn't going anywhere. He has more than earned the right to stay in the lineup on a regular basis, proving to be a vital piece to the bottom of the Mariners' order and a catalyst with the glove, all while having rockets attached to the bottom of his cleats when running the bases.
For an organization that has vigorously searched for a second baseman for the better part of five seasons, the Mariners might have found the answer right under their nose.