Analysis
Do the Mariners Need to Worry About Their Slow Start at the Plate?
The Seattle Mariners haven't been hitting nearly as well as they were expected to. Is it time for fans to be concerned?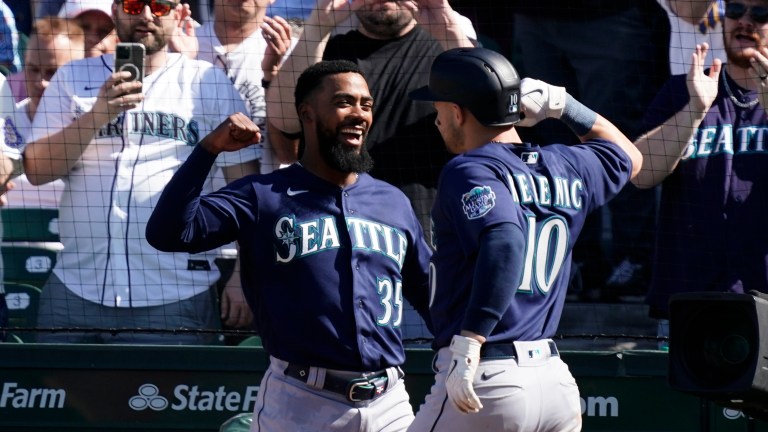 On paper, the Mariners have put together a roster that should be one of the fiercest in the American League. They have a lethal rotation, a bullpen that has strung together two great seasons in a row, and a seemingly much-improved offense with the additions of Teoscar Hernández and Kolten Wong and the recent emergence of Jarred Kelenic.
But the bats have scuffled through much of the first 20 games. A couple of the newcomers are off to molasses-slow starts, and they have gotten a severe lack of production out of the designated hitter's spot.
These first 20 games make up just 12% of the major league season, and to draw conclusions in mid-to-late April is a little premature – especially when it comes to a team that is truly built to contend. Even so, the Mariners rank 19th as a team in wRC+ (99), 23rd in wOBA (.303), 22nd in OPS (.680) and 24th in batting average (.228). They are also tied for 20th in the league in home runs (19), a category in which Seattle should rank much higher, considering how many of their hitters rely on the long ball.
Will the club turn it around in the coming months? The likely answer to that question is yes. Keep in mind, Seattle was 10 games under .500 in mid-June last season before turning it all around and muscling their way to a second consecutive 90-win season.
But are there a couple of specific areas for offense that are cause for concern? Absolutely.
Some fans have channeled their frustration towards Julio Rodríguez and Cal Raleigh's hills and valleys during the first month (yes, you read that right, those people really do exist out there), which is a massive waste of energy. To lose sleep over those two catalysts is borderline irresponsible.
But the unease over what the second base and DH positions have displayed so far is fair. This is not to say they won't turn it around or a secondary solution will not come up, but so far, the output from those positions has not been up to par.
Wong was brought over in a trade from Milwaukee with the expectation that he would be the sturdiest second baseman the Mariners have had since the departure of Robinson Cano. Wong has a steady offensive track record, and he has flashed elite defense over most of his big league career. After two years with a rotation at second base that featured a lot of Adam Frazier and Abraham Toro, plus Dylan Moore, Sam Haggerty and Shed Long mixing in when needed, Wong seemed like a seamless fit.
But his April is off to a horrid start. He is slashing .098/.190/.098/.288 with a WRC+ of -9. He has the lowest WAR among all second basemen by a wide margin thus far. His strikeout rate is also a few ticks up from where it usually sits.
But the other side of the coin is that March/April has statistically been the worst month of Wong's playing days. His career OPS in the first month of the season is .670, and last year it was an uninspiring .570. It usually has not been this rocky out of the gate, but Wong is prone to slow starts.
Still, he is swinging at the right pitches for the most part and is not swinging and missing much (86th percentile in Baseball Savant's Whiff%). Combine that with the fact that he is consistently a 2-2.5 WAR player nearly every year and has posted a wRC+ of 109 or better in three of the last four years, and it doesn't feel like this slump should linger around all year for Wong.
Designated hitter is dicey for the M's. That spot has mostly been occupied by Tommy La Stella, Cooper Hummel and Tom Murphy. La Stella has been the best of the bunch, though that is not saying much. He holds a wRC+ of 59, while Hummel currently has a 1 wRC+, and Murphy is at an unfathomable -56 wRC+. Even when AJ Pollock has spent time in that spot, he has yet to get going as well; he has a .555 OPS and a 52 WRC+.
This was the one position where it felt like Seattle did not address their needs this offseason, with some believing the team was a bat short. They are still awaiting the return of Dylan Moore from his oblique injury, while Taylor Trammell and Cade Marlowe are now back on the field after injuries, and they are waiting in the wings at Triple-A Tacoma. But Moore's role with the club has been drawn out to be the right-handed half of the platoon at second base while he continues his quest to be the Mariners' super-player. Meanwhile, Trammell and Marlowe are both far from proven assets. Marlowe has not even had a big league plate appearance.
Jerry Dipoto is anything but afraid to go out and make a trade, and there should be a handful of bats on short-term deals playing for soon-to-be non-competitive teams that could easily be made available. Michael Conforto and Wil Myers are two such players, just to name a couple. An acquisition like that will not cost an arm and a leg, so there are solutions if the Mariners deem they need additional offense.
Ultimately, front offices don't jump to conclusions in the middle of April. For that matter, fanbases shouldn't either (although easier said than done with that one). The Mariners' slow-burning offense should pick up steam in the following weeks and play the way that most expect them to. But the bottom of the order will need to pick up the slack, and the DH spot, along with what Dipoto does or doesn't do to address it, will be a narrative to watch.