Analysis
Least Valuable Players Through a Quarter of the 2023 MLB Season
Jose Abreu, Starling Marte and Blake Snell are just a few of the former great players who have disappointed their teams greatly in 2023.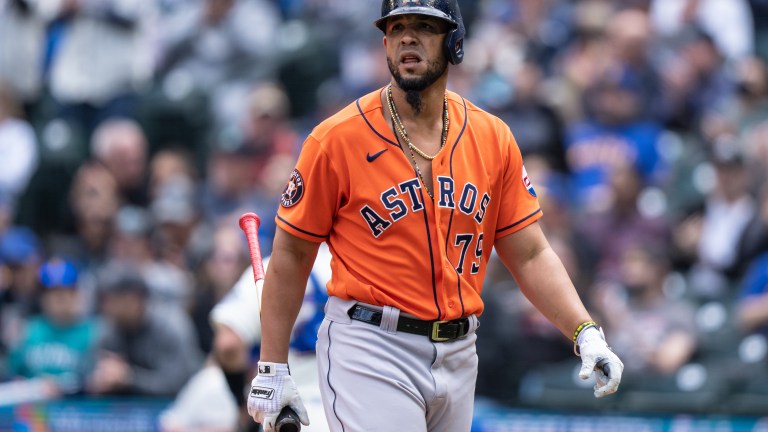 There has been an onslaught of offense across the league that only looks to increase as we inch closer to the summer months of the MLB season. While there have been quite a few players grabbing headlines for their MVP-like performances, as highlighted in my previous article, there are also those who are sinking their ball clubs with they lack of production in the first quarter of this season.
No one is immune to this list. Some of these players were acquired this off-season to help bolster their rosters and then there are those that have already been established with their teams, yet still have not been able to find it.
There could be multiple candidates that fall into the Least Valuable Player category, both on the pitching and hitting side, but I wanted to focus on those who have enough stats to qualify on leaderboards this season. The teams' contender status was also taken into consideration. When you correlate the two, you will easily be able to tell why they are a reason for their teams struggles.
Whether they can turn it around, or not, remains to be seen. Nonetheless, their team needs for them to show up and provide them the assistance they need to take that next step.
American League
Jose Abreu (1B) – Houston Astros
Traditional Stats: 46 G, .220/.281/.260 , 0 HR, 17 RBI
Advanced Stats: 7.3 BB%, 24.0 K%, .040 ISO, 52 wRC+ -0.9 WAR
Oh, how we were excited about this signing during the off-season.
Oh, how we were so wrong about this off-season signing.
The addition of Jose Abreu to the reining World Series champions was supposed to be unfair. However, he has not lived up to expectations. Entering May 19th, Abreu was looking at career worsts in all of the following stats:
Average, OBP, OPS, wOBA, K%, Chase%, Average Launch Angle, HardHit%, and Barrel%. You look at all of those stats and wonder if there ISN'T a marker he is struggling in. For all of you who love the bubbles, I hope you're wearing a sweater.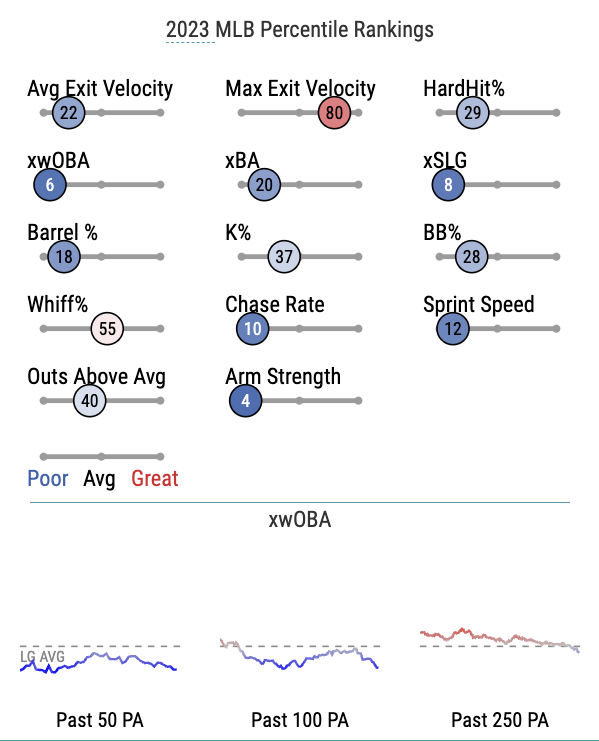 While the Astros have seemed to be warming up as of late, their slow start to the season could be tied with their biggest acquisition of the off-season. Tie it together with them having to piece together a rotation around injuries and it shouldn't come to the surprise of anyone as to why they aren't sitting at the top of the AL West.
Kolten Wong (2B) – Seattle Mariners
Traditional Stats: 32G, .177/.259/.208, 0 HR, 8 RBI
Advanced Stats: 7.4 BB%, 20.4 K%, .031 ISO, 40 wRC+, -0.6 WAR
We have reached a low point in Kolten Wong's season. After being acquired via trade with the Brewers, the second baseman's slow start has led to him being benched for rookie-breakout Jose Caballero.
The Mariners, just like the Astros, have had a slow-ish start to the 2023 season and, even though their have been struggles throughout the majority of their off-season acquisitions, none of them were supposed to step into an important role the way Wong was.
According to FanGraphs, of the 36 qualified second basemen in MLB, Wong ranks last in WAR.

With the Astros getting healthier, and the Rangers continue to pour on the runs consistently, the Mariners cannot afford to continue playing Wong on a nightly basis in hopes of him figuring it out. The benching could provide him with the reset he needs to find out what isn't working.
Josh Bell (1B) – Cleveland Guardians
Traditional Stats: 45 G, .228/.342/.348, 3 HR, 21 RBI
Advanced Stats: 15.0 BB%, 19.8 K%, .120 ISO, 97 wRC+, -0.1 WAR
In what was an un-Cleveland-like move, the Guardians handed Josh Bell a two-year, $33M contract to be their first-base/DH for the next two seasons. We normally see the Guardians approach the off-season by moving off of players on their roster that may be reaching arbitration, but it seemed as if they might've found something in Bell's profile that they thought they could unlock.
Unfortunately, that plan did not seem to get off on the right foot.
Through the first few weeks of the season, Bell was hitting .108 and slugging just .130. His ability to get on-base, however, was not impacted by the low batting average as he was still rocking a 16.1 BB%. Even though the number is quite nice, the Guardians were likely looking for a little more thump to be added to a lineup that desperately needed it heading into last off-season.
As of late, Josh Bell looks to have figured something out as he has been producing far more consistently at the plate for Cleveland. However, up until this recent stretch, you can assume the Guardians would have been closer to the top of the division, rather than sitting in the third spot behind Minnesota and Detroit.
National League
Kyle Schwarber (OF) – Philadelphia Phillies
Traditional Stats: 47 G, .177/.322/.421, 12 HR, 24 RBI
Advanced Stats: 16.1 BB%, 29.6 K%, .244 ISO, 103 wRC+, -0.1 WAR
You read this name and you immediately think, "Don't worry! June is coming so the Schwar-bombs will begin flowing consistently!"
Okay, I get that. Schwarber is notorious for starting seasons off a little cooler than many fans would hope. However, it isn't as tolerable when you enter the season down a former-MVP in Bryce Harper, and having just lost Rhys Hoskins for the entirety of the season.
Schwarber started off last year hitting just .185 through the month of May after signing that big four-year, $79M deal last winter. Fans gave him a "pass" to allow for him to get comfortable to a new environment, but this year was different.
The Phillies were coming into this season looking to defend the NL crown after losing in the World Series to the Astros. With two big thumpers out, Schwarber was needed to step up more than ever.
While most of the season has looked like this for Schwarber:
Phillies fans are hopeful that these begin to flow a little more often.
Blake Snell (LHP) – San Diego Padres
Traditional Stats: 9 G, 1-6, 5.49 ERA
Pitching Advanced Stats: 9.6 K/9, 5.4 BB/9, 5.56 FIP, 4.66 xFIP, 0.0 WAR
The narrative of a contract season usually means that a player is having a career year so far. Blake Snell seems to have another definition for the phrase with how he has been performing thus far for the scuffling San Diego Padres.
His most recent outing faired similarly to what the other starts have looked like during the 2023 season.
It has been a weird year for the Padres. Juan Soto started off slow, but was able to turn it around. Manny Machado has been battling injuries and was recently placed on the injured list.
The starting rotation has been shuffled around as well, with Snell being the lone consistent pitcher going every fifth-day. Unfortunately, that is causing more harm than anything else.
While the affect of a player going out every fifth day is harder to justify being a total detriment to a team, you definitely just want to see some production every time they are out there. Instead, Snell has just been throwing more salt in the wound.
Starling Marte (OF) – New York Mets
Traditional Stats: 43 G, .245/.309/.311, 2 HR, 12 RBI
Advanced Stats: 6.0 BB%, 18.7 K%, .066 ISO, 81 wRC+, 0.0 WAR
The Mets entered this season loved by players everywhere, and disliked by owners across the league for their approach to the off-season. This all started two off-seasons ago when new owner Steve Cohen made a big slash bringing in Marte to be their right fielder for the next four seasons.
While he has dealt with his injuries since joining the Mets, he was usually a producer for this lineup when he was out there. This year, not so much.
This ball club has faced quite a few different bumps in the road this season. From the injury to Verlander prior to the season starting, the slow starts for their offense, and multiple other pitching issues. A struggling top-of-the-order hitter was not something they wanted to check off of their bingo card.
Even his defense has taken a step back. The main grading factors have him rank in the bottom-10th percentile. The good news is that he has not slowed down on the base paths, when he does get on.
The fate of the Mets season does not fall on the shoulders of Marte, but he should be performing much better than this if the Mets plan to compete for the top spot in the National League that they were projected to be battling for from Day 1.