Analysis
In an Opt-out Year, Xander Bogaerts Has Put on a Show
Xander Bogaerts can become a free agent after this season and judging by the way he has played, he is about to get paid in a big way.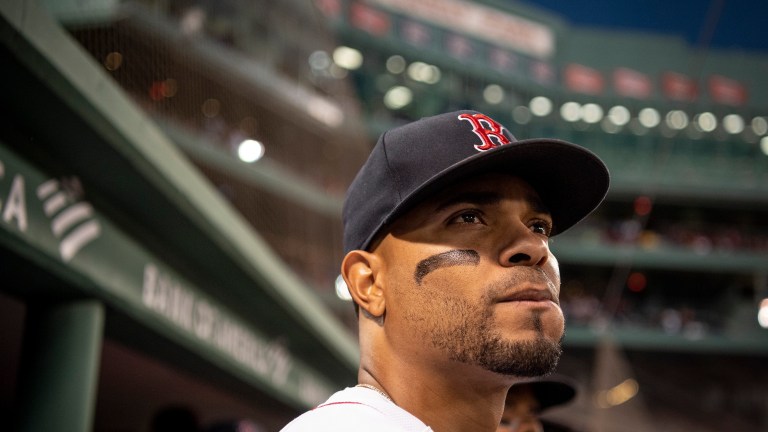 Boston Red Sox shortstop Xander Bogaerts could be in position for a huge pay day. The 29-year-old is under contract until 2027, making $20 million per year. Bogaerts is currently the fifth-highest paid shortstop in the sport, behind names like Carlos Correa and Francisco Lindor.
The shortstop has a clause in his current contract that would allow him to opt-out after the 2022 season. The sizeable chunk of money Bogaerts is making over the next few seasons is nothing to complain about, but there's certainly potential for a larger deal. Besides, there's an argument for Xander being one of the best players in baseball at this current moment.
Bogaerts has two options in front of him at the current moment. Stay in Boston and get paid $20 million a season for the next four years, taking him through his age-33 campaign. Or, opt-out at the end of the season in hopes of landing a longer and more lucrative deal.
While Red Sox fans would prefer the former, the latter would surely be more enticing to the 29-year-old.
The Bright Spot in Boston
Admittedly, this has been a rough year for the Boston Red Sox. Currently sitting at 69-74, bottom of the AL East, their playoff hopes have diminished. After reaching the ALCS in 2021 and signing Trevor Story to a monster contract, hopes were high. As of today, they've been one of the most disappointing teams in the sport.
In a rough patch, this Red Sox team has produced a multitude of underperformers. One player that's shone above the rest has been their shortstop, Xander Bogaerts.
Bogaerts has been the best player to grace the Fenway grass this season and deserves all the praise in the world from Red Sox fans. Arguably the team's best player, the shortstop has rose above and beyond the rest of the squad in 2022.
In a lineup that boasts names like J.D. Martinez and Rafael Devers, Bogaerts has been their most consistent performer at the plate. The shortstop leads all qualified Red Sox hitters in BA (.317), OBP (.384), wOBA (.372), wRC+ (141), BABIP (.378), second in SLG (.474), and has the third-most home runs with 14.
Martinez and Devers specifically have seen a drop in production at the plate post All-Star break, posting wRC+ totals in the 60's. Bogaerts on the other hand, has carried the load offensively.
Xander is slashing .320/.374/.514 with seven home runs and a 148 wRC+ in 46 games since the Midsummer Classic. As a team, Boston has been slightly above-average offense since July 18th, right in the middle of the pack. Their shortstop has provided a significant boost to their squad every day, as he has done for most of the 2022 campaign.
Much Improved Defense
The largest knock on Xander Bogaerts has been his lack of ability with his glove. If you scour the internet for "Xander Bogaerts defense", you will find nothing but negative clips from his previous seasons. Some even thought bringing in Trevor Story, the better defender during the course of his career, should force Bogaerts to second base. Oddly enough, Story opted to move over instead. Many fans, including myself, strayed away from the player strictly because of his poor glove. But in 2022, it's been a completely different story.
In his 10-year career, Bogaerts has never posted a positive DRS total. Not once. In 2022, he's flipped the script. While Xander hasn't turned into some defensive wizard, he's gone from one of the worst at his position defensively to slightly above average. In just under 1200 innings, Bogaerts has accumulated a DRS total of 2. While it might not look impressive to most, it's a far cry from his -5 DRS last season.
More surprisingly, the Red Sox star has posted an OAA total of 7 this season, which is good for ninth among all shortstops. He ranks higher than guys like Cory Seager and Carlos Correa, who received substantial bags in the previous offseason. This has been Bogaerts best defensive season by a mile, and more attention needs to be placed on his improvements in this department compared to his colleagues.
To go along with an elite bat, Xander has flipped a switch defensively in 2022. Story moving to second was a puzzling move, but Bogaerts has elevated his game to another level to disperse that notion. And compared to the other shortstops who received huge contracts, he's been on par, if not better than them.
The Best Shortstop in Baseball?
Not only has Xander Bogaerts been the best player on his team, but he's also been the best shortstop in MLB during the 2022 season. It's a wild thought but hear me out on this one. He's been elite, let me show you why.
Among shortstops, Bogaerts is first in BA (.317), first in OBP (.384), third in SLG (.474), first in wOBA (.372), eight in xwOBA (.324), first in wRC+ (141), seventh in BSR (4.6), seventh in BB% (8.8%), and second in WAR at 6.0. To go along with his brilliant offensive season, he has provided on the defensive side, with 7 OAA. What's there to argue with here?
Boston's struggles have severely taken away from what their shortstop has been able to do this season. He's hitting for a higher average than Trea Turner, getting on base at a higher clip than Lindor, and is playing better defense than Carlos Correa. He's elite!
The power department is where Xander has struggled this season, with just 14 home runs and an ISO clip of just .157. Bogaerts has opted for a more contact-reliant approach at the plate, which has translated into more hits and a higher BABIP as a result. It's worked, as he's put himself into a very nice position with free agency upcoming.
A Silver Slugger award is in the cards for him in the offseason. Offensively, he's been the best at his position. Above-average defense has pushed him into the upper-echelon of players at his position, and he's been the best at the most premier position in the sport.
Free Agency Looms…
Should Xander Bogaerts leave Boston? There seems to be a reluctancy from Red Sox general manager Chaim Bloom to extend their superstars, see Rafael Devers. The shortstop is under contract until 2027, but this upcoming offseason is the only one that includes an opt-out. It's been heavily reported that Bogaerts will test free agency. And after the immaculate season he has put in this year, it'd be well worth his time.
When we take a look around the shortstop market in previous years, Bogaerts has turned into the eighth-most valuable player at his position according to AAV. Guys like Correa, Tatis Jr., Trea Turner, and even Javier Baez are making more than Bogaerts on an annual basis. Out of every single player listed above him in shortstop salary, it's hard to say that any of them have been more valuable than Xander. Even his teammate, Trevor Story, makes more than him in a given year on his new deal.
The Red Sox need to pay Bogaerts if he decides to opt out of his current deal. If not, there will certainly be a team that will do so. Xander has placed himself into a perfect position to get paid this coming winter, whether its from Boston or not.
Regardless, he's well worth the money coming his way.