Analysis
Who's The Better Free Agent SS: Swanson Or Bogaerts?
Both coming off six-win seasons, which free agent shortstop is the better bet on a long-term deal, Dansby Swanson or Xander Bogaerts?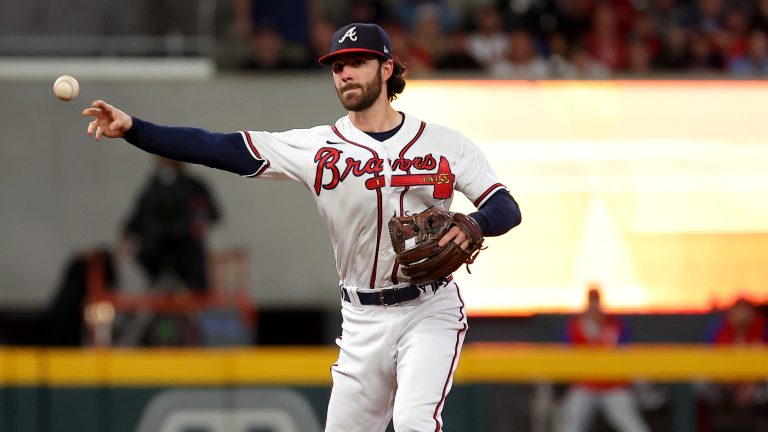 While Aaron Judge is the top free agent on the market, this is a class that is really defined by its shortstops. We could see close to a billion dollars spent on Trea Turner, Carlos Correa, Xander Bogaerts and Dansby Swanson, with each shortstop set to receive a nine-figure deal this offseason.
A few weeks ago, I wrote an article comparing Carlos Correa and Trea Turner to see which shortstop would be the better bet to sign in free agency long-term. Today, we will do the same with the other top two shortstops from this elite class.
If we are looking at track record, there is no doubt who's better between Bogaerts and Swanson. On one side you have a four-time All-Star who has won a whopping five Silver Sluggers. On the other, you have a one-time All-Star with one Gold Glove. The thing is, Swanson just collected his hardware.
Swanson was clearly a full tier or two below the Correa's, Turner's and Bogaert's of the world prior to the 2022 campaign, but posted a career-year at the perfect time. Now teams will have to literally bet hundreds of millions of dollars on if his breakout is the new norm moving forward.
Meanwhile with Bogaerts, there is no question what he is going to bring offensively, which makes him a worthwhile investment regardless of where he signs. The real question with him though, is how long will the 30-year-old remain at the shortstop position?
Who's Got the Better Bat?
Xander Bogaerts. Alright we can move on to the next section.
Dating back to his first full season as the Boston Red Sox starting shortstop in 2014, Bogaerts has hit .292/.356/.459, with a 118 wRC+. Bogaerts is fifth in home runs hits by shortstops during that span with 155, and his 34.1 fWAR is second to only Francisco Lindor (42.0).
Swanson's career slash line does not compare, as he even grades out as a below average hitter based on wRC+. The numbers since Swanson's first full season in 2017 really speak for themself:
| | | | | | | | |
| --- | --- | --- | --- | --- | --- | --- | --- |
| 2017-2022 (Six Seasons) | Slash Line | HR | ISO | K% | BB% | wRC+ | fWAR |
| Xander Bogaerts | .295/.367/.487 | 115 | .192 | 18.1 | 9.7 | 127 | 25.5 |
| Dansby Swanson | .253/.319/.416 | 99 | .163 | 24.2 | 8.5 | 93 | 15.2 |
Pretty much every way you slice it, Bogaerts has been the better player throughout their careers. He has been worth 10 more wins, has hit for more power, gotten on-base at a better clip and has done so with less strikeouts.
Really the only way we can even have a conversation comparing these two is to look at what they did during the 2022 season, when Swanson experienced his breakout.
| | | | | | | | |
| --- | --- | --- | --- | --- | --- | --- | --- |
| 2022 Season Stats | SLASH LINE | HR | ISO | K% | BB% | WRC+ | FWAR |
| XANDER BOGAERTS | .307/.377/.456 | 15 | .149 | 18.7 | 9.0 | 134 | 6.1 |
| DANSBY SWANSON | .277/.329/.447 | 25 | .170 | 26.1 | 7.0 | 116 | 6.4 |
While wRC+ still points to Bogaerts being the better offensive player, Swanson did showcase a bit more power with 10 additional home runs. Swanson has hit 52 home runs over the last two seasons, while also posting a higher ISO than Bogaerts as well.
The argument for Swanson really lies in the glove, but when it comes to the bat, teams who chose to sign him over Bogaerts will be expecting more home run power moving forward. Teams signing Bogaerts however get the much more projectable offensive player.
Bogaerts' strikeout and walk rates have been remarkably consistent over the years, as his 2022 numbers align within 0.5% of his career line. Even with 2022 being his best season, Swanson still struck out 26.1% of the time, showing he is certainly more prone to droughts or a regression offensively.
The best way to close this comparison is to do something quite simple. Count hits.
Bogaerts is going to get more hits for his new team than Swanson. Across his career, Bogaerts has eclipsed 190 hits three times, and has at least eclipsed 125 hits in every full season he's played. Swanson has eclipsed 125 hits twice (2021, 2022) and just set a career-high with 177 hits.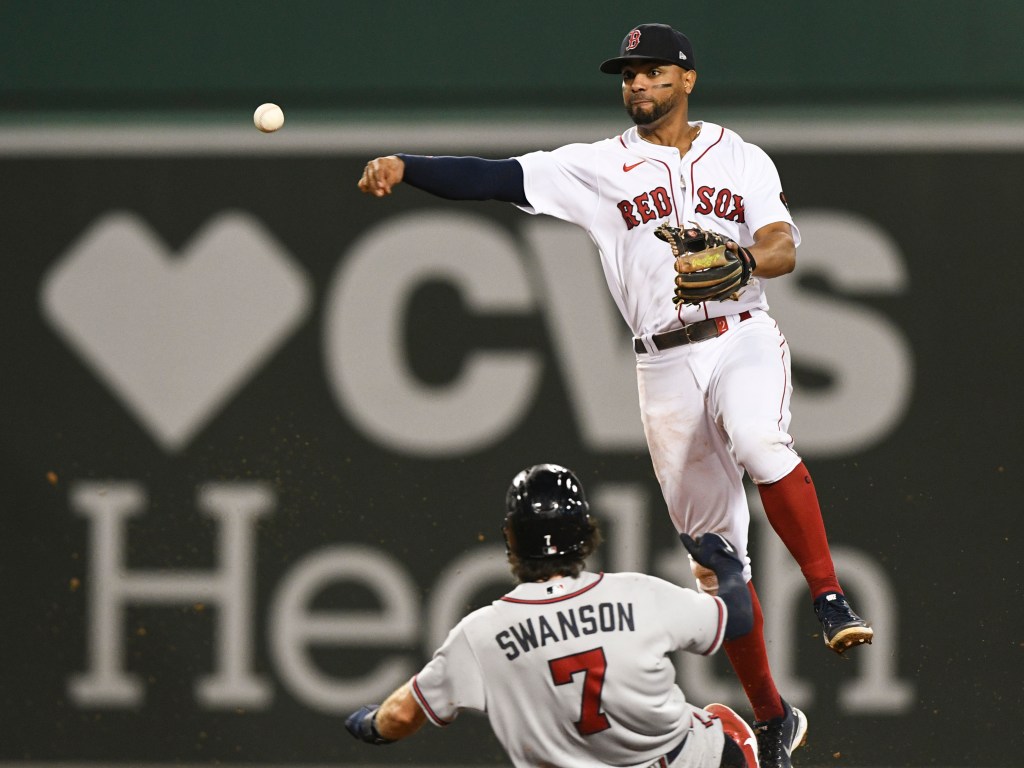 Who's Got the Better Glove?
Xander Bogaerts and Dansby Swanson are both coming off their best seasons defensively. For Swanson, that meant winning his first Gold Glove, posting a league-best 21 OAA and 9 DRS.
Bogaerts on the other hand posted the first above-average defensive season of his career, ranking in the 88th percentile of Outs Above Average with 5 OAA. In his career previously, Bogaerts had been worth -41 OAA, making him the second-worst defensive shortstop in baseball (Didi Gregorius -71 OAA) from 2016 through 2021, according to the metric.
Similar to how the offensive numbers painted a clear picture on who's better, the defensive numbers are alarmingly in favor of one of these shortstops as well.
| | | | | | | | |
| --- | --- | --- | --- | --- | --- | --- | --- |
| YEAR | 2017 | 2018 | 2019 | 2020 | 2021 | 2022 | Career |
| Swanson | -5 OAA | 7 | 3 | 8 | 2 | 21 | 38 OAA, 16 DRS |
| Bogaerts | 1 OAA | -2 | -9 | -3 | -11 | 5 | -35 OAA, -51 DRS |
Swanson has clearly been the better defensive shortstop over the last five seasons and it is not even close. Bogaerts posted good enough numbers in a contract year that he can demand to remain at the position wherever he signs, but there is no guarantee he will stick there long-term.
In fact, I'd say it's likely that Bogaerts doesn't even spend half of the next contract he signs playing shortstop and instead is either moved to third base or second within the next few years.
As Colby Olson pointed out in the free agent profile he wrote on Bogaerts, there is a good chance we see his defensive numbers go down again next year with the elimination of the shift. Bogaerts was a beneficiary of good defensive positioning and his limited range could begin to haunt him without the aid of the shift.
Bogaerts' bat will play at either third base or second, but teams have to understand that is likely what they are getting if they sign him long-term.
Who Will Be More Durable?
One box both of these free agents check is their ability to stay on the field and in the starting lineup. In fact, only Francisco Lindor has played more games at shortstop than Swanson and Bogaerts and they are tied in second with an identical 789 games played since 2017.
Bogaerts just turned 30 years old in October and Swanson will turn 29 years old in February. Having debuted at 20 years old, Bogaerts has more tread on his MLB tires, with 1,264 games played, but he should nonetheless age just as well, particularly offensively.
There is a reason why these are two of the top five most attractive position players teams can sign this offseason and durability is a huge part of that.
Verdict: Who's The Better Free Agent SS?
Now the question is important in coming to a verdict on this comparison, because we can really take this decision in so many different directions.
Ask me who has been the better player. My answer is Xander Bogaerts.
Ask me who is the better player right now. My answer is Xander Bogaerts.
Ask me who is the better hitter right now. My answer is Xander Bogaerts.
Ask me who is the better free agent shortstop and I'm left wondering if it might just be Dansby Swanson.
Really it depends on what a team is looking for. If this a team who needs an offensive anchor, who doesn't mind the idea of eventually moving Bogaerts off the position because they either have a young shortstop on the roster or in the pipeline, by all means he's the better player.
Bogaerts is a known commodity, Swanson brings more intrigue to shortstop though with his Gold Glove.
If I'm a general manager and am looking at this signing with the goal of plugging the premium shortstop position (in a new shiftless world) for the next seven seasons, I think my move is to sign Dansby Swanson.
Swanson is certainly the bigger gamble here, but the payoff could be worth it. If he can continue to hit 25 home runs per season, while playing Gold Glove defense, he's going to remain a top-10, if not top-five shortstop in the game and could certainly be more valuable than Bogaerts moving forward.