Feature
Gary Gaetti: Triple Play King
On this day 40 years ago, Gary Gaetti turned the first triple play of his MLB career.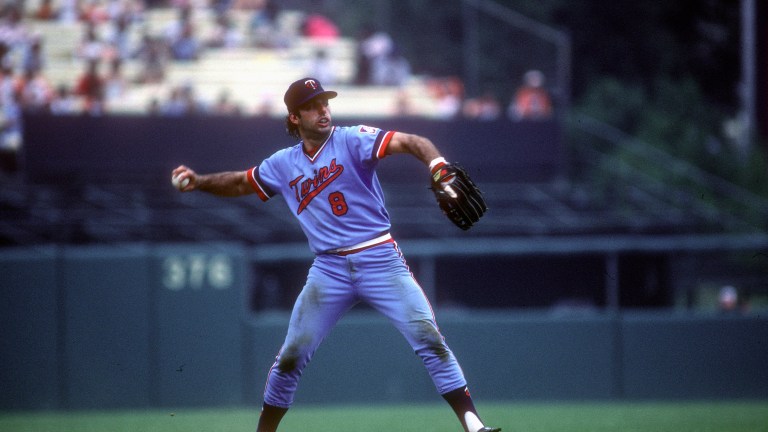 As of May 28, there have been 729 triple plays in Major League Baseball dating back to 1878. That averages out to five per season. For a player to be on the celebratory end of this unique defensive play is a once-in-a-career occasion.
Gary Gaetti was a part of seven. All but one came while he was in the field and each of those six he had a major role in. And while being involved in a triple play involves luck, and being a third baseman increases your chances, it would be a misgiving to discount Gaetti's skill. He was a three-time Gold Glove Award winner with a 15.9 defensive bWAR in a 20-year career.
In those two decades, he played for the Twins, Angels, Royals, Cardinals, Cubs, and Red Sox. A World Champion with Minnesota in 1987 and a two-time All-Star, Gaetti finished with 360 homers and 1,341 RBIs. All that said, he still has that one distinguishing record that no other player can match.
On the 40th anniversary of his very first encounter with the three-for-one result, here's a chronological look at all seven.
#1: May 29, 1982 vs. Yankees
His first is definitely the most unique. Of the 700-plus triple plays, the 5-4-3 (third baseman-second baseman-first baseman) is the most "conventional," if you will. This is far from that.
The runners on first and second take off on a Terry Felton pitch to Roy Smalley, who swings and misses for a strikeout. A double steal is up in ruins when the catcher's throw goes to Gaetti, who chases the lead runner, Bobby Murcer, back to second. Murcer is safe (for now). Gaetti throws the ball to first baseman Kent Hrbek, who tags out Graig Nettles caught between first and second. Murcer then gets greedy and goes for third again. Hrbek throws to Felton covering the bag and tags Murcer.
Watch for yourself:
#2: August 8, 1983 vs. Angels
Gaetti helped erase a veteran All-Star, a Hall of Famer, and Ron Jackson in one go-round. Bobby Grich began the fourth inning with a walk. Reggie Jackson followed suit with a free pass as well. The "other" Jackson hit a line drive straight to the hot corner.
It was snagged by Gaetti on the fly. Gaetti threw to John Castino covering second base to get Grich. Castino's relayed to Hrbek at first to get Mr. October. It was the Twins' first triple play of '83, Minnesota's fifth in 23 years of existence, and Gaetti's second in two full big-league seasons.
#3: July 19, 1984 vs. Yankees
"I thought they were going to bunt," Gaetti said later. "I was playing in and [Rick Cerone] hit the ball right to me. I thought about making that play so many times. Today, I didn't think about it and it happened."
This, like all triple plays, completely squelches a golden scoring chance for the offense. It's the Yankees again who are victimized by Gaetti and company in the second inning. Cerone is a catcher, so his speed is not to be taken strongly. Gaetti fields his grounder and knows he has plenty of time once he steps on third. Don Mattlingly is forced out, and soon Bobby Meacham is too when Gaetti's throw is hauled in by Tim Tefuel. Kent Hrbek is the anchor once more and catches the third out.
#4: July 17, 1990 vs. Red Sox
Boston's chances to break a scoreless tie in the fourth inning went up in smoke on one swing. The hitter was Tom Brunansky, a former Twins teammate of Gaetti's. And by now, it must have been known by him and most others what was to come next. Gaetti-to-Al Newman-to (yes, again) Kent Hrbek.
The Red Sox were turned aside in a manner they'd likely not encounter for a while — or at least for four innings.
#5: July 17, 1990 vs. Red Sox
This is not a repeat by accident. If a triple play is baseball's equivalent of a lightning strike, then Fenway Park was witness to one of the rarest rarities. It's the first, and to date, the only occurrence of two triple plays in a single game.
Gaetti wasn't just involved in these two triple plays. He started both. In fact, it was the Gaetti-Newman-Hrbek trio on repeat. The odds of that are impossible to calculate and would otherwise be impossible to believe if not for the magic of video.
#6: August 25, 1992 vs. Orioles
For all those that he took away, Gaetti, now a member of the California Angels, might have had one coming.
It came at Camden Yards against veteran Rick Sutcliffe in what turned into a 9-1 O's rout.
The Angels threatened to cut into the Baltimore lead in the fifth inning when Gaetti came up with Tim Salmon 90 feet from home and Chad Curtis on first. Gaetti lined to his opposite number. Leo Gomez was manning third for the Birds, snagged it on the fly, beat Salmon back to the third-base bag, and had enough to time to toss it over to Randy Milligan to get Curtis before he returned to first.
#7: May 14, 1994 vs. A's
On the same night that the Royals retired the number of their legendary third baseman, George Brett, the newest occupier of that position added to his own legend.
Less than two months into his tenure in Kansas City, Gaetti ended his almost four-year "drought." It came the old-fashioned way: 5-4-3. Gaetti fielded a sharp grounder from Oakland's Geronimo Berroa with his backhand, put his foot on the base as he wheeled it to Terry Shumpert, who flung it around the horn to Wally Joyner.