Analysis
Former Major League Players Who Could Sign During CBA Lockout
While negotiations continue for a new CBA, minor league free agency is still ongoing. Here are some players who could sign deals during the lockout.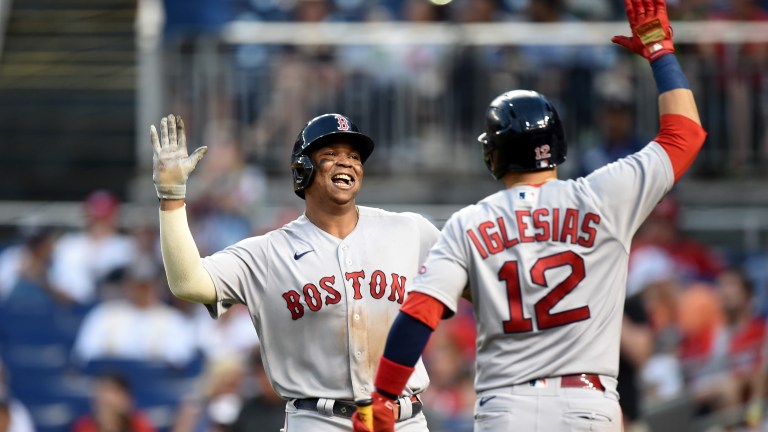 The Washington Nationals have made a couple of free agent acquisitions over the last week, signing Dee Strange-Gordon and Maikel Franco to minor league deals. Now if you are wondering how players could sign while Major League Baseball is in a lockout, it is because they were technically minor league free agents.
Since Franco and Strange-Gordon finished the 2021 season on minor league rosters, they were free to sign minor league deals despite the lockout. During a time where baseball executives can't make any other transactions, minor league free agency is suddenly of much greater interest.
There are plenty of diamonds in the rough that can be found through minor league free agency, whether a team is looking to add some major league depth and sign a veteran, or discover that prospect who has yet to debut but could finally be ready for the show.
Today we are going to look into which former major leaguers could sign minor league deals now, like Franco and Strange-Gordon did with Washington.
Catchers
Stephen Vogt
2021 MLB Stats: 239 PA, .195/.283/.333, 7 HR, 14 XBH, 25 RBI, 64 wRC+
Stephen Vogt is technically a World Series champion, as he was on the Atlanta Braves in 2021 after being traded from the Arizona Diamondbacks midseason.
Vogt did not leave the yard in any of his first 25 games with the Braves, before hitting two home runs against the Washington Nationals on September 9th. That would be his last game played for the season, as he went on the IL with hip inflammation, before ultimately getting season-ending hernia surgery.
While his best days are behind him, the 37-year-old is known for being a strong clubhouse presence, who has been in the big leagues for the better part of a decade.
Jeff Mathis
2021 MLB Stats: Three games played, 0-for-9
Jeff Mathis may be on the verge of retirement, as he did not play at all in the minor leagues or the majors after being DFA'd by the Atlanta Braves last May. He will turn 39 years old in March and could be ready to call it a career after 17 seasons in the big leagues.
If Mathis decides he wants to play, there is certainly going to be teams willing to sign the defensive-minded catcher to a minor league deal.
Tony Wolters
2021 MLB Stats: 30 PA, .125/.276/.125
Triple-A Stats: 245 PA, .240/.348/.385, 17 XBH, .733 OPS
Tony Wolters spent the first first seasons of his career playing for the Colorado Rockies, but was non-tendered last offseason. After initially signing a minor league deal with the Pittsburgh Pirates, Wolters elected for free agency at the end of spring training and signed an MLB deal with the Chicago Cubs.
Wolters played 14 games with the Cubs and then played the rest of the season in Triple-A. The 29-year-old has never hit well enough at the MLB level, but can still get a minor league contract with an invite to spring training due to his experience behind the plate.
Infielders
Jose Iglesias
2021 MLB Stats: 511 PA, .271/.309/.391, 9 HR, 38 XBH, 48 RBI, 91 wRC+
Of all the players on this list, Jose Iglesias is probably the only one that could realistically be waiting to sign an MLB contract, instead of just looking for the best situation on a minor league deal. Iglesias played 137 MLB games last season, splitting time between the Los Angeles Angels and the Boston Red Sox.
The 31-year-old middle infielder can still play strong defense up the middle, while hitting for a high average. Because Iglesias doesn't draw enough walks or hit for power, there is a chance he will have to settle for a minor league deal this offseason.
Iglesias was released by the Angles on September 3rd in 2021, and was later picked up by the Boston Red Sox. In 23 games played with Boston, Iglesias hit .356/.406/.508. Unfortunately because he joined the team after August 31st, Iglesias was ineligible for the postseason and was outrighted to Triple-A.
Joshua Fuentes
2021 MLB Stats: 284 PA, .225/.257/.351, 7 HR, 18 XBH, 33 RBI, 48 wRC+
Triple-A Stats: 210 PA, .269/.324/.492, 9 HR, 23 XBH, 32 RBI, 97 wRC+
Trying to replace Nolan Arenado at third base would be a difficult task for anyone in baseball, but it was especially challenging for Joshua Fuentes as Arenado is his cousin. Fuentes' strongest attribute is his glove, but it was his bat that led to a midseason demotion.
Outside of a 103 PA sample in 2020 where he hit .306/.320/.439, Fuentes has yet to establish himself as a big league hitter. With that said, Fuentes is still worth taking a flier on due to his ability to play strong defense at the hot corner. Also his career .471 slugging percentage in the minors suggests there may still be some real power in that right-handed bat.
Greg Bird
2021 Triple-A Stats: 461 PA, .267/.362/.532, 27 HR, 49 XBH, 117 wRC+
Remember when Greg Bird was a franchise cornerstone for the New York Yankees?
Bird's big league career got off to such a great start back in 2015 (137 wRC+), but a string of injuries and inconsistencies ultimately led him to be designated for assignment four years later. After his tenure with the Yankees, Bird spent time in the minors with the Rangers and Phillies, before ultimately landing in Triple-A for the Colorado Rockies in 2021.
The 29-year-old spent the entire 2021 season on the Albuquerque Isotopes, where he posted numbers that warranted a promotion up to the big league level that never came. With Bird, health is half the battle and he at least proved that with 112 games played this year.
A rebuilding team should take a flier on Bird, as he could provide offense with his power and if everything breaks right, could be an interesting trade chip at the deadline.
Outfielders
Gregory Polanco
2021 MLB Stats: 382 PA, .208/.283/.354, 11 HR, 25 XBH, 36 RBI, 71 wRC+ 2021
Triple-A Stats: 101 PA, .374/.436/.747, 9 HR, 16 XBH, 24 RBI, 210 wRC+
Gregory Polanco was a relative fixture in the Pittsburgh Pirates lineup for the last eight seasons, making his MLB debut back in 2014. Polanco enjoyed his most success in 2018, hitting 23 home runs and posting a 123 wRC+.
At the end of the day, Polanco could not string together enough success at the plate to warrant a roster spot any longer, so the Pirates released the 30-year-old at the end of August. Polanco ended up signing a minor league deal with the Toronto Blue Jays on August 31st and would go on to put up massive numbers in the final month of the season.
Polanco's 210 wRC+ in 101 plate appearances in Triple-A shows that he is still too good to be in the minors. Question is if he can put all that together again at the big league level.
Pitchers
Nick Vincent
2021 MLB Stats: 7 G, 12 2/3 IP, 0.71 ERA, 0.87 WHIP 5.82 xFIP, 6.39 K/9
Triple-A Stats: 39 G, 47 IP, 4.43 ERA, 1.28 WHIP, 11.5 K/9
Whenever Nick Vincent pitched at the big league level in 2021, luck certainly seemed to be on his side. Vincent pitched to a sparkling 0.71 ERA, but his 5.82 xFIP indicates that low ERA was more due to good fortune than anything else. Vincent posted a perfect 100% Left on Base Percentage, which helps explain that miniscule ERA.
At 35 years old, Vincent might not have much left in the tank, but should still warrant minor league offers if he wants to keep pitching.
Adam Warren
2021 Triple-A Stats: 38 G, 57 2/3 IP, 3.59 ERA, 1.45 WHIP, 9.4 K/9
Adam Warren has had three different stints with the New York Yankees organization, as he enjoyed most of his MLB success pitching in the Bronx. Last season, Warren stayed stashed in Triple-A for the Yankees and never got the call up, despite posting some fairly solid numbers.
Warren has not pitched in the big leagues since 2019, when he had a 5.34 ERA in 25 appearances out of the San Diego Padres bullpen.
Matt Shoemaker
2021 MLB Stats: 16 G (11 starts), 60 1/3 IP, 8.06 ERA, 1.66 WHIP, 5.44 xFIP, 5.97 K/9
Triple-A Stats: 13 G (11 starts), 70 1/3, 3.97 ERA, 1.15 WHIP, 9.1 K/9
Last offseason, Matt Shoemaker was able to secure a $2 million MLB contract from the Minnesota Twins. Based on how he pitched in 2021 though, Shoemaker would be very fortunate to receive an MLB offer again.
Shoemaker just turned 35 years old in September and isn't likely to have some renaissance into becoming a quality MLB starting pitcher. Still, teams are always interested in adding pitching depth on minor league deals, particularly for starters.
Chris Mazza
2021 MLB Stats: 14 G, 27 1/3 IP, 4.61 ERA, 1.21 WHIP, 5.01 xFIP, 6.9 K/9
Triple-A Stats: 26 G, 37 IP, 1.03 WHIP, 11.4 K/9
Chris Mazza was one of the latest reclamation projects the Tampa Bay Rays worked on last season, as they acquired him in a trade with the Boston Red Sox last February.
Mazza's season did not get off to a great start with Tampa, as he pitched to a 8.49 ERA across six appearances in April. The right-hander was much better in the second half though, returning after time spent in Triple-A to pitch to a 1.80 ERA across 15 innings pitched.
Chase Anderson
2021 MLB Stats: 14 G (9 starts), 6.75 ERA, 1.48 WHIP, 5.65 xFIP, 6.6 K/9
Triple-A Stats: 10 G (8 starts), 5.01 ERA, 1.49 WHIP, 7.8 K/9
Last offseason, Chase Anderson signed a one-year, $4 million deal with the Philadelphia Phillies to be part of their starting rotation. After a really bad year in 2021, Anderson is going to have to accept a minor league deal this offseason if he wants to pitch next year.