Analysis
Five Veterans Shaking Off Early Season Rust
Getting off to a hot start isn't always easy, but eventually the best vets find a way to be productive over the course of a long MLB season.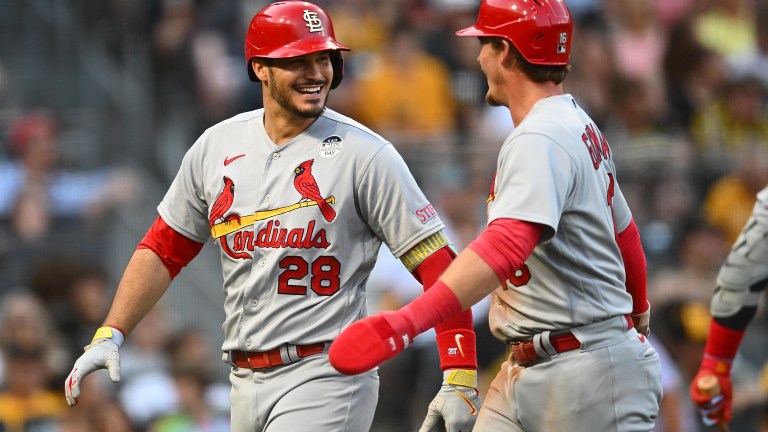 The beginning of the season can cause panic and extreme reactions across the league with players that get off to slow starts. While some of these starts to the season can be the reality for a given player's season, more veteran players than not bounce back and end up playing to their career-average numbers with time.
This season was like many others in which a handful of veteran players started the season playing poorly which caused worry in their fans. While not all of them have recovered yet, these five players have definitely turned things around. Many others have as well, but these players, in particular, have seen dramatic changes in their performance since the first month or so of the season.
While some players are playing even above their expectations in recent weeks, all five are much better than their early season numbers suggest. Let's look at the turnaround each player has experienced after a slow start.
Nolan Arenado
April Stats: .231/.276/.306, 2 home runs, 26:7 K/BB
May Stats: .290/.342/.560, 7 home runs, 21:9 K/BB
June Stats (As of 6/16): .378/.429/.756, 4 home runs, 6:3 K/BB
Full Season Stats: .283/.331/.488, 13 home runs, 53:19 K/BB
There was a time this season when people were seriously worried about Nolan Arenado. That passed pretty quickly as he's already fully recovered his numbers despite one of the worst months of his career to start the season.
We, as in the baseball community, really should never have been worried about Nolan given his track record of proven success and the ability to work through a slump. He's one of the best all-around players in our game and was coming off a top-three MVP finish last season. Even the best hitters have slumps (see Mike Trout right now) but Arenado has fully righted the ship over the past month.
After an April that saw him look like a shell of himself, he recovered with a May that was on par with his career averages. He saw a major uptick in power while walking more and striking out less during the second month of the year. One of the bigger issues that plagued him early on was a strikeout rate nearly 10% higher than the previous season.
After a May that saw him get most of the way back on track, Arenado has returned to MVP-type performer in the first half of June.
While the Cardinals still haven't been able to get back into the playoff race, Arenado is doing his best to make that happen right now. He's been one of the best hitters in baseball in June with a 1.185 OPS and 220 wRC+ to this point, getting on base all the time for St. Louis.
He's all the way back at this point and should continue to be the superstar we know and love despite his incredibly tough start to the season. Arenado is the perfect example of a hitter that starts slow but we ultimately should never be worried about it in the long run.
George Springer
April Stats: .190/.254/.286, 3 home runs, 19:8 K/BB
May Stats: .287/.368/.465, 4 home runs, 16:13 K/BB
June Stats (As of 6/16): .259/.322/.500, 3 home runs, 9:4 K/BB
Full Season Stats: .256/.324/.410, 10 home runs, 45:25 K/BB
George Springer is aging right now and it appeared that he may be heading toward the later chapter of his career earlier this season. And while he may not have the offensive upside that he did during the peak of his career, he's definitely not done being a high-quality contributor every day in MLB.
Springer was downright awful in the first month of the season, with numbers dropping across the board. Despite that, I featured him in my article on hitters bound to improve and he's definitely improved since his rough start.
He turned it on in May with a month that saw him improve across the board with more discipline and quality hitting that allowed him to once again become an integral part of the Blue Jays' lineup every day.
While his hard-hit has dropped during his 10th MLB season, he's currently sporting the best strikeout rate and chase rate of his career, as he's being patient in order to maximize the juice he's got left right now.
And despite being better at the plate, he should be doing even more actually. His expected batting average is .276 with an expected slugging of .461 as well. His numbers since the end of April have been near his career average, but he's likely due for some positive regression.
Springer doesn't have quite the impact at the plate that he did earlier in his career, but he's turned his season around quickly and will remain an integral part of Toronto's chance at making the playoffs.
Michael Conforto
April Stats: .203/.322/.378, 4 home runs, 28:12 K/BB
May Stats: .289/.371/.544, 7 home runs, 20:11 K/BB
June Stats: (As of 6/16): .235/.333/.353, 1 home run, 9:5 K/BB
Full Season Stats: .248/.345/.446, 12 home runs, 59:28 K/BB
After an entire year of not playing in the league, Conforto was likely bound for a slow start in comparison to the upside he offers once he settled in again. I think some people expected production for him early on but with his injury history and time off, he was always going to have an adjustment period.
After an April that saw him strikeout at an alarming rate with his only real offensive production coming from the long ball, Conforto turned up the power output with improved plate discipline in May to show that he's still a quality hitter after the time off. He caught fire in the second half of May which ignited his season.
The majority of Conforto's output came from that two-week stretch in May as he's come back to earth in June, but has still been much better than at the start of the year. His power and high walk rate have helped him record a 118 wRC+ on the season, which is well worth the affordable value of his contract in this generation.
I think Conforto can continue to tap into his power more if he's able to maintain his approach consistently. I'm not sure we can expect the type of production we saw at times from him in New York, but Conforto has worked through the worst part of his season and is trending in the right direction after a terrible start.
Josh Naylor
April Stats: .208/.273/.351, 3 home runs, 14:8 K/BB
May Stats: .293/.341/.549, 5 home runs, 16:6 K/BB
June Stats (As of 6/16): .417/.434/.500, 0 home runs, 4:2 K/BB
Full Season Stats: .288/.333/.456, 8 home runs, 36:16 K/BB
Here's another player that I broke down in my bound to improve series as a guy with better expected stats than actual ones early in the season. Naylor has always hit the ball incredibly hard and many expected him to continue to be a top-notch hitter for Cleveland this season.
While his season stats aren't quite great yet, Naylor's peripherals are excellent and he should continue the trend he's had, following on a disappointing April.
Naylor's progression is obvious via the numbers but it's interesting how Naylor has done it. He's adjusted his approach to some extent and has been more of a consistent on-base threat as opposed to looking for more power like he often does.
Naylor's slow start was surprising given his always quality hard-hit rate and very low strikeout rate for a player of his makeup. The biggest issue has been his chase rate and continued lack of discipline, that doesn't lead to strikeouts, but rather easy outs that come from chasing poor pitches. N
aylor's run production spiked up significantly in May and he's getting on base all the time right now in June. His bat is crucial to Cleveland having support around Jose Ramirez and he's finally back into his rhythm after an April that saw him struggling to do much of anything.
His OPS in the past month and a half is over .900 and he's actually been even better than he was last season in his career-best year. Even with a poor month of April, Naylor is currently on track to produce career-highs across the board and is toward the top of the league right now in RBI.
Naylor should run into some additional power as the season progresses, but right now his consistent bat is much-needed in the lineup and will be key to Cleveland's offense sustaining success.
Ty France
April Stats: .221/.318/.305, 0 home runs, 16:9 K/BB
May Stats: .277/.336/.446, 4 home runs, 19:6 K/BB
June Stats (As of 6/16): .364/.404/.545, 1 home run, 10:1 K/BB
Full Season Stats: .279/.348/.430, 6 home runs, 45:17 K/BB
One of the most consistent presences in the past few years finds himself on this after a poor first month of the year. France started last season strong out of the gate but struggled during the second half of the season and saw his numbers drop drastically by the end of the year.
Those struggles continued to start this season as he got off to a bad start and it felt appropriate to begin to worry. All he's done since then is get better every week as he's now one of the hottest hitters in baseball in June.
France hasn't shown the power he did earlier last season, but he's not striking much and has created ways for himself to get on base. He's gotten extremely hot as seen by his June numbers and his wRC+ is up to 123, just below his 126 from last season.
It would be nice to see a little bit more steady production by France, but he can be counted on for above-average offense with minimal strikeouts over the course of a full season.
He's got 18 and 20 home runs in the last two seasons so I expect to see some added power this year still. The Mariners offense as a whole got off to a rough start but France and others heating up have started to get them going in the right direction.
France has looked much more like the version of himself that was a great sidekick to Julio Rodriguez last year and while he may remain streaky, we can expect him to continue being around a .800 OPS player like he's proven he each of the last three years.