Analysis
Five Starting Pitchers Who Could Bounce Back in 2022
These pitchers might not have had the best years in 2021, but watch out for them to bounce back next MLB season.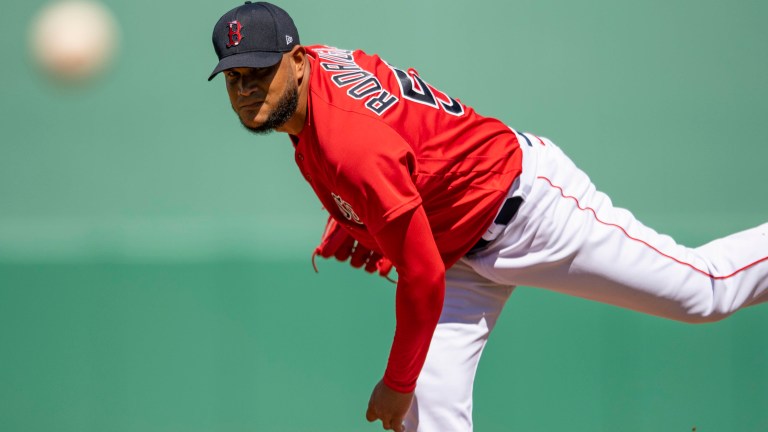 Every year, new pitchers are bursting onto the scene, trying to make a name for themselves in Major League Baseball. Success is never promised at the highest level, as pitchers often have to take their lumps before really established themselves in the upper echelon of the sport.
Whether it is due to bad team defense, a small ball park, or just bad luck, there are plenty of reasons why a quality pitcher could post poor numbers on any given season. Still, if they have good stuff, there is always a chance for a big breakout performance.
Let's take a look at some of the starting pitchers who did not have the best of seasons in 2021, but could bounce back in a big way in 2022.
Eduardo Rodriguez – Detroit Tigers
Keeping it plain and simple, E-Rod could not catch a break in 2021, turning in one of the unluckiest pitching seasons in recent years. Since 2014, not a single pitcher has had a bigger gap between their ERA and FIP than Rodriguez in 2021. His 3.34 FIP ranked 13th, but his 4.77 ERA was near the bottom, ranking 47th out of 53 pitchers with more than 150 innings pitched.
Now it's easy to interpret the above as E-Rod will immediately regress towards his FIP, but that's not always the case and is far from a perfect science. FIP, or Fielding Independent Pitching, takes into account three variables: strikeouts, walks, and home runs allowed. While these variables are telling of pitcher performance, they do not tell the entire story. FIP leaves out a critical variables: hard contact put in play.
It would make sense that E-Rod would have a discrepancy between his FIP and ERA if he was allowing copious amounts of hard contact that stays in the ballpark, but it is not the case. Using xERA(expected ERA), which takes into account strikeouts and walks like FIP, but also examines quality of contact using exit velocity and launch angle, will show if a pitcher is giving up hard contact that stays in the stadium. Rodriguez' xERA of 3.50 ranked 17th in baseball, while his hard hit percentage given up was 10th lowest in baseball and he gave up less home runs than league average.
The only logical explanation for the massive gap between E-Rod's expected and actual stats outside of bad luck, is the Red Sox below average defense, especially in the infield. Xander Bogaerts and Rafael Devers are a weak link on the left side of the infield, accumulating -18 defensive runs saved between them, and the Red Sox infield as a whole was worth -10 defensive runs saved.
Rodriguez inking a five-year, $77 million deal with the Detroit Tigers puts him in a great spot for a bounce back year. With an overall park factor of 97(100 being average) and the lowest home run park factor, Comerica Park is known as one of the most pitcher-friendly parks in the league.
As for the Tigers defense, there is work to be done as they were fifth-worst in team defensive runs saved, but the addition of Javier Baez and the eventual call-up of Riley Greene should boost their defense enough to help E-Rod. Regardless, better numbers are on the horizon for Rodriguez, who will be eager to prove that he's worth $77 million.
Triston McKenzie – Cleveland Guardians
After a strong debut in 2020, expectations for McKenzie were sky-high coming into 2021, with many predicting a breakout campaign that would cement his status as one of the great young pitchers in the league. The breakout will have wait another year though, as McKenzie battled injuries and command issues en route to a 4.95 ERA over 120 innings.
Free passes were the downfall for McKenzie to begin the season. He issued 39 walks over his first 42.1 innings, and while his ability to strike batters out remained (31% K rate over that span), it wasn't enough to overcome poor command. He finished May with a 6.26 ERA and 5.35 FIP and as a result, he was sent down to Triple-A to work out his issues on the mound.
He rejoined the Guardians right before the All-Star break, striking out nine batters and surrendering only one walk and one hit over seven scoreless innings. From that start onward, McKenzie pitched to the tune of a 4.17 ERA and 4.21 FIP, completely erasing the command issues that had plagued him to begin the year. He walked just 19 batters over 77.2 innings and on August 15th, he was just a few outs away from a no-hitter. There are few pitchers in the bigs with as much upside as McKenzie and by limiting walks, he is able to maximize that potential.
Moving into 2022, McKenzie will need to make one more clear adjustment to his repertoire: going to his four-seam fastball less. Used as a crutch pitch for much of last season, hitters were doing damage against it, producing a .367 wOBA. The problem with the pitch is a lack of movement. While McKenzie's fastball has good life, meaning it gets the rise effect that we often mention, it only moves 3.5 inches horizontally, so hitters are seeing a very straight pitch that is thrown 60% of the time.
What McKenzie lacks in fastball effectiveness, he makes up for with two elite secondary pitches. The first being an 86 MPH slider with a 45% whiff rate and a .233 wOBA against, which puts the pitch in the same stratosphere as Gerrit Cole's wicked slider.
Yet, the slider isn't even his best pitch with the curveball being the real money maker. Ranking by lowest wOBA against, Mckenzie's curveball comes in as the fourth-best pitch in baseball by a starting pitcher with hitters only mustering a .135 wOBA against.
It makes you wonder, what if McKenzie threw his curveball and slider more than his current usage of 37%. He could take notes from his fellow teammate, Shane Bieber, who throws his curveball and slider a combined 55% of pitches. Sometimes all it takes for a breakout is throwing your bad pitches less and your good pitches more!
McKenzie would be wise to consider a pitch usage adjustment and I'm betting that he does moving into 2022. At only 24 years old, the sky's the limit.
Jesus Luzardo – Miami Marlins
There is no sugarcoating it, Jesus Luzardo was one of the worst pitchers in the league last season and believe it or not, I'm buying a resurgence in 2022. After a solid debut in 2020 where he posted a respectable 4.12 ERA and 17% strikeout minus walk percentage, the A's expected Luzardo to take the next step in 2021 as one of the top arms in their rotation. Instead, they were met with disaster as Luzardo could not find the strike zone, walking almost 10% of batters, leading to a horrendous 6.74 ERA.
With the A's firmly positioned for a playoff run and needing a boost in their lineup, they shipped Luzardo to the Miami Marlins for Starling Marte. Luzardo did not improve once he got to Miami, as he continued to hold an ERA above 6.00 and never regained his command, but he showed glimpses of the 2020 version of Luzardo. In his final start of the year, Luzardo struck out 11, while walking none over 5.1 innings. It was the perfect way to finish the year and showed what Luzardo can achieve when he limits free passes.
As he enters 2022 with added pressure to succeed, Luzardo should feel comfort that he is pitching just down the road from where he grew up. He'll be able to train with his new Marlins teammates all winter and will hopefully pick up some tips from fellow lefty Trevor Rogers.
If Luzardo can figure out a viable second pitch to go along with his nasty curveball with a 42% whiff rate and .260 wOBA against, while also regressing towards his career walk rate of 7%, he should be able to find success in 2022. Remember he just turned 24 years old, so there is plenty of time for Luzardo to establish himself.
Jon Gray – Texas Rangers
To preface Jon Gray and his move out of Denver, let's first understand that pitching in Coors Field is like pitching on a different planet. Pitches have less movement and the body takes a massive toll traveling in and out of elevation, which creates a hangover of sorts. It is not fair to Jon Gray, Antonio Senzatela and German Marquez to take their 4.40+ ERA's at face value, so when a pitcher with above average stuff leaves Coors Field for a new home in Texas with the Rangers, there is excitement about the possibility of a breakout.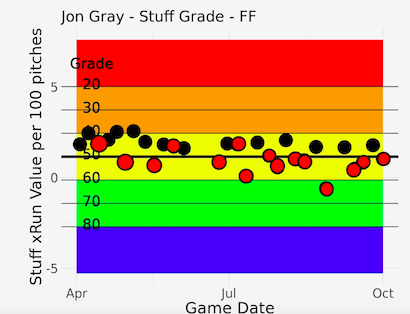 The chart above shows Jon Gray's stuff grade at home (in black) and on the road (in red). Stuff grade gives a value for how effective a pitch moves and can predict with some ability, how a pitch will perform. There is a clear difference in grades at home versus on the road, with his fastball grading out much higher on the road. This is glimpse into the difference in effectiveness we may see next season in Texas. Rangers fans are sure hoping so after the team committed $57 million over four years to Gray.
Adbert Alzolay – Chicago Cubs
After signing Marcus Stroman, it is clear the Cubs intend to compete in some capacity in 2022, and in order to make that happen, they will need players like Adbert Alzolay to bounce back in a big way.
Alzolay began the 2020 campaign strong, striking out 62 batters and only walking 16 over 57 innings. The home run bug stung him hard though, as he gave up 10 home runs in his first 11 starts, but even still, his ERA sat at 4.06.
After his June 7th start, he landed on the Injured List with a blister on his finger, something that clearly bothered him even after his return on June 21st. From then until his move to the bullpen in August, Alzolay put up a 6.47 ERA and continued to give up nukes, surrendering 14 home runs over 10 starts.
The Cubs had no choice, but to relegate him to the bullpen, and apparently, that's all Alzolay needed to bounce back. He made eight appearances out of the pen in final month of the season, giving up only three runs and two walks over 19.2 innings. For the first time all year, Alzolay's neck wasn't being snapped every game by homers leaving Wrigley.
With Alzolay expected to return to the rotation in 2022, there are questions whether his arsenal will be enough to compete without an overpowering fastball, but it's clear that his slider, which he throws almost 40% of pitches, is nearly unhittable. If he continues to develop his changeup, which flashed as a plus pitch, getting 31% whiffs and limiting hard contact, it will round out his repertoire and put less dependence on fastball usage.