Analysis
Who Are the Top Pitchers Looking to Bounce Back in Free Agency?
There are always free agents who once had success but are coming off down year. Here are some of the top arms looking to bounce back in 2024.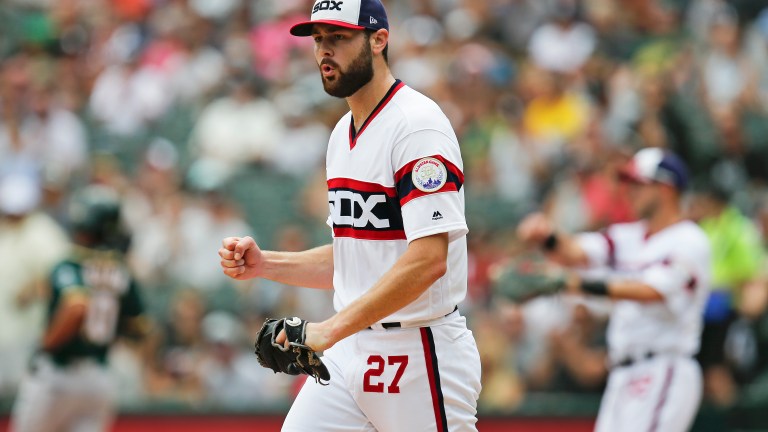 With the offseason upon us, it is time to dive in and take a look at pitchers looking to have bounce back seasons after disappointing 2023 campaigns leading into their free agency.
While every major leaguer hopes to have a career year the season before they hit free agency, that is not always the case, giving teams the opportunity to "buy low" on players looking to bounce back after struggling in their contract year.
The following pitchers are all players that, if they perform up to their potential, could turn out to be huge offseason additions for whatever team takes a chance on them.
RHP Lucas Giolito, 29
Lucas Giolito's yearly production has yo-yoed up and down seemingly more than any other pitcher. While his FIP has been slightly less volatile year-over-year than his ERA, it is clear that when Giolito is going well he is one of the best pitchers in baseball, but has struggled mightily with consistency.
This is a pitcher who led the American League in walks and earned runs allowed in 2018, only to follow it up with a stellar 2019 that saw him post a 3.41 ERA and lead baseball in complete games and shutouts. Good 2020 and 2021 seasons were followed by poor 2022 and 2023 seasons, the latter of which saw Giolito surrender more home runs than anyone in the American League.
One thing that makes Giolito an attractive option, though, is his durability; whether he is having an up or a down season, Giolito takes the ball, leading the American League in starts last season with 33. This durability is certainly attractive for general managers, and there are plenty of pitching departments that can unlock the elite version of Giolito, and will be willing to pay up to do so.
RHP Luis Severino, 29
At times, Luis Severino has looked like one of the best pitchers in baseball, bursting onto the scene with All-Star appearances in two of his first three full MLB seasons.
There is absolutely no question that the right-hander has electric stuff, posting over a strikeout per inning every year from 2017 through 2022. However, Severino struggled mightily in 2023, posting an ERA and a FIP over 6.00. His hits/9 ballooned to 11.4, his HR/9 jumped to a staggering 2.3, and his WHIP was north of 1.6.
It is also worth noting that Severino has not made 20 starts in a season since 2018, as he lost essentially all of his 2019, 2020, and 2021 seasons with a litany of injuries and setbacks, and had extended IL stints in 2022 and 2023 as well.
While he may never again be the workhorse he once was, there is still reason to be optimistic that Severino could be a productive major league pitcher, as last season was the only truly bad season of his career, and at age 29 he likely still has productive years left in the tank.
RHP Jack Flaherty, 28
Like Severino, Jack Flaherty burst onto the MLB scene with significant success at a young age, posting a 3.34 ERA over 28 starts in his first full season in the big leagues at the age of 22.
He followed this up with an even better 2019, where he finished top-five in Cy Young voting and top-15 in MVP voting thanks in large part to a 2.75 ERA and a sub-1 WHIP.
Flaherty was the future of the Cardinals until a rough 2022 and a poor start to 2023 saw him shipped off to Baltimore. While his struggles in 2022 can be attributed to time on the IL, Flaherty made 29 starts this past season but posted the worst season of his career by a significant margin.
One thing that Flaherty has going for him, though, is his relative youth compared to the other pitchers on this list. Entering only his age-28 season, Flaherty could still have his best years ahead of him if he is able to stay on the field.
His youth, combined with the potential he flashed throughout the first few years of his career ensure that there will be plenty of teams hoping to land the righty.
RHP Frankie Montas, 30
Frankie Montas has had three very good seasons, 2018, 2019, and 2021. However, since he arrived in New York, Montas's career has gone downhill sharply. He has only appeared in nine games since being traded to the Yankees in 2022 (eight of which were starts), and struggled mightily in that admittedly small sample size.
Entering his age-31 season as a free agent, Montas is a far cry from the pitcher that finished in the top-10 Cy Young voting in 2021. This, combined with his PED suspension in 2019, have put Montas in a position where he will likely have to sign a "prove-it" contract and perform well if he hopes to remain in the league.
That said, there is no question that Montas has the potential to be a dominant force on the mound when right, and there will likely be teams willing to let Montas try to "prove it" at the back end of their rotation with the hope that returns to his 2021 form.
RHP Lance Lynn, 36
Lance Lynn had a baffling 2023 season, striking out almost 200 hitters while also leading all of baseball in home runs allowed with 44.
While people often talk about three true outcome hitters, Lynn was something of a three true outcome pitcher. A fan favorite thanks to his rapid pace of play and his animated antics on the mound, Lynn has been a solid major league pitcher for over a decade.
He has posted three top-10 Cy Young finishes, and has been a reliable workhorse wherever he has gone. While his best years may be behind him as he enters his age 37 season, there is no doubt that Lynn can provide value to a team looking to add depth and experience to their pitching staff.
Like so many other players on this list, it is clear that Lynn has above average stuff, and the right system and analytics department may be able to help Lynn return to form by limiting his home runs. At worst, Lynn will be a reliable back-end starter that can eat innings, and at best could find himself putting up numbers similar to those of a number one or two starter. 
LHP Hyun-Jin Ryu, 36
Hyun-Jin Ryu actually had a pretty good 2023 season when he was on the field, but staying on the field has been the biggest challenge for the right-hander entering his age-37 season.
Over the past two seasons, Ryu has made just 17 starts and thrown just 79 innings. That said, he will not be short of suitors this offseason, as he boasts a career ERA and FIP of just 3.27 and 3.53, respectively.
While injuries have plagued his entire career, there will certainly be teams willing to take a chance on Ryu knowing that if he is able to put together a complete season he is more than capable of being a frontline starting pitcher, as evidenced by his 2019, which saw Ryu lead all of baseball in ERA and BB/9. If he is able to recapture some of that magic, he will provide a major boost wherever he lands.
Still Ryu will likely not be counted on as an ace, but instead teams can view him as a bonus, happy to get whatever production they can while he is on the field, but recognizing that it is unlikely he will be taking the ball every fifth day.
LHP Martin Perez, 32
It may seem odd to see a World Series champion on a list of bounce back candidates, but Martin Perez's 2023 campaign was certainly a step back from his 2022 All-Star season, when he posted career-bests in basically every statistical category.
Perez is a veteran arm entering his age-33 season, and throughout his career he has shown flashes of dominance. That being said, his numbers in 2023 match up almost perfectly with his career averages, indicating that this past season may be more of the rule than the exception.
Still, he will be a valuable back-end starter for whichever team signs him, and there is always the chance that he could catch lightning in a bottle again and have a stellar campaign. Additionally, his age and struggles this past season mean he will likely not be commanding an extensive or expensive contract, and will be a great value signing.
LHP Alex Wood, 32
Like Perez, Alex Wood is a veteran pitcher whose career has seen its fair share of ups and downs. However, Wood's 2023 season saw his ERA jump over half a run above his career average.
An area of concern for the 32-year-old, though, is that he has only had an ERA lower than 4.30 once since 2019, although his FIP indicates that he may have been the victim of bad luck in 2022.
Last season, Wood spent time both as a starter and as a bulk reliever, and at this point in his career this type of swing role is likely where Wood will fit into the roster wherever he signs.
While this position as a depth piece is a far cry from his stellar 2017 season, there is immense value in starting pitching depth, and there will be plenty of teams looking to round out their staff with a veteran like Wood.