Analysis
MLB Best Bets, Odds, Predictions for Padres vs. Diamondbacks, Dodgers vs. Giants for September 16, 2022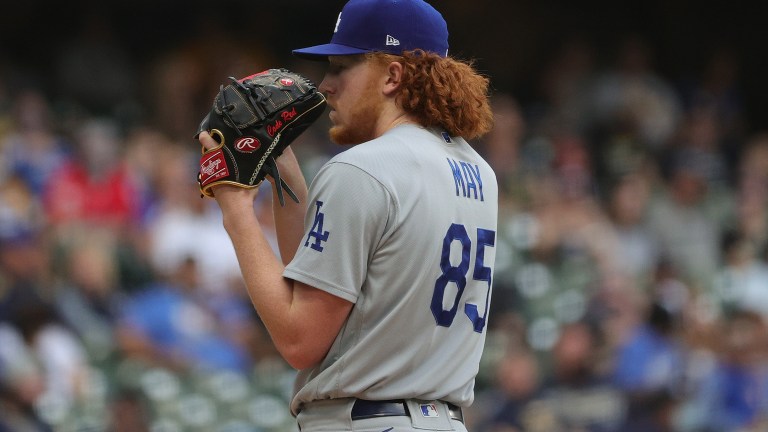 What a day yesterday was.
That's great, but this is a world of "what have you done for me lately." I get it; you want winners today. I have two more for you, plus more props on the podcast. Stay tuned for Saturday's episode where you'll find all my NFL picks for week two.
2022 MLB Regular Season Record: 204-171 (54%), +34.14 Units
San Diego Padres vs. Arizona Diamondbacks: 9:40 pm EST
Blake Snell (LHP, Padres) [6-9, 4.02 ERA, 1.34 WHIP, 103 IP, 139 K, 45 BB]
Madison Bumgarner (LHP, Diamondbacks) [6-14, 4.88 ERA, 1.48 WHIP, 147.2 IP, 105 K, 48 BB]
We head back to San Diego after we took the Diamondbacks money line yesterday for a different approach. After getting blanked by Arizona, I'm expecting San Diego to bounce-back in a big way against a pitcher they've seen plenty of. On the flip side, we have Blake Snell, who matches up very well against the Diamondbacks.
We have enough of a sample from both pitchers to really look at how they've fared against the opposing offenses. Through 75 PA against Arizona's current roster, Snell holds an opponent batting average of .188 with a .252 wOBA and a 32% strike-out rate. Those are fantastic, but when we get even deeper, it's just as good. He holds a .302 xwOBA, a .225 xBA, and a .410 xSLG. The heart of the lineup, Ketel Marte and Christian Walker are a combined 2-35 in their careers against Snell.
We discounted the Diamondback's overall struggles against lefties in the previous article because of how well they can hit a sinker. Blake Snell doesn't throw a sinker, he relies mostly on a fastball, curveball, and slider. Even with a solid performance against Manaea, they have a 46 wRC+ as a team against lefties in September, ranking second to last in baseball. Manaea has been terrible this year, but the Diamondbacks only had two runs on three hits against him.
The Padres haven't been great against left-handed pitching either lately, putting up an 87 wRC+ in September which ranks 24th in baseball. Luckily for them, they know Madison Bumgarner very well. Through 246 PA against the Padres' current roster, Bumgarner holds a .251 opponent batting average, a .355 wOBA, and a 20.3% strikeout rate. The advanced numbers get even worse. A .379 xwOBA, a .281 xBA, and a .515 xSLG is concerning here for the veteran lefty.
Bumgarner has faced the Padres four times this year. He's 0-3 with a 5.29 ERA over 17 innings with 11 walks and 14 strikeouts.
I think there is enough of a mismatch between the starting pitchers to take the Padres through the first five innings. Rely on Snell to give us a solid outing and for the Padres to bounce back against a familiar foe they've hit very well in the past.
The Pick: San Diego Padres First 5 Innings -0.5 (-115)
1.15 Units to Win 1 Unit
________
Los Angeles Dodgers vs. San Francisco Giants: 9:40 pm EST
Dustin May (RHP, Dodgers) [1-2, 4.29 ERA, 1.19 WHIP, 21 IP, 21 K, 11 BB]
Logan Webb (RHP, Giants) [13-8, 2.88 ERA, 1.16 WHIP, 178 IP, 149 K, 46 BB]
We head to San Francisco for the first game of a three-game set. This should be a pitcher's duel, as we have two excellent starters taking the mound followed by rested bullpens as both teams had a day off yesterday.
Remember in the playoffs last year when Cody Bellinger was being interviewed after the game, and he said Logan Webb shoved it up our you know what? He hasn't exactly done that against them this year, but Webb has been one of the most underrated pitchers in baseball. He had his shine last year, and now people forgot he's been excellent yet again.
He's faced the Dodgers three times this season. He's thrown 17 innings against them this season and allowed nine earned runs. Six of those runs came in one bad start, so more often than not, he's pitched well against this potent Dodgers lineup. Through 188 PA, the stats are solid, but not fantastic. He's rocking a .346 wOBA, a .285 xBA, and a .449 xSLG.
While this is conjecture, I do believe it to be true. The Dodgers recently clinched the division and have no real reason to come out firing against Webb. It's challenging to handicap this, but I could see the bats being slow today.
When the Giants have all their arms rested and ready to go, they can unleash a very solid unit. I think they'll keep the Dodgers bats at bay.
On the other side, we have the disgusting Dustin May. I love this guy, he unleashes a wicked sinker along with a four-seam fastball that can tough triple digits. He spins a curveball as hard as anyone in the league and his long arms create massive deception. He's one of my favorite pitchers to watch and he should decimate this Giants offense.
The one calling card for the Giants is they can hit a sinker. I expect May to rely on his fastball a bit more through this lineup, and if he does, he should turn in an excellent start. Behind him will be one of the best bullpen units in the game that had a day off to rest.
This game shouldn't produce more than six runs, so I love the under through the full game. Oracle is a great pitchers park and it's the number one park on ballparkpal for pitchers tonight.
The Pick: Dodgers vs. Giants Under 7.5 (-110)
1.1 Units to Win 1 Unit