Analysis
Favorite 2023 MLB Player Props, Futures on PrizePicks
Whether it's betting on Shohei Ohtani's ERA, or Vlad Guerrero Jr.'s hits, taking MLB futures is a great way to get ready for the 2023 season.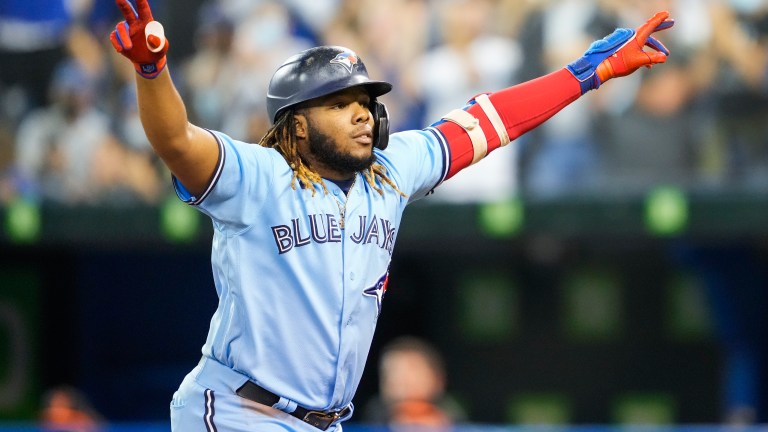 Before we start, we must understand one thing about betting on futures. You are tying up your money with a book for seven months, so if you are beginning to bet this year, I would consider not playing any futures. If you have been betting on sports and saved enough profit, the futures market can be a tool to add to your bankroll.
I love attacking the futures market; it's been very profitable, especially last year. In the last two MLB seasons, we are up 59.72 Units which doesn't include futures.
Some notable winners from last season; Aaron Judge to win MVP (+1800), Atlanta Braves to Win NL East (+150), and Los Angeles Dodgers Over 97.5 Wins (-110) netted us a combined 24 units. We lost on the Rockies' win total and Julio Urias to win CY Young, some heartbreakers. The Rockies finished with 68 wins; one win shy of 68.5 wins. Julio Urias finished second in CY Young voting in the National League.
I pick and choose my spots when it comes to the futures market. There are many lines to choose from, but only a few large edges appear every season. The same goes for this season; here are my best bets for the player prop market in 2023.
I'll have a separate report written for player awards. This is attacking the posted total of home runs, strikeouts, hits, ERA, and so on that's available on PrizePicks.
These will be parlayed together as a fun entry to follow along all season. Here are my rules for betting on season-long props:
I'm not betting on players in their second year. Some take the step forward that many expect, but most fall short of expectation. The "sophomore slump" is real and is one of the most challenging years to project. I love Julio Rodriguez and Adley Rustchman, but we don't have enough data to handicap correctly.
2. I mainly target unders. It's much more likely a player doesn't reach his ceiling, whether it be injury or simply not meeting expectations.
3. To find value, I put together an excel sheet with every FanGraphs projection system and combined it with data from 2021 and 2022. Not only did I record the counting stats, but I also involved advanced data in finding out the upside or downside of a particular player.
Download PrizePicks and Use Code JustBaseball for a 100% Deposit Match
Also, if you want more information on season-long player props, check out the latest episode of Not Gambling Advice.
Top 6 Season-Long MLB Player Props
Vladimir Guerrero Jr Over 163.5 Hits
2021 Hits: 188
2022 Hits: 175
2021 xHits: 185
2022 xHits: 176
FanGraphs Average 2023 Prediction (Hits): 166.58
Vladimir Guerrero Jr is coming off a down year by his standards. He almost won the MVP in 2021, after hitting 48 home runs with a .311 batting average. In 2022, the home run output dived, as did his batting average. It wasn't a result of not making quality contact but a spike in ground-ball rate.
His GB% rose from 45.6% to 52.3%, but he still made contact within the zone at 83.8%, the highest since his rookie season. Pitchers pitched him differently, throwing fewer fastballs and pounding him with off-speed. His chase rate jumped to 30.5%, the highest of his career. His walk rate dropped to the lowest of his career. A 7.4% walk rate for a player with his level of plate discipline shouldn't continue. It was a year when the league adjusted to Vladdy, but now it's time for him to adjust back.
Guerrero Jr. was a number one overall prospect for a reason. It wasn't just because of the incredible raw power; many publications gave him an 80-grade hit tool. On the 20-80 grading scale, 80 is considered a Hall-of-Fame level tool. The reason Guerrero Jr is feared is that he doesn't sell out for power; it comes naturally to him. While he isn't a candidate who should benefit greatly from the shift ban, it'll certainly help.
Another reason I'm confident in taking his over is his health. Vladdy is in the lineup every single day. Over the past three seasons, he's missed three total games. He's a first baseman who doesn't steal bases or overextend himself. He knows the importance of staying in the lineup and prides himself on always being available.
One reason to be mildly cautious is right knee inflammation. It was the reason he didn't play in the World Baseball Classic. Truthfully, I'm not sure I'm buying that it was much of a problem. As I write this, I just saw him ground out against Tyler Alexander in spring training, where he posted a .933 OPS. He'll be totally fine and is on track to start Opening Day.
Out of the eight projection systems, only two have him going under. These systems are often conservative, yet six have him going over. This line is just too low for a superstar like Vladimir Guerrero Jr.
Eloy Jimenez Under 29.5 Home Runs
2021 HR: 10
2022 HR: 16
2021 xHR: 9.8
2022 xHR: 17.6
FanGraphs Average 2023 Prediction (Hits): 27.72
This is an incredibly optimistic line for Eloy Jimenez. I have zero doubt that he has the talent to do so, but you'd be betting on many things to go well for a player that doesn't have the track record.
Eloy Jimenez has 71 career home runs over his first four seasons. On average, he's played 79 games per year, averaging 17.75 home runs. When he's on the field, he's been fantastic, rocking a 124 wRC+ for his career. The issue is staying on the field. We saw him light it up in the World Baseball Classic, but it usually comes in short spurts with Eloy.
It's been reported that he's dealing with a calf strain to his right leg to start the year. This is the same right leg that limited him to just 84 games in 2022. That was his hamstring, and this time it's his calf, which still doesn't bode well for a man who weighs well over 200 pounds. To his credit, he dropped 25 pounds this off-season to counteract the injury bug, but it's also to play right field.
Playing in the outfield certainly won't help his chances of staying on the field. Now that we've gotten his injury concerns out of the way, let's look at his power output. While he has incredible raw power, can he hit 30 home runs?
The answer is yes, but it's not a confident yes, even if he plays the entire season. In 2021, he played 55 games and hit 10 home runs. If you average that out over 162 games, he was projected to hit 29.4 home runs. In 84 games last season, he hit 16 home runs, if he played all 162 games, that equals 30.8 home runs.
You get an under when you factor in injury history, playing right field more often, and a two-year sample of a downturn in home run power. For Eloy to go over this number, he'd have to regain his power stroke from 2019 and stay healthy for most of the year. That's a big ask for a player already banged up to start the year.
Clayton Kershaw Under 165.5 Strikeouts
2021 Strikeouts: 144
2022 Strikeouts: 137
FanGraphs Average 2023 Prediction (Strikeouts): 153.34
It pains me to do this. But it's a bet we must make.
The first-ballot Hall-of-Famer is not what he once was. The last time he went over this number was in 2019, and the past three seasons have not been kind to Kershaw. He's averaged 124 innings over the past two seasons, but it's not all Kershaw's fault. It's the Dodgers actively saving him for a playoff run.
This has been a common occurrence for Kershaw over the past few years. Consistent IL stints from a hurt back, a roughed-up elbow, and more have kept the Dodgers extremely cautious with him. The Dodgers have plenty of starting pitching depth this season, especially with youngsters Bobby Miller and Gavin Stone expected to play a role this season.
If the Dodgers are going to make a run in the playoffs, they need Kershaw to be ready to go come October. To do that, they must preserve his innings. This isn't new; this has been happening in each of the last two seasons.
Kershaw is also pitching to contact more than he has in previous years. He's never been a high strikeout guy, but a 27.8% strikeout rate and a 9.76 K/9 are still respectable. If he keeps up this same strikeout rate, he'd have to throw 153 innings to reach 166 strikeouts. At 35 years old, I do not expect the Dodgers to keep him out there that long, especially when you have one of the best bullpens in baseball to shoulder the load.
Even pitchers like Julio Urias saw their innings drop last season. I fully expect Kershaw to look like an elite arm when he's on the mound, but 165.5 is way too much to expect from Clayton Kershaw.
Yordan Alvarez Under 37.5 Home Runs
2021 HR: 33
2022 HR: 37
2021 xHR: 38.6
2022 xHR: 38.4
FanGraphs Average 2023 Prediction: 37.15 HR
Yeah, it's crazy, but hear me out.
Yordan is phenomenal. I think he's one of the best hitters on planet earth. What makes Yordan so unique is that he hits the ball as hard as anyone but doesn't sacrifice it for strikeouts. He's disciplined and takes the single in two-strike counts to get on base. He'll take the extra pitch if it means setting up his teammate with runners on base. He'll hit the double in the gap to score a run. He has a smooth swing that generates an incredible amount of raw power. Now that I've given him his flowers let me tell you why he's not hitting 38 home runs this season.
First off, he's never done it. He's played three full seasons (not counting 2020) and has averaged 32 home runs a year. He's not like Jimenez, where it's been injuries that have kept him from doing so. It's an approach at the plate; he doesn't need to hit 38 home runs to be extremely valuable.
In those three full seasons, he registered the lowest launch angle of his career and the highest ground-ball rate. Yordan was shifted the 28th most among all players, so he can attack even more holes for singles to get on base. He certainly has the power to hit 38 home runs, but I don't see it happening this year.
Not only has he never accomplished it, but he comes into this season with question marks. He debuted in spring training on March 24th, his first in-game swings since the World Series.
Yordan suffered a broken hamate bone in his hand last year. Big sluggers like Yordan often have troubles with their hamate bone, which can be broken from consistent stress. Aaron Judge is an example of a similar hitter who's dealt with his fair share of hamate issues, and it often lingers if not appropriately treated.
It flared up again this off-season which was a part of the reason we didn't see him playing for Team Cuba in the World Baseball Classic. With just five days left until Opening Day, he has three at-bats in Spring Training. He went 0-3 in his first game, which doesn't matter, but it's just a way of saying it takes time to get back in a rhythm.
On top of all this, the plan for Alvarez is to play in the outfield more than usual. He played 77 games at DH last year compared to 56 in left field.
This was said after the 2022 season, and it continues to be said this off-season. Yordan has never played 50% of his games in the outfield, and there is always more opportunity for injury when playing most of your games out there.
For all these reasons, I'm taking his under. To reach 38 home runs, he would have to set a career-high in home runs and stay healthy all year while playing more outfield than he ever has. Even if he stays healthy, it's not a given he'll hit the most home runs he's ever had, especially coming off an injury that explicitly hurts power output.
Marcus Semien Over 153.5 Hits
2021 Hits: 173
2022 Hits: 163
2021 xHits: 163.5
2022 xHits: 160
FanGraphs Average 2023 Projection (Hits): 155.72
Like Vladimir Guerrero Jr, if I'm going to bet on a player to go over, I need to be confident in their health. Major League Baseball may not have a safer option than Marcus Semien. In the last eight seasons, if you don't include 2020, he's played at least 155 games in seven. If you do count 2020, he played 53 of the 60 total games. He's missed one game in two years and has been as productive as any second basemen in baseball.
Another reason I love this pick is Marcus Semien doesn't need to hit for a high average to go over his hit total. He hit .248 last year and still exceeded this projected total by 10 hits. Semien is elite at hitting balls in the zone, doing it at 87.6%, tied for his career-high. He also had the second-lowest strikeout rate of his career last year. Marcus Semien swings the bat, and it typically goes well for him when he does.
Projection systems are often conservative; three of eight have him under 153.5. Two projection systems have him at 153, and the other is at 152. The five others have him well over 160, but those aren't doing him justice.
The banning of the shift should help Semien rack up more hits. He was the seventh-most shifted right-handed batter last season. He recorded the lowest BABIP of his career, if you don't include 2020. It wasn't from a drop in speed, as he stole 25 bases, the most in his career.
Marcus Semien struggled mightily out of the gate. He had just signed a big seven-year deal and was adjusting to his new home. He recorded a .697 OPS in the first half, but it had much to do with a .443 OPS in April and a .618 OPS in May. He was fantastic from June on, putting up a .777 OPS in the second half. He hit .259 versus .239 in the front half.
Considering his talent and ability to stay on the field, Semien is among the safest players to bet on. When you factor in a number boost due to the shift ban, we are looking at an excellent bet to surpass his projected number of hits.
Shohei Ohtani Under 3.15 ERA
2021 ERA: 3.18
2022 ERA: 2.33
2021 xERA: 3.32
2022 xERA: 2.68
Fangraphs Average 2023 Projection (ERA): 3.10
Not sure if you noticed, but this Shohei guy is pretty good.
I've run out of adjectives to describe his level of talent. He's incomparable, unmatched, and I'm not sold on him being a human. All I'm saying is I wouldn't be shocked to find out he was sent from a different dimension to dominate the sport of baseball.
He's one of the better hitters in the American League but becoming one of the best pitchers on earth. He's not built like you or me. Heck, he's not built like a regular Major League player. His fastball wasn't performing like you might think last year. Opponents hit .281 against it, even though he averaged 97.3 MPH. What does he do? He starts throwing a 97 MPH sinker towards the tail end of the year, and opponents hit .167 against it.
Not only does he pair his fastball with two other variations of a heater, the cutter and the sinker, but his secondaries are some of the best in the world. Opponents hit .165 against his sweeper and .128 against his splitter. We ranked him as the seventh-best pitcher in baseball for 2023, and I'm honestly afraid we ranked him too low.
His ERA estimators last year, SIERA, pCRA, xERA, FIP, and xFIP, had him under a 2.80. He could win the CY Young in the American League, but the Angels are always cautious with his innings. For that reason, the Angels are projected to have a six-man rotation; they are letting Shohei Ohtani rest up to put his best foot forward every sixth day. This rest should help him perform better and stay healthy while doing so.
Did I mention Shohei can hit? The significant part about that is the Angels will give him rests on the mound if his arm or any other injury prevents him from pitching. He's too important for the Angels to risk having him pitch if he's not healthy. They also have much more rotation depth than they've ever had.
The significant part about betting on ERA is it's not an accumulation stat. We don't need him to rack up a number of strikeouts. We only need him to pitch at a level we expect when he pitches. He could even regress from last year and still go under a 3.15. If there are any pitchers in baseball I expect to do that next year, Ohtani is near the top of the list.
___________________________________