Analysis
Best Bets to Win 2023 MLB Awards: MVP, Cy Young, Rookie of the Year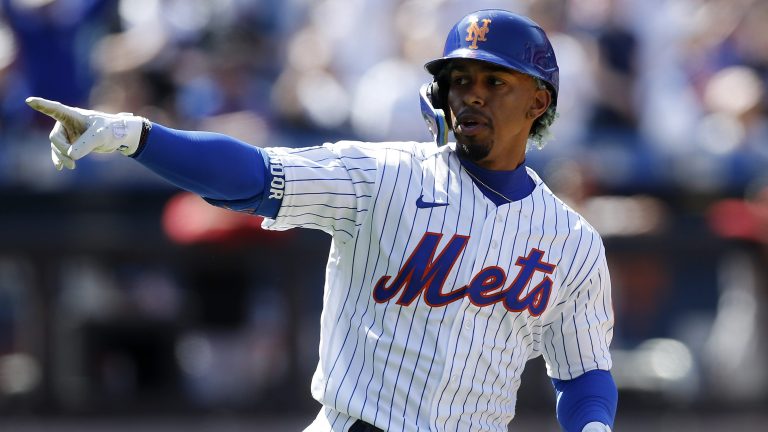 Before we start, we must understand one thing about betting on futures. You are tying up your money with a book for seven months, so if you are beginning to bet this year, I would consider not playing any futures. If you have been betting on sports and saved enough profit, the futures market can be a tool to add to your bankroll.
I love attacking the futures market; it's been very profitable, especially last year. In the last two MLB seasons, we are up 59.72 Units which doesn't include futures.
Some notable winners from last season; Aaron Judge to win MVP (+1800), Atlanta Braves to Win NL East (+150), and Los Angeles Dodgers Over 97.5 Wins (-110) netted us a combined 24 units. We lost on the Rockies' win total and Julio Urias to win Cy Young, some heartbreakers. The Rockies finished with 68 wins; one win shy of 68.5 wins. Julio Urias finished second in Cy Young voting in the National League.
I pick and choose my spots when it comes to the futures market. There are many lines to choose from, but only a few large edges appear every season. The same goes for this season; here are my best bets for individual awards.
Also, if you want more information on the best bets to win MVP, Cy Young and Rookie of the Year this season, check out the latest episode of Not Gambling Advice. We also discusses these awards on the latest episode of the Just Baseball Show.
National League MVP – Francisco Lindor (+3000) 1 U
How good is the team?
The Mets are projected to be one of the best teams in baseball. After winning 101 games last season and making the playoffs, they retooled the rotation by adding Justin Verlander and Kodai Senga. The lineup is as deep offensively and defensively as any team in Major League Baseball. It would be a massive disappointment for the Mets not to make the playoffs.
This is important, as most MVP winners come from playoff teams or teams with a winning record. There are special cases like Shohei Ohtani on an Angels team that didn't make the playoffs, but it's safer to pick a great player on a great team.
What does the competition look like?
Juan Soto is the favorite at +550. Soto is a solid bet, considering he's on a great team with enormous offensive upside. The problem with Soto is he will have to be far and away the best hitter in the National League to win the award. Voters value WAR (Wins Above Replacement) when voting on the MVP award, and Soto's defense is a real issue. He could do it, but the value isn't even close to worth it.
Mookie Betts is a great choice. He's on a great team and should accumulate plenty of WAR. He has the second-best odds, and I'd consider him a prime candidate to win. The issue is the value. He would be actionable at +1200 or more, but the highest we can find is +900. Francisco Lindor also put up a higher fWAR season than Mookie did last season.
I group Ronald Acuna, Trea Turner, Fernando Tatis Jr, and Manny Machado in the same bucket. All have question marks moving into the season regarding winning the MVP. As much as I like Trea Turner, there is always a learning curve after signing a large contact and moving across the country. We've seen players struggle initially but turn it on in the second half. He's also not the best defender.
Manny Machado got paid, so I'd rather not bet on him. Fernando Tatis Jr is coming off a PED suspension and won't be on the field until April 20. Ronald Acuna Jr is coming off a season where he wasn't healthy due to an ACL tear. That's not someone I want to bet on to win MVP.
That leaves Paul Goldschmidt, Freddie Freeman, Pete Alonso, and Matt Olson. All players who can rake, and one of them is the 2022 NL MVP. All have a great shot, but again, they'll have to have incredible offensive seasons to win at first base. It's been done before, but it's not a position I think is ever worth it to go for an MVP bet.
That leaves Nolan Arenado, Austin Riley, and Francisco Lindor. All three play for excellent teams and are fantastic candidates to bet on. It comes down to value for me. Austin Riley sits at +1600, Arenado at +1200, while Lindor is priced anywhere from +2500 to +3000. That's almost double the odds, and I'm not sure why. Austin Riley and Nolan Arenado did finish in front of Lindor in MVP voting last season, but the odds shouldn't double. It also should be noted that Riley was just extended, while Lindor is in year three of his contract. Riley and Arenado are a great picks, but I'd prefer the best defender with tons of upside on offense.
Why Francisco Lindor?
I firmly believe that Francisco Lindor will turn in his best season in Major League Baseball. From 2017 to 2019 with the Guardians, Lindor slashed .278/.342/.514 with 34 home runs and 21 stolen bases. During this time, he was considered one of the best defensive shortstops in baseball. He had a down year in 2020, even though it was just in 60 games, but then he was traded to the Mets and signed a $341M contract.
He struggled in year one, but so did the Mets. It was a weird season, as many players complained that the new hitting philosophy was screwing with the team. The Mets revamped, and Lindor led all shortstops in fWAR. He played 161 games, but the 30+ home runs weren't there. He still hit 26 home runs and stole 16 bases, but we need at least 35 home runs and 20 stolen bases to win MVP.
He's done that before, hitting 38 home runs and stealing 25 stolen bases in 2018, which led to a 7.8 fWAR season. He didn't win the MVP that year because Mookie Betts put up 10.5 WAR and ran away with the award. Banning of the shift and the larger bases should help Lindor reach his potential. He was shifted 61.3% of the time, so he should be able to find a few more holes in the left side of the infield. The bigger bases and new pickoff rules should allow him to tack on a few more stolen bases.
The shift should also play to his benefit on defense. Now that shortstops have to be stationed at their own position, the world will see how elite of a defender he is. I expect him to blow the competition out of the water with how great his range is combined with a rifle for an arm.
He's 29 years old and finally comfortable in New York. He's on a great team; every rule change should only benefit him. He's 13th in odds, which is far too low for a player whos' finished top nine in MVP voting in four seasons. He's coming off an excellent World Baseball Classic, and that level of play should allow him to start hot. He has the best value by far, and it is worth a bet to win the National League MVP.
National League Rookie of the Year – Corbin Carroll (+500)
How Good is the Team?
This doesn't tend to matter when it comes to the Rookie of the Year voting. Julio Rodriguez and Michael Harris won it last year for playoff teams, but that's not always the case. Jonathan India won the 2021 NL Rookie of the Year award on an 83-win Reds team. It's mildly important for the team to be competitive, and the Diamondbacks should win around 80 games next season.
Who is Corbin Carroll?
Corbin Carroll signed an eight-year extension worth $140M before he turned in 140 MLB at-bats. That's unheard of unless you're the Atlanta Braves. What makes it even more shocking is that the Arizona Diamondbacks rarely sign players to this large of a contract.
In his first 32 games, Carroll put up a 130 wRC+, meaning he was 30% better than the average hitter as a 21-year-old. He put up 1.4 fWAR, averaging 162 games, putting him on a seven fWAR pace. That would have placed him sixth in Major League Baseball last season.
Corbin Carroll is the fastest player in Major League Baseball. I'm not exaggerating; he recorded the highest sprint speed in the league last year at 30.8 ft/sec. He's only 5'10, but he's hit home runs in the minor leagues that exceeded 460 feet.
He has incredible raw power for a man of his size. He's the fastest player in baseball while making plenty of contact in the zone. In just 32 games last year, he had a zone-contact percentage of 77.9%. Julio Rodriguez made contact with balls in the zone at 80.1%, but Carroll has more speed than Rodriguez. Carroll is also the better defender than Julio Rodriguez is, but he'll be playing left field. He could be an elite center fielder, but he might be the best defender in a corner spot in the league.
The true five-tool player will show the league why the Diamondbacks felt comfortable giving him this extension. He's slated to hit the top of the lineup in 2023 and should see plenty of at-bats. Just Baseball ranked him as the number-one overall prospect.
Here is a paragraph about Carroll from his days in the minor leagues, which you can find more of on our Top 100 Prospect List. "Though Carroll played in a very hitter-friendly Pacific Coast League, he has produced a max exit velocity of 111 mph, and his 90th percentile exit velocity of 106.6 just edges out Christian Walker for the best mark in the D-backs organization. More bat speed than you'd expect given his small frame, leading to sneaky pop to the pull-side."
What's His Competition?
Jordan Walker is atop this list. The Cardinals' young slugger mashes the baseball. A few days ago, the Cardinals selected him to the 40-man roster, meaning he should be on the field on Opening Day. His odds since then have surpassed Corbin Carroll, but they shouldn't.
Not only has Jordan Walker not played a game above Triple-A, but he also put up a 128 wRC+ in 119 games in Double-A ball. Corbin Carroll only played 58 games in Double-A, putting up a 165 wRC+. He was so advanced they moved him to Triple-A, where he put up a 135 wRC+. He was then moved up to the big leagues and recorded a 130 wRC+. Carroll is the far better defender and has much more of a track record than Walker. Jordan Walker sits at +400 compared to Carroll at +500; that shouldn't be the case.
Kodai Senga is another player you should keep your eye on. Senga had a 1.89 ERA in 148 innings in the NPB, and the Mets signed him to a large contract this off-season. I'd prefer not to bet on pitchers to win these awards, as they are more likely to get injured. It should also be noted that Senga has never thrown more than 180 innings in a season, last doing it in 2019.
Over the last six seasons, he's averaged 143 innings per year. Spencer Strider turned into one of the best pitchers in baseball and still didn't win the award, even though he threw 131.2 innings.
Miguel Vargas and Ezequiel Tovar are solid bets because they'll have plenty of playing time. The issue is that so will Carroll, and Carroll is the far superior player to both of them.
There are plenty of nice long-shots; Spencer Steer (+2500), Brett Baty (+2000) Sal Frelick (+3000), and Matt Mervis (+3300), Hayden Wesneski (+5000) but none of them come close to Carroll if he reaches his potential.
What About The Other Awards?
The AL MVP is frustrating. A player must have a historic season to compete with Shohei Ohtani, but the line on Ohtani is +175, zero value. I don't have a bet for the Cy Young this year because I'm not very good at it. The last Cy Young bet I hit was Corbin Burnes to win the 2021 Cy Young, which was a long shot of mine.
The value on guys I like isn't quite there, and there are too many injury concerns to make a bet confidently. I expect Gunnar Henderson to win the AL Rookie of the Year, but his odds are so low that it's not worth a bet.
I would never give you a bet I wouldn't take myself. These are the only two that I see enough value in to take a swing at.