News
Dodgers Snag High-Upside, Hard-Throwing Righty Alex Reyes
The Los Angeles Dodgers are banking on getting hard-throwing reliever Alex Reyes back to his 2021 All-Star form.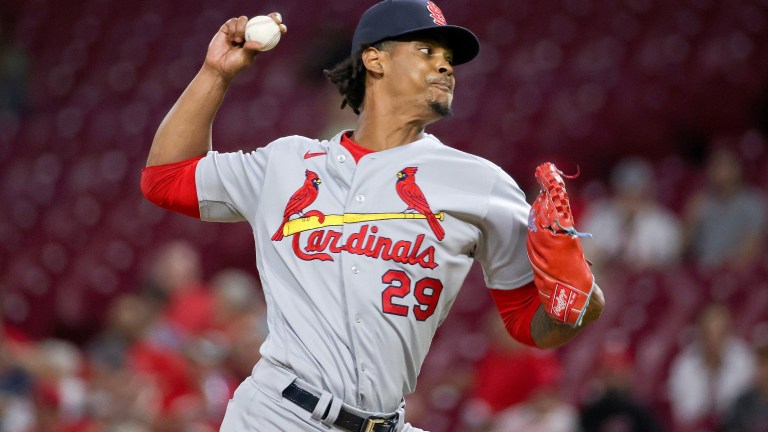 The Los Angeles Dodgers have added another piece to their bullpen by signing former St Louis Cardinals RHP Alex Reyes. The deal will pay Reyes $1.1MM in 2023 and also comes with a club option for $3MM in 2024. With incentives, the contract can reach as high as $10MM.
Reyes, who is only 28 years old, was an All-Star in 2021 with the Cardinals. He has had an injury-plagued start to his career and is still currently recovering from a shoulder surgery that will keep him out until right before the All-Star break.
Reyes was one of the free agents this year with tremendous upside. He made his MLB debut in 2016 and threw 46 innings with a 1.57 ERA. During that stretch of work he pitched to a 27.5% strikeout rate and a 12.2% walk rate. Unfortunately, in the subsequent offseason he went on to undergo Tommy John surgery which forced him to miss his entire 2017 campaign. His recovery from the surgery would restrict him to an combined 7 major leagues innings in the 2018 and 2019 seasons.
In the 2020 COVID-shortened season Reyes transitioned to a full-time reliever. In his new role, he pitched 19.2 innings with a 3.20 ERA and an elite 31.4% strikeout rate. However, he also had an uptick in his walk rate which was 16.3%. In 2021, he was able to show off his elite stuff even further, and he threw 72.1 innings with a 3.24 ERA, a 30.0% strikeout rate, and a 16.4% walk rate. He became the Cardinals' full time closer and successfully earned 29 saves in 34 chances. However, the injury bug hit Reyes once again, and he had to undergo another shoulder injury that ended his 2022 season.
The Dodgers have a track record of targeting guys like Reyes in the past. With the departures of Craig Kimbrel, Tommy Kahnle, Chris Martin, and with L.A. losing Blake Treinen for most of the 2023 season due to shoulder surgery, a move like this made tons of sense for the Dodgers. The Dodgers are banking on getting Reyes back to his 2021 All-Star form.