Analysis
Did the Baltimore Orioles Add Enough at the Trade Deadline?
The Baltimore Orioles stayed mostly quiet at the trade deadline. Are the two moves that they made enough to carry them through October?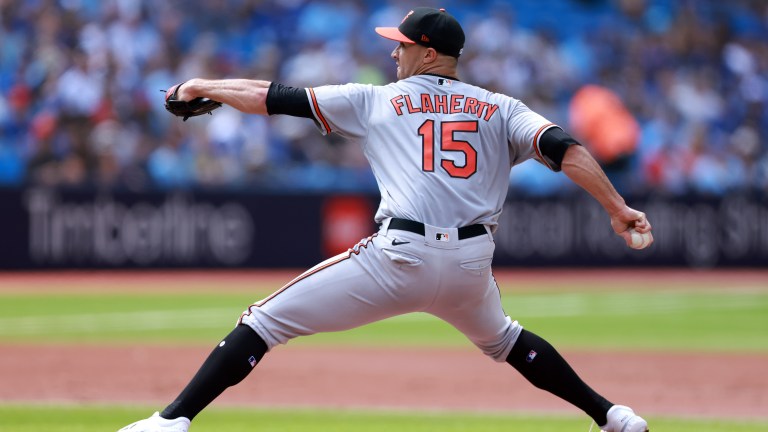 Many had high hopes for the Orioles this trade deadline. However, in the eyes of most they would ultimately fall short of expectations. A trade deadline that resulted in adding reliever Shintaro Fujinami and starter Jack Flaherty is not what people were hoping for.
While the Orioles managed to add some depth, they were unable to add any significant pieces. They currently have the second-best record in baseball, but questions remain regarding the ceiling of this team. How deep of a run is this team capable of making?
Did the Pitching Improve?
The short answer to that question is yes. The additions of Flaherty and Fujinami make the pitching better, but to what degree?
To start with Fujinami briefly. Since moving to Baltimore, Fujinami has a 3.12 ERA in just over eight innings and has struck out 11. The walks appear to be a lingering issue but Fujinami makes this already good bullpen better. If you want more on Fujinami go read the full write up on the trade.
With regards to the rotation, it has been hurt most this season by sheer usage. Many members of the starting rotation have reached or surpassed their previous career highs for innings pitched.
Tyler Wells was the teams best pitcher, but he hasn't thrown more than 110 innings since 2018 in the minors. He is up to 113 innings and was showing signs of fatigue resulting in a demotion to Double-A in an attempt to give him a breather.
This also includes Kyle Bradish and Dean Kremer, who are both a few innings away from new career highs in innings pitched. Keep in mind that there are still two months of the season left plus the playoffs.
That is where Jack Flaherty comes in. He has thrown 190 plus innings in a season before. Granted that was before being plagued with some injuries but he looks to be mostly healthy this season.
The addition of Flaherty can take some pressure off of Tyler Wells and others as the season drags on, and worst case scenario is just another arm that adds some depth. The big question will be how does this rotation hold up in the post season? That is an answer that we are going to have to wait to receive.
First Start
Since being acquired from St. Louis, Flaherty has made one start for the Orioles and it was a great one. He posted his highest spin rates of the season for his curveball, cutter, and four-seam fastball. In six innings against Toronto he gave up one earned run, two walks, and picked up eight strikeouts.
As someone who was not a fan of the Flaherty trade at all, this start has made me more patient. If this is the version of Flaherty that the Orioles get the rest of the season then this should be a fun ride the rest of the way.
Moves that Weren't Made
When it comes to having a disappointing trade deadline, it is not about the moves that were made. In a vacuum the moves for Flaherty and Fujinami are fine. The disappointment lies in the moves that were not made.
I will start with the obvious elephant in the room that is Dylan Cease. The White Sox end up not moving Cease and were reportedly looking for a huge package. This is one deal that I can live with not making. If the White Sox were asking for Jackson Holliday and more, I don't think you make that deal. Even if the White Sox were asking for Kjerstad, Mayo, and Westburg I would be hesitant if I was Baltimore.
A more frustrating missed opportunity was one to strengthen the bullpen. Adding Fujinami helps, but it feels like the Orioles could have added one more arm. Dillon Tate and Mychal Givens have been working their way back from injuries all season. They also are not getting a lot from Bryan Baker and Cionel Perez.
Adding a David Robertson could have gone a long way. He was sent to Miami for the Baltimore equivalent of Creed Willems and Frederick Bencosme with regards to position and ranking. Even someone like Kendall Graveman or Keynan Middleton would have helped with the bullpen depth.
Another frustrating miss was the inability to add a quality starter. The Flaherty add was a good start but adding a stud like Justin Verlander, Blake Snell, or Eduardo Rodriguez would have been huge. The Orioles were apparently in talks for Verlander but there is no telling to what degree.
Snell and Rodriguez are a little harder to judge because they were not moved. It is hard to guess what a package would have looked like. Also a Rodriguez trade would have been harder to facilitate with his no trade clause.
At the end of the day, the two moves that the Orioles did make help and increase their competitive floor. I think that those moves ultimately help them seal up the division and potentially the best record in the American League. However, I do question the competitive ceiling. This team has some concerns that I think ultimately limit how far into the postseason they can go.
Truly only time will tell if that is the case or not.